Description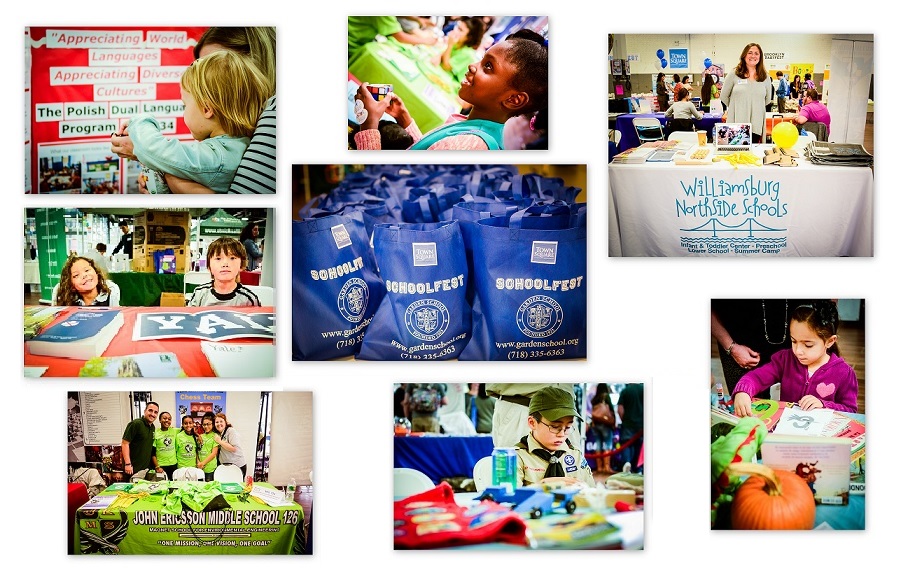 SCHOOLFEST 2019
Saturday, September 21
12 to 4 PM
Now in its 12th year, Schoolfest is a one-of-a-kind school fair for schools, students and parents. All public schools, charter schools, private schools, early childhood centers and extracurricular activity providers in North Brooklyn are invited to a single venue in Greenpoint/Williamsburg, Brooklyn to inform parents.
WHO SHOULD EXHIBIT AT SCHOOLFEST?
Are you a school, early childhood center or university?

Do you offer educational services and products?

Are your products and services intended for school-aged children and youth?

Are you interested in reaching parents, grandparents, educators, and caretakers in exciting Greenpoint & Williamsburg, Brooklyn?

Schoolfest is the expo for you!
WHAT MAKES SCHOOLFEST SO VALUABLE?
Schoolfest offers a supportive networking and informational experience for both exhibitors and parents.

Schoolfest allows our neighborhood schools to share new information and projects with each other so that our entire district may benefit.

Most importantly, Schoolfest understands that parents can often be overwhelmed by school choices and admission processes. Schoolfest helps parents navigate through the confusion so that they can make the best choice for their child's educational needs

SCHOOLFEST FACTS
+70 schools, organizations and partners

Hundreds of students, parents, teachers, and professionals attend.

Informative workshops by highly regarded educational professionals.

Unique chance to reach parents and network with school administrators.

One place, one day to meet many schools and learn about local resources.
PRIOR SCHOOLFEST EXHIBITORS & PARTICIPANTS

Please check https://www.townsquarebk.org/schoolfest for frequent updates.

Early Childhood Centers: Bushwick Improvement Society, Inc./DBA Stagg Street Center for Children * JCC North Williamsburg Y Preschool * Small World Early Childhood Center * Williamsburg Northside School
Public Elementary Schools: P.S. 17 * P.S. 34 Oliver H. Perry * P.S./I.S. 84 José De Diego School * P.S. 147 Isaac Remsen School * P.S. 196 Ten Eyck School * P.S. 250 George H. Lindsay * P.S. 123 The Suydam Magnet School for STEAM * Beginning with Children Charter School 2
Public Middle Schools: P.S./I.S. 84 José De Diego School * M.S 126 John Ericsson Middle School * I.S. 318 Eugenio Maria de Hostos * M.S. 582 The Magnet School for Multimedia Technology and Urban Planning * Juan Morel Campos Secondary School * The Young Women's Leadership School of Brooklyn
​Public High Schools: Brooklyn Preparatory High School * East Williamsburg Scholars Academy * Juan Morel Campos Secondary School * Northside Charter High School * Progress High School * The Young Women's Leadership School of Brooklyn * Williamsburg Charter High School
Independent & Parochial Schools: Alt School * Brooklyn Independent * Ecole Internationale de New York * Garden School * Poly Prep Country Day School * Queen of the Rosary Catholic Academy * St. Francis de Sales School for the Deaf in Brooklyn * St. Stanislaus Kostka Catholic Academy * The Brooklyn Amity School * The Co-op School * Williamsburg Northside Schools
Other: Allergic to Salad * Boy Scouts of America * Brooklyn District Attorney's Office * Brooklyn Public Library * CityMD * Girl Scouts of Greater New York * Greenpoint Orthodontics * Hosh Kids * Lindamood-Bell Learning Processes * Long Island University SNPha * Luna Park * Naked Juice * Neighbors Allied for Good Growth * NY School Help * NYC DEP * School of Rock Williamsburg * St Nicks Alliance * WellCare Health Plans * Wildlife Conservation Society * Williamsburg Music Studio
Many thanks to our sponsors and supporters: CEC DIstrict 14, NYC DYCD, NYC CM Stephen Levin, NYC CM Antonio Reynoso, NYS AM Joseph Levin.
This activity is not sponsored or endorsed by the NYC Department of Education or the City of New York. Rather, this is a labor of love by a local non-profit group, Town Square, for the benefit of our families and community.