Description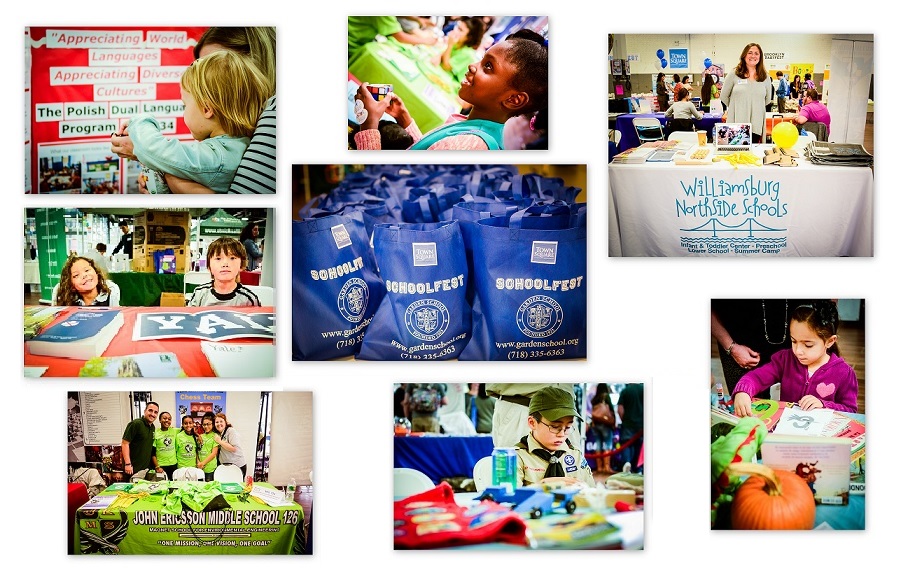 SCHOOLFEST 2019
Saturday, September 21
12 to 4 PM
Now in its 12th year, Schoolfest is a one-of-a-kind school fair for schools, students and parents. All public schools, charter schools, private schools, early childhood centers and extracurricular activity providers in North Brooklyn are invited to a single venue in Greenpoint/Williamsburg, Brooklyn to inform parents.
WHO SHOULD EXHIBIT AT SCHOOLFEST?
Are you a school, early childhood center or university?

Do you offer educational services and products?

Are your products and services intended for school-aged children and youth?

Are you interested in reaching parents, grandparents, educators, and caretakers in exciting Greenpoint & Williamsburg, Brooklyn?

Schoolfest is the expo for you!
WHAT MAKES SCHOOLFEST SO VALUABLE?
Schoolfest offers a supportive networking and informational experience for both exhibitors and parents.

Schoolfest allows our neighborhood schools to share new information and projects with each other so that our entire district may benefit.

Most importantly, Schoolfest understands that parents can often be overwhelmed by school choices and admission processes. Schoolfest helps parents navigate through the confusion so that they can make the best choice for their child's educational needs

SCHOOLFEST FACTS
+70 schools, organizations and partners

Hundreds of students, parents, teachers, and professionals attend.

Informative workshops by highly regarded educational professionals.

Unique chance to reach parents and network with school administrators.

One place, one day to meet many schools and learn about local resources.
2019 SCHOOLFEST EXHIBITORS & PARTICIPANTS

Please check https://www.townsquarebk.org/schoolfest for frequent updates as we receive participants' registration forms.

Early Childhood Centers: ABC Child Center * Bright Horizons * Bushwick Improvement Society, Inc./DBA Stagg Street Center for Children * Greenpoint YMCA * JCC North Williamsburg Y Preschool * Small World Early Childhood Center * Williamsburg Northside School
Public Elementary Schools: P.S. 18 * P.S. 31 * P.S. 34 * P.S. 46 Edward C. Blum * P.S./I.S. 84 José De Diego School * P.S. 196 Ten Eyck School * Community Partnership Charter School
Public Middle Schools: M.S. 50 * P.S./I.S. 84 José De Diego School * M.S 126 John Ericsson Middle School * MS 582Uncommon Schools
​Public High Schools: Brooklyn Technical High School * The High School for Enterprise, Business & Technology * Uncommon Schools
Independent & Parochial Schools: BASIS Independent Schools * Blue School * Garden School * Martin Luther School * St. Stanislaus Kostka Catholic Academy * Williamsburg Northside Schools
Other: Apple Bank * Aviator Sports & Events Center * Bella Face Painting * Big Reuse in Partnership with DSNY * BNS Real Estate * Broadway Stages * Brooklyn Public Library * Center for the Independence of the Disabled of New York * CityMD Urgent Care * CleanChoice Energy * East River State Park * ESS Community Projects * Evol-Electric Transportation * ExxonMobil * Geek Forest * Greenpoint Landing * Greenpoint Orthodontics * Greenpoint Pediatric Dentistry * Greenpoint YMCA * Intelligentsia * Kings County District Attorney * Luna Park * Moonlight Books * North Brooklyn Neighbors * NY School Help * NYC Admissions Solutions * NYC Department of Environmental Protection * NYC DOE District 14 Community Education Council * NYC DOE District 14 Superintendent's Office * NYC DOE District 79 - Adult Education * NYC DOE Food and Nutrition Services * NYC Parks GreenThumb * NYPD * NYU Wallerstein Collaborative for Urban Environmental Education & Sustainability * Parent Focus * PM Pediatrics * School of Rock Williamsburg * Scouts BSA, Greater New York Councils * Scouts, BSA Boys Troop 26 * Scouts, BSA, Boys Troop 469 * Scouts, BSA, Girls Troop 1G * Scouts, BSA, Pack 7 * Soccer Shots * Solar One * St Nicks Alliance * The Art Table Studio * The Harlem MagicMasters * The Museum of Interesting Things * Wild Bird Fund
Many thanks to our sponsors and supporters: NYC DYCD, NYS AM Joseph Levin, NYC CM Stephen Levin, NYC CM Antonio Reynoso, NYC DOE D14 Superintendent Alicja Winnicki, NYC DOE D14 CEC, NYC School Help, St. Nicks Alliance
This activity is not sponsored or endorsed by the NYC Department of Education or the City of New York. Rather, this is a labor of love by a local non-profit group, Town Square, for the benefit of our families and community.
Organizer of Schoolfest 2019 Exhibitors
TOWN SQUARE is a community-based 501(c)(3) organization serving Brooklyn since 2004.  We're responsible for many recurring family events in Greenpoint and Williamsburg including our popular Spring Egg Hunt, SummerStarz movie series, Greenpoint Children's Halloween Parade, Spooktacular Party, Zombie Nerf War, Santa Brunch and more. We also offer green programs and informative expos including Greencycle Swaps, Go Green Brooklyn Festival, and Schoolfest.