Description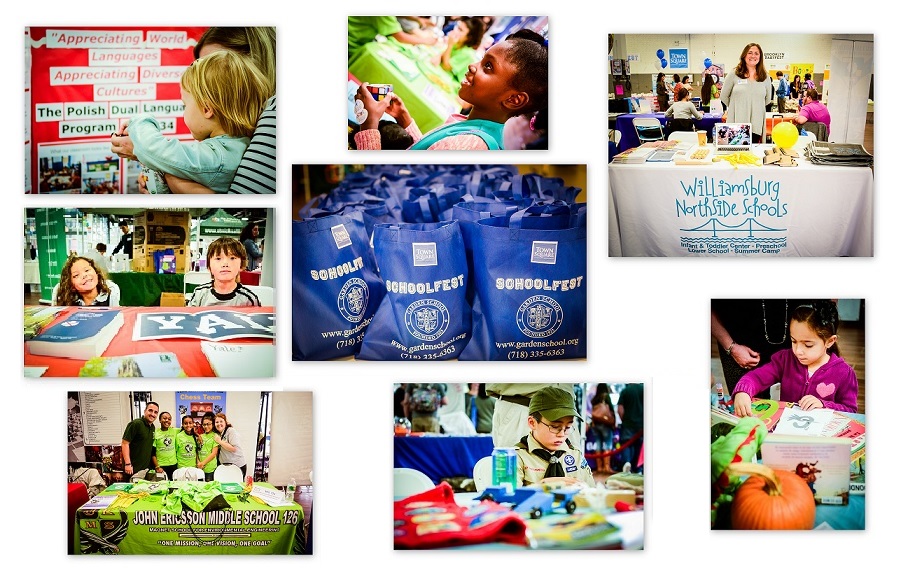 SCHOOLFEST 2018
Saturday, October 27
12 to 4 PM
Now in its 10th year, Schoolfest is a one-of-a-kind school fair for schools, students and parents. All public schools, charter schools, private schools, early childhood centers and extracurricular activity providers in North Brooklyn are invited to a single venue in Greenpoint/Williamsburg, Brooklyn to inform parents.
WHO SHOULD EXHIBIT AT SCHOOLFEST?
Are you a school, early childhood center or university?

Do you offer educational services and products?

Are your products and services intended for school-aged children and youth?

Are you interested in reaching parents, grandparents, educators, and caretakers in exciting Greenpoint & Williamsburg, Brooklyn?

Schoolfest is the expo for you!
WHAT MAKES SCHOOLFEST SO VALUABLE?
Schoolfest offers a supportive networking and informational experience for both exhibitors and parents.

Schoolfest allows our neighborhood schools to share new information and projects with each other so that our entire district may benefit.

Most importantly, Schoolfest understands that parents can often be overwhelmed by school choices and admission processes. Schoolfest helps parents navigate through the confusion so that they can make the best choice for their child's educational needs

SCHOOLFEST FACTS
+70 schools, organizations and partners

Hundreds of students, parents, teachers, and professionals attend.

Informative workshops by highly regarded educational professionals.

Unique chance to reach parents and network with school administrators.

One place, one day to meet many schools and learn about local resources.
PAST EXHIBITING SCHOOLS & EARLY CHILDHOOD CENTERS
Public Elementary Schools: PS 23K | PS 31K | PS 34K | PS 59K | PS/MS 84K | 110K | PS 132K | PS 147K | PS 196K | PS 250K | PS 414K | Beginning with Children Charter School. Public Middle Schools: MS 71K | MS 84K | MS 126K | IS 318K | MS 330K | Lyons Community School | The Young Women's Leadership School of Brooklyn. Public High Schools: El Puente Academy | Lyons Community School | The Brookyn Latin School | The School for Legal Studies | The Young Women's Leadership School of Brooklyn | Williamsburg Charter High School | Williamsburg Preparatory High School. Private Schools: BASIS Independent Brooklyn | Garden School | Greene Hill School | The British International School | The Co-op School | Williamsburg Northside Schools. Early Childhood Centers: ABC Child Center | Bright Horizons at Kent Ave | Bushwick Improvement Society | Carrig Montessori School | French For Little Ones | Greenpoint Y | Kidsville | Kings Bay Y at North Williamsburg | Life-Jonathan Williams Day Care Center | NY Kids Club | NYL-EL Greenpoint School | Small World Day Care | Smarter Toddler Nursery & Preschool | Williamsburg Neighborhood Nursery School | Williamsburg Northside School
OTHER EXHIBITORS
After 3 Exclusive Child Care | All About Kids | AMC PHOTO Inc | Aviator Sports and Events Center | Baby DJ | Bella Face Painting | Big Brothers Big Sisters of NYC | Boy Scouts of America | Bricks 4 Kidz | Brooklyn Public Library | CEC D14 | Chess NYC | Cornell University Cooperative Extension-NYC | Cultural Care Au Pair | Cumbe | DOE/SchoolFood | DOE Office of Adult & Continuing Education | Edamama | Engineering For Kids | Free Spirits Music | Funfuzion @ New Roc City | Generation Code | GNYC, Boy Scouts of America | Green Mountain Energy | Greenpoint Pediatric Dentistry | Honest Tea | Insideschools.org | International Ballet Institute | KidsPass | Lemonade | MetroPlus Health Plan | New York | NYC Admissions Solutions | NYC DOHMH Healthy Homes Program | Plato Learning | Polish & Slavic Federal Credit Union | Ramapo for Children | Rock N Lolo | Ripley's Believe It or Not! Times Square | Silverleaf Resorts | Skills & Strategies | St. Nicks Alliance | starhawk design studio ltd | Umoja Events | Wildlife Conservation Society | Williamsburg Movement & Arts Center | Williamsburg Music Studio | Yo Re Mi