Description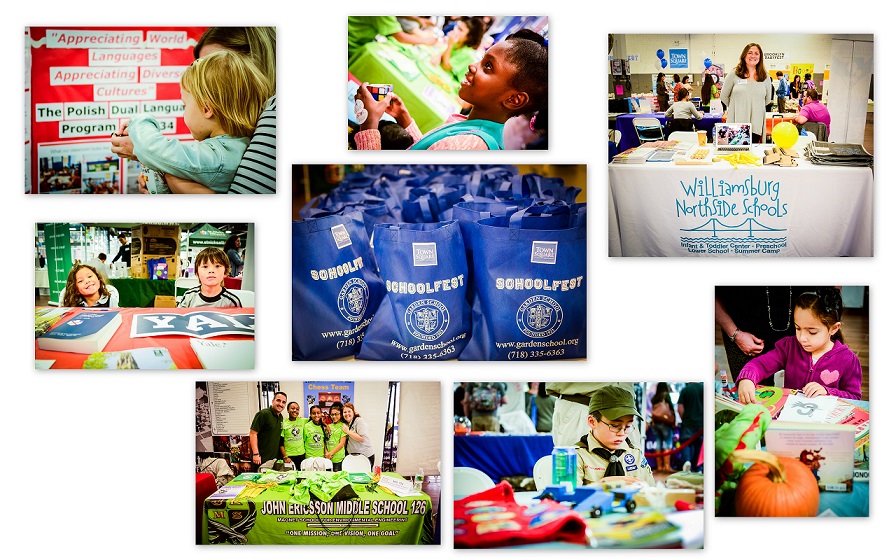 SCHOOLFEST 2016
Saturday, October 1st | 12-4 PM
Now in its 9th year, Schoolfest is a one-of-a-kind school resource fair for schools, students and parents. All public schools, charter schools, private schools, early childhood centers and extracurricular activity providers in North Brooklyn are invited to a single venue in Greenpoint/Williamsburg, Brooklyn.
PAST EXHIBITING SCHOOLS & EARLY CHILDHOOD CENTERS
PS 17K | PS 18K | PS 23K | PS 34K | PS 84K | PS 110K | PS 120K | PS 132K | PS 147K | PS 250K | PS 319K | PS 414K | PS 770K | Citizens of the World Charter School | Success Academy Charter Schools | The Ethical Community Charter School | MS 50K | MS 84K | MS 71K | MS 126K | IS 318K | MS 577 | El Puente Academy | Juan Morel Campos Secondary School | The Brooklyn Latin School | The School for Legal Studies | Williamsburg Charter High School | BASIS Independent Brooklyn | Garden School | Greene Hill School | Martin Luther School | Williamsburg Northside Schools | ABC Child Center | AHRC Francis of Paola Early Learning Center | Bright Horizons | Bushwick Improvement Society | Greenpoint Y | John Oravecz Early Childhood Development Center | Life-Jonathan Williams Day Care Center | NY Kids Club
OTHER EXHIBITORS
Affinity Health Plan | All In One Entertainment | Bee Tutored | Boy Scouts of America, Pack 7 | Brooklyn Cultural Adventures Program (BCAP) | Brooklyn Public Library | CAMP – Creative Arts & Music Programs | car2go | Chuck E. Cheese's | Cultural Care Au Pair | Franklin Pizza | Green Mountain Energy | Hanson Place Orthodontics | Hosh Kids | Junior Explorers | MobileArq | Mulee School Supply Kits | New York Jewish Parenting Guide | New York Life Insurance | New York School Help | NYC Chess | NYC Rx Card | PSG Academy NY | Planet Aid | Polish & Slavic Federal Credit Union | Sage Music School | St. Nicks Alliance | The Gym Park | Transition Neighborhood | Urbansitter | Usbonne Books | Williamsburg Music Studio | Williamsburg School of Music
WHO SHOULD EXHIBIT AT SCHOOLFEST?
Are you a school, early childhood center or university?

Do you offer educational services and products?

Are your products and services intended for school-aged children and youth?

Are you interested in reaching parents, grandparents, educators, and caretakers in exciting Greenpoint & Williamsburg, Brooklyn?

Schoolfest is the expo for you!
WHAT MAKES SCHOOLFEST SO VALUABLE?
Schoolfest offers a supportive networking and informational experience for both exhibitors and parents.

Schoolfest allows our neighborhood schools to share new information and projects with each other so that our entire district may benefit.

Most importantly, Schoolfest understands that parents can often be overwhelmed by school choices and admission processes. Schoolfest helps parents navigate through the confusion so that they can make the best choice for their child's educational needs

SCHOOLFEST FACTS
+100 schools, organizations and partners

+700 students, parents, teachers, and professionals attend.

Informative workshops by highly regarded educational professionals.

Unique chance to reach parents and network with school andministrators.

Brooklyn Expo Center is an exciting event venue, located at the corner of highly popular Franklin Street in Greenpoint/Williamsburg.

This year, Schoolfest will be held with NYC PTA Expo. Exhibitors and attendees will benefit from both events.

Organizer of Schoolfest 2016 ~ Exhibitor Booths
TOWN SQUARE is a community-based 501(c)(3) organization serving Brooklyn since 2004.  We're responsible for many recurring family events in Greenpoint and Williamsburg including our popular Spring Egg Hunt, SummerStarz movie series, Greenpoint Children's Halloween Parade, Spooktacular Party, Zombie Nerf War, Santa Brunch and more. We also offer green programs and informative expos including Greencycle Swaps, Go Green Brooklyn Festival, and Schoolfest.