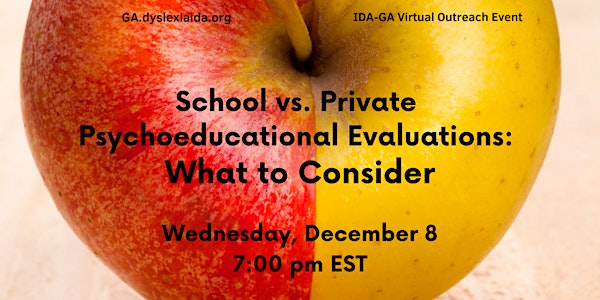 School vs. Private Psychoeducational Evaluations: What to Consider
Families are invited to learn the differences between school and private psychoeducational evaluations to allow for informed decisions.
About this event
This IDA-GA outreach webinar will provide families with information regarding the differences between school psychological evaluations and private psychological evaluations to make an informed decision for their child's evaluation. Brandi Tanner, Ph.D., NCSP will discuss considerations in this decision including the difference between eligibility for school services and a medical diagnosis, privacy and confidentiality issues, financial implications, and the role psychological evaluations play in eligibility for school services and accommodations.
There will be time for Q & A at the end. IDA-GA Board Member Tara Terry will be leading this discussion.
You are invited to submit a question when you register as well as during the event. _____________________________________________________________________________________
A NOTE ON REGISTRATION: After registering, you will receive a confirmation email. If you do not see that email, please check your junk mailbox.  You might want to save the confirmation email. The email includes a "View the Event" button. When you click on that button, you will be asked to "Sign up or Log In."  Create an Eventbrite account (username and password) or click on "Continue with Facebook" or "Continue with Apple."  This extra layer of protection for our attendees and will allow you access to the registrant-only event page.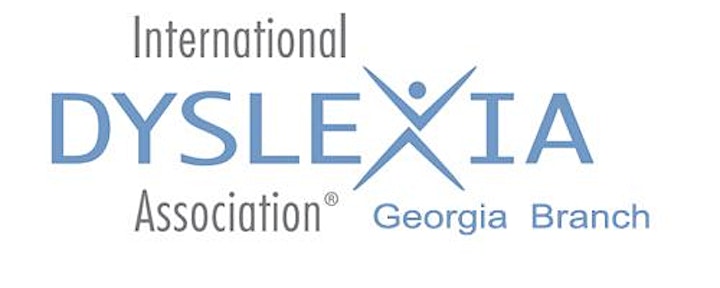 Organizer of School vs. Private Psychoeducational Evaluations: What to Consider
The International Dyslexia Association Georgia is a non-profit, scientific and educational organization which was formed to increase public awareness of dyslexia. We are a resource and support system for parents, educators, and individuals with dyslexia.

Many of our members are actively involved in the diagnosis and remediation of dyslexia. Our members are educators, psychologists, physicians, individuals with dyslexia, and parents who have dealt with learning disability issues within local public and private schools.

With its approximate 300 members, the Georgia Branch provides an information and referral hotline, monthly news updates, community outreach activities, yearly conferences, and information about teacher training opportunities and other resources to support parents, educators, and individuals with dyslexia. The Branch encourages teachers to train in Structured Literacy and offers teacher training scholarships and grants. Funds are for these scholarships are raised primarily through annual membership dues and the Dyslexia Dash 5K, a dyslexia awareness event offered every October.

Membership in the local branch is included in the cost of IDA membership. If you are one of the many people affected by dyslexia or if you have family members or students with dyslexia, we urge you to join the IDA and become an active participant.