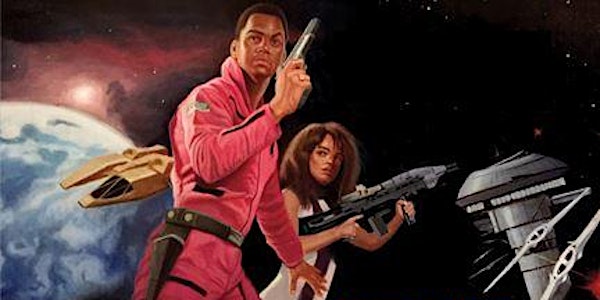 Schomburg's 6th Annual Black Comic Book Festival: Jan 12-13, 2018
When and where
Location
Schomburg Center for Research in Black Culture 515 Malcolm X Boulevard New York, NY 10037
Refund Policy
Contact the organizer to request a refund.
Description
Welcome to the Schomburg Center's Black Comic Book Festival Community! We are extremely excited for you to attend our 6th annual Black Comic Book Festival.
The Schomburg Center's Annual Black Comic Book Festival (BCBF) celebrates the rich tradition of Black comix featuring panel discussions, film screenings, a cosplay show, and exhibit tables with premiere independent Black comic creators from across the United States. The annual extravaganza, which drew close to 12,000 attendees in 2017, connects diverse comic readers, creators, bloggers, nerds, independent publishers, and collectors of all ages. This year's highlights will include panels and discussion on topics including diversity and social justice in comics, black comics in digital spaces, black masculinity in comic books, and much, much more.
New offers are also available for comic fans of all ages such as a limited edition 6th anniversary program book, festival t-shirts, and the opportunity to donate samples of your comics to the Schomburg Library's Comic Book Archive! All the information you need to get registered is outlined below.
The Schomburg Center thanks Lexus for their generous support of the 6th Annual Black Comic Book Festival.
Follow Us Online: @SchomburgCenter #blackcomicbookfestnyc
Questions?
If you have any additional questions, email Kadiatou Tubman at kadiatoutubman@nypl.org.
---
The 6th Annual Black Comic Book Festival Program
Note: Times and panelists are subject to change.
FRIDAY, JANUARY 12, 2018

10:00AM | All Locations
Exhibitor Tables Open to the Public
10:00AM - 10:15AM | Langston Hughes Auditorium
Welcome to Day 1
10:15AM - 12:30PM | Langston Hughes Auditorium
Youth Program: Heroes of Color & Super Kids!
*Free books for kids!
Part 1: 10:15AM-10:45AM
Screening of Heroes of Color Animated Shorts
Presented by David Heredia


Part 2: 10:45AM-12:30PM
Super Kids! Panel Presentation
Presenters: Jamar Nicholas (Leon), Jamal Igle (Molly Danger), Micheline Hess (Malice and Ovenland), David Miller (Khalil's Way), and Jerry Craft (Mama's Boyz)
1:30PM - 2:45PM
Black Characters Matter: Social Justice and Representation in Comics
Moderated by Deirdre Hollman (Black Comics Collective)
Panelists: Dawud Anyabwile (Brotherman Comics), Tony Medina & Stacey Robinson (I Am Alfonso Jones), and Eric Velasquez (Schomburg: The Man Who Built a Library)
3:30PM-5:00PM
Digging Through the Crates: Chronicling Black Comics Culture
Moderated by Professor William Foster
Panelists: Sheena Howard (The Encyclopedia of Black Comics), and Joe Illidge (Black Comix Returns), Brother Kendu Cheek (Konscious Comics)
5:15PM-5:45PM
Autograph Session with Florence Kasumba (Black Panther movie, Ayo)
6:00PM-6:30PM
Screening and Interview: Exclusive Clip from Black Panther presented by Florence Kasumba
6:30PM-8:00PM
Black Panther: A Hero and A Movement
Moderated by Kevin Young
A conversation with Schomburg Director Kevin Young, Florence Kasumba (Black Panther movie, Ayo), Professor Jonathan Gayles ("White Scripts and Black Supermen"), Professor Kinitra Brooks ("Searching for Sycorax: Black Women in Contemporary Horror"), Illustrator Alitha Martinez ("World of Wakanda") exploring the context, impact, and legacy of Black Panther as a ground-breaking character and a social-political movement.
SATURDAY, JANUARY 13, 2018
10:00AM | All Locations
Exhibitor Tables Open to the Public
10:00AM - 10:15AM | Langston Hughes Auditorium
Welcome to Day 2
10:15AM - 11:15AM
Film Screening: White Scripts and Black Supermen: Black Masculinities in Comic Books by Jonathan Gayles
11:30AM - 12:45PM
Differential Powers in the African Diaspora
Moderated by Jonathan Gayles (White Scripts and Black Supermen, Georgia State University)
Panelists: William Jones (Afrofuturism Network), Grace Gipson (University of California Berkeley), Julian Chambliss (Rollins College)
1:45PM - 2:45PM
Reimagining the Past: Historical Fiction and Alternative Histories
Moderated by Mike Sargent
Panelists: Greg Burnham (Tuskegee Heirs), Ray Felix (Bronx Heroes), Kamau Ware (Black Gotham)
3:00PM - 3:30PM
Cosplay Showcase
3:45PM - 4:45 PM
The Brown Universe: Diversity in Comics
Moderated by Jonathan Gray
Panelists: Edgardo Miranda-Rodriguez (Boriquena), [Laserman by Rajive Anand?] and Marcus Williams (Tuskegee Heirs).
5:00PM - 5:45 PM
KickStarter Workshop
Presented by Greg Elysee (Is'Nana the Were-Spider)
5:45PM - 6:45 PM
Black Comics and the Digital Community: How Black Geekdom has taken over the Worlds of Social Media
Moderated by Karama Horne (The Blerdgurl)
Panelists: Kwanzaa Osajeyfo (Black), and Regine Sawyer (Locketdown Productions and Women in Comics Collective)
Donations to Schomburg Library's Comic Book Archive
The Schomburg Library is seeking to expand its collection of black independent comic books! Please consider donating single copies of old or new titles from your home collection to the Schomburg Library at the Festival. All donations will become part of the Schomburg's permanent collection and contribute to a unique and growing archive documenting comics and the black speculative arts movement.
Press Inquiries
Please send all press inquiries (photo, video, interviews, audio-recording, etc) at least one-week before the day of the Black Comic Book Festival to: Ayofemi Kirby, Schomburg/NYPL Senior Publicist at ayofemikirby@nypl.org. Please note that professional photography and video recordings are prohibited without expressed consent.