Description
The Schomburg Center's annual Open House is an opportunity for the public to meet our librarians, archivists, and curators. Visit our renovated divisions, learn how to conduct your own research using the Schomburg's collections, get tips on creating a personal archive, visit the current exhibitions, and attend programs in the Langston Hughes Auditorium. The Schomburg Open House has something for all ages to learn, explore, and enjoy!
Photo: Schomburg Center for Research in Black Culture, Photographs and Prints Division, The New York Public Library. "Portrait of Arthur Alfonso Schomburg from his United States passport, issued 1926" The New York Public Library Digital Collections. 1926.
---
Spend the day earning passport stamps by conducting research in Schomburg divisions and attending programs that allow you to delve deeper into Black history! Have your passport stamped three or more times and be entered into a raffle drawing for a variety of prizes.
TALKS
12:00 pm | Langston Hughes Auditorium
HOME TO HARLEM CURATOR'S CHOICE
Curators and archivists from Schomburg divisions will present on newly available collections and acquisitions. Also, join Director Kevin Young for a one-on-one interview with Michelle Commander, the new Associate Director and Curator of the Lapidus Center for the Historical Analysis of Transatlantic Slavery.
2:00 pm | Langston Hughes Auditorium
ON BEING LITERARY IN HARLEM
Join Harlem residents and editors Tracy Sherrod (HarperCollins Publishers), and authors Khary Lazarre-White (Passage), Mitchell Jackson (Residue Years, Everyday People), Nana Ekua Brew-Hammond (Everyday People) and more for a conversation moderated by Harriette Cole.
3:30 pm | Langston Hughes Auditorium
AFRICAN CUISINE: ACROSS THE ATLANTIC TO HARLEM
Celebrate the thriving African and Afro-fusion foods found throughout Harlem, catering to Harlem's diverse and historically global Black communities. Join the conversation with Chef Cisse (Ponty Bistro), Chef Shakib Farah (Safari), and Henock T. Kejela (Zoma) moderated by Akin Akinsanya, Founder of New York African Restaurant Week.
---
YOUTH PROGRAMS
1:00 pm and 3:30 pm | American Negro Theater
COMBING THROUGH HISTORY - Art Activities (60 mins)
2:00 pm and 4:30 pm | American Negro Theater
SCHOMBURG EDUCATION INFORMATION SESSIONS (30 mins)
Learn about the Teen Curators program, the Junior Scholars, and upcoming programs for parents, caretakers, educators, and youth (11-18 years old).

---
WORKSHOPS & ACTIVITIES
The Public Scholar - How to Use the Schomburg Center (30 mins)
1:30 pm | Jean Blackwell Hutson Research and Reference Division
2:30 pm | Moving Image & Recorded Sound Division
3:30 pm | Photographs & Prints Division
4:30 pm | Manuscripts, Archives, & Rare Books Division

2pm - 4pm | Media Gallery
ONE STORY EVERYDAY ARCHIVE
Want to share your history of Harlem? In this small group session, we invite participants to bring one item such as a photograph, a letter, newspaper, or a piece a clothing, anything that helps you tell your story about Harlem of the past or present. We will help you craft a short script and will invite you tell your story on camera. Your Harlem story will be uploaded to the Schomburg's live video archive that will be seen throughout the Open House and featured in our upcoming exhibition. Registration required. Please arrive before 3pm to secure your participation.
---
EXHIBITIONS
1:00 pm-4:00 pm| Latimer Gallery
ARTISTS ON ARTISTS
In-gallery presentations that invite contemporary artists and scholars to respond to artworks on view with a focus on form and process. Through guided observation, visitors hear from artists working across a diversity of media as they explore their own connections to the exhibition Firelei Baez: Joy Out of Fire. The program is presented by the Studio Museum in Harlem.
Black Power! will also be on view in the Exhibition Hall.
---
CLOSING RECEPTION
5:00 PM
Following the last program of the day, stay for Afro-beats and food tasting hosted by a variety of African restaurants in Harlem, including Ponty Bistro, Safari, Zoma, and Seasoned Pot. The reception will take place in the Langston Hughes Lobby.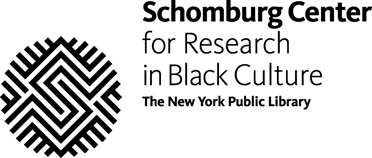 GUESTS
Please note that holding seats in the Langston Hughes Auditorium is strictly prohibited and there is no food or drinks allowed anywhere in the Schomburg Center unless otherwise instructed.
AUDIO/VIDEO RECORDING
Programs are photographed and recorded by the Schomburg Center. Attending this event indicates your consent to being filmed/photographed and your consent to the use of your recorded image for any all purposes of the New York Public Library.
PRESS
Please send all press inquiries (photo, video, interviews, audio-recording, etc) at least 24-hours before the day of the program to Ayofemi Kirby at ayofemikirby@nypl.org.

Please note that professional photography and video recordings are prohibited without expressed consent.