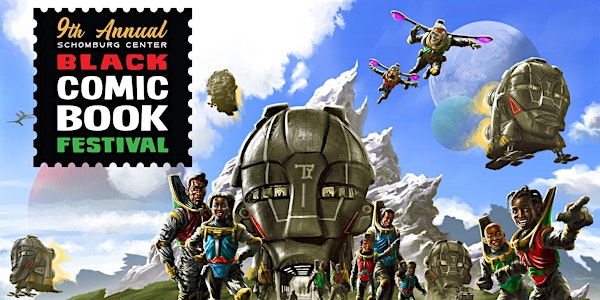 Schomburg Center's 9th Annual Black Comic Book Festival
The Black Comic Book Festival celebrates the rich tradition of Black comics featuring panel discussions, a cosplay show, and more!
About this event
COMIC BOOK FANS OF ALL AGES: Get ready for the ninth annual Schomburg Center Black Comic Book Festival, the virtual edition!
The Black Comic Book Festival celebrates the rich tradition of Black comics featuring panel discussions, a cosplay show, and highlights the work of creators from across the country. The annual extravaganza and free community event connects fans, writers, illustrators, bloggers, nerds, independent publishers, and collectors of all ages. #SchomCom2021
PROGRAM SCHEDULE
WEDNESDAY, JANUARY 13
12:00 to 1:00 PM | How to Draw Black Superheroes with Tim Fielder
1:30 to 2:30 PM | Comic Book Writing Workshop with Regine Sawyer
THURSDAY, JANUARY 14
1:00 to 2:00 PM | Black Girl Genius with Yesenia Moises, Robyn Smith, Greg Burnham, Okema Moore, Adewunmi Roye Okupe and Erika Hardison
3:00 to 4:00 PM | The BAYlies: A Community of LGBTQ and POC Cartoonists from The Bay Area with Lawrence Lindell and Breena Nuñez
4:30 to 5:30 PM | The Comics Chitlin Circuit: Cultivating a Sustainable Network for Black Cartoonists with Ronald Wimberly, John Jennings, Spike Trotman, Jason Reeves, and Andre Owens
FRIDAY, JANUARY 15
2:30 to 3:30 PM | #Edcomix: Teaching Hard History Through Comics with Erica Buddington, David Heredia, and Deirdre Hollman
4:00 to 5:00 PM | The Comic Book Spectrum: Comics & Advocacy with Vita Ayala, Alitha E. Martinez, Eric Battle, David Walker, and Regine Sawyer
5:30 to 6:30 PM | MECCAcon presents: Black Animators with Carl Jones, Mad Twiinz, Udeh Brothers, and Maia Crown
SATURDAY, JANUARY 16
11:10 to 11:50 AM | Tribute to Chadwick Boseman with DeSean Jenkins, Rachelle Darden, Hayward Leach, Kadiatou Tubman and M. Scott Johnson
12:10 to 1:00 PM | Inside HarperCollins Amistad's INFINITUM: An Afrofuturist Tale with Tim Fielder, Boston Fielder, and Deirdre Hollman
1:30 to 2:30 PM | Views from Megascope: After the Rain and Black Star with John Jennings, Eric A. Glover, Arielle Jovellanos, and David Brame and Calvin Reid
2:45 to 3:45 PM | Meet the Makers!
4:00 to 5:00 PM | Make It Plain: Social Commentary Thru Comix with Keith Knight, Tee Franklin, Cagen Luse, and Janicia Francis
More program details are available at www.SchomCom.org.
The festival also offers a marketplace for panelists and other vendors to showcase their creative work for purchase online via the Exhibitors Showcase.
Exhibitors are by invitation only. If you have questions, please email schomburged@nypl.org.
SHOP | Visit the Schomburg Shop online to purchase some of the titles featured during the festival: https://schomburgshop.com.
PRESS | Please send all press inquiries (photo, video, interviews, audio-recording, etc) at least 24-hours before the day of the program to Christina Santi at christinasanti@nypl.org.
Art by Tim Fielder
Educator Deirdre Hollman, author Jerry Craft, (Mama's Boyz and The Offenders), Professor John Jennings (University of California, Riverside), and Professor Jonathan Gayles (University of Georgia), cofounded the Black Comic Book Festival in 2013.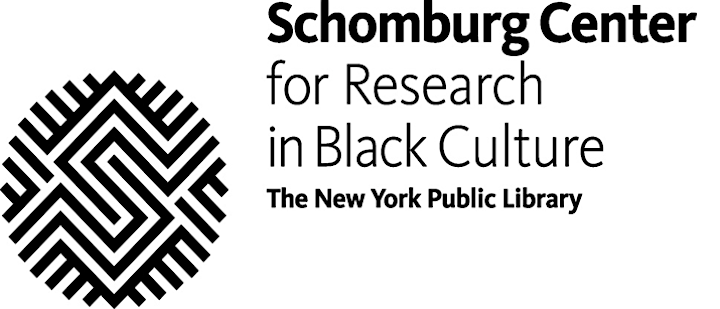 PUBLIC NOTICE AND DISCLAIMER
This Program uses a third-party website link. By clicking on the third-party website link, you will leave NYPL's website and enter a website not operated by NYPL. We encourage you to review the privacy policies of every third-party website or service that you visit or use, including those third parties with whom you interact with through our Library services. For more information about these third-party links, please see the section of NYPL's Privacy Policy describing "Third-Party Library Services Providers" at https://www.nypl.org/help/about-nypl/legal-notices/privacy-policy.
During this Program, you will be using third-party platforms such as CrowdCast, for the purpose of communication. This service may collect some personally identifying information about you, such as name, username, email address, & password. This service will treat the information it collects about you pursuant to its own privacy policy.