Location
Schomburg Center for Research in Black Culture
515 Malcolm X Blvd
New York, NY 10030
Free Harlem literary festival featuring some of the most talented writers of African descent and influential figures in culture today
About this event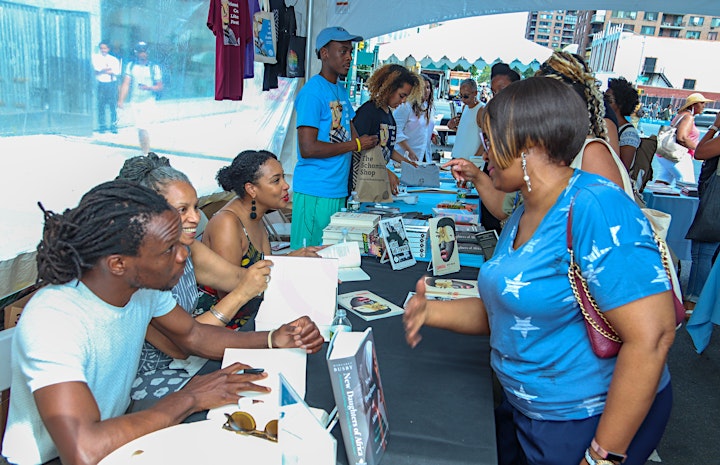 IN-PERSON
The Schomburg Center Literary Festival: Reading the African Diaspora celebrates authors of African descent and champions literacy and books across genres to amplify Black history and culture. Festival programming features some of the most talented writers and influential figures in culture today. The festival is built on the foundation created by Arturo Schomburg–encouraging freedom of thought, the relentless pursuit of Black history, and the engagement of our imagination towards our collective freedom.
The inaugural festival, founded in 2019 as an in-person event, has been virtual for the last two years. 2022 marks its fourth year and will reconvene communities of book lovers to interact with their favorite authors in Harlem, USA. The festival hosts a marketplace of local organizations and vendors, NYPL mobile library, and programs for all ages.
Readings, panel discussions, and workshops at the event range from prose to poetry, comic books to young adult novels, fiction and nonfiction.
LOCATION
The festival will take place in Schomburg's landmark building at 515 Malcolm X Boulevard, as well as outdoors on 135th Street between Malcolm X and Adam Clayton Powell Jr. Boulevards, on stage named after Adam Clayton Powell and Zora Neale Hurston..
FREE AND OPEN TO THE PUBLIC
PUBLIC NOTICE AND DISCLAIMER By registering for this event, you are acknowledging that an inherent risk of exposure to COVID-19 exists in any public place where people are present. By attending an in-person program at The New York Public Library's Schomburg Center for Research in Black Culture, you voluntarily assume all risks related to exposure to COVID-19 and agree not to hold The New York Public Library, its Trustees, officers, agent and employees liable for any illness or injury. If you have symptoms consistent with COVID-19 or suspect you have been in close contact with someone who has tested positive, please stay home.
The Schomburg Center Literary Festival is generously sponsored by Corbin Capital Partners, L.P.
Artwork: Cropped, "Take A Look...The Universe is Yours!", 2019 by Jennifer Mack-Watkins
Photo: 2019 Schomburg Center Literary Festival, author book signing; Isseu Diouf/Schomburg Center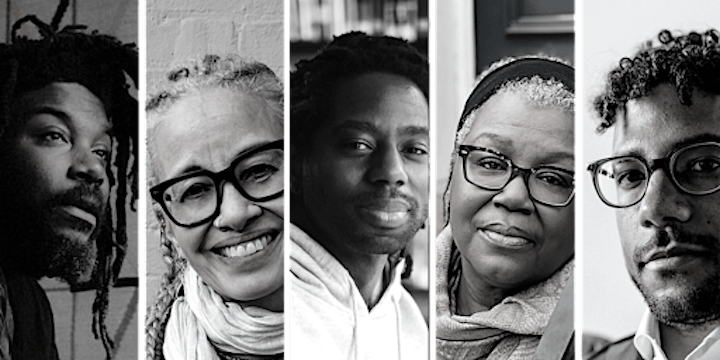 JUNE 18 - FESTIVAL SCHEDULE
Visit our website for the most up to date schedule and to learn more about our pre-festival events: schomburgcenterlitfest.org
AUTHOR READINGS & TALKS
Learn more about our participants here.
Langston Hughes Stage
11:00 AM | Reading, An Act of Rebellion and Joy
Opening Celebration
Jason Reynolds, Stunt Boy, Miles Morales: Spider-Man, Patina, Ghost, Look Both Ways
Roxane Gay, Hunger, Bad Feminist, Difficult Women
12:45 PM | Health and Racism in America
Linda Villarosa, Under the Skin: The Hidden Toll of Racism on American Lives
and on the Health of Our Nation
2:00 PM | Black Manhattan In and Out of the Archives
Kia Corthron, Moon and the Mars,
Kevin McGruder, Phillip Payton: The Father of Black Harlem
Moderator: Eric K. Washington
3:15 PM | Embracing Desire, A Debut Author's Journey
Mecca Jamilah Sullivan, Big Girl
Moderator: Jacqueline Woodson
Adam Clayton Powell, Jr. Stage
10:30 AM | Woke Baby! Festival
Children's Author Readings, Live Music, Yoga and Meditation, Bookmark Making, and Author Signings
Powered by Woke Baby!
Curated and Hosted by Mahogany L. Browne, Chlorine Sky, Woke Baby​
1:00 PM | Literary Monuments, Friendship, and Toni Morrison
A.J. Verdelle, Miss Chloe: A Literary Friendship with Toni Morrison
Moderator: Tiphanie Yanique, Monster in the Middle: A Novel
>> Presented in collaboration with The Center for Fiction NEA Big Read. learn more ​
2:15 PM | To Be Brave and in Love
Awaeke Emezi, You Made a Fool of Death With Your Beauty
Moderator: Nicole Dennis-Benn, Patsy: A Novel
3:30 PM | Crafting Community in Short Stories
Sidik Fofana, Stories from the Tenants Downstairs
Ladee Hubbard, The Last Suspicious Holdout: Stories
Moderator: Ainehi Edoro, Brittle Paper

Zora Neale Hurston Stage
3:45 PM | Poetry for Our Time
Harold Green III, Black Oak, Black Roses
​
Aaron Douglas Reading Room
12:00 PM
Mateo Askaripour, Black Buck
1:30 PM
Cleyvis Natera, Neruda on the Park: A Novel
>> Stay tuned for more programing announcements for these stages

WORKSHOPS
American Negro Theatre
12:00 PM - 1:30 PM | Workshop: The Art of Creating Historical Fiction
Presented by Harlem Writers Guild & Minnette Coleman
A workshop for those wanting to write historical fiction one way to create their story through research and writing. Pre-Registration and prep suggested. REGISTRATION OPENS MAY 21
2:00 PM - 4:00 PM | Workshop: Intro to Personal Storytelling
Presented by The Moth
There is power in sharing your personal stories—the power to spark meaningful connections, to deepen self-awareness, and even to inspire social change. Pre-Registration and prep suggested. REGISTRATION OPENS MAY 21
__________
AUDIO/VIDEO RECORDING Programs are photographed and recorded by the Schomburg Center. Attending this event indicates your consent to being filmed/photographed and your consent to the use of your recorded image for any all purposes of the New York Public Library.
PRESS Please send all press inquiries (photo, video, interviews, audio-recording, etc) at least 24-hours before the day of the program to Leah Drayton at leahdrayton@nypl.org.
Please note that professional video recordings are prohibited without expressed consent.