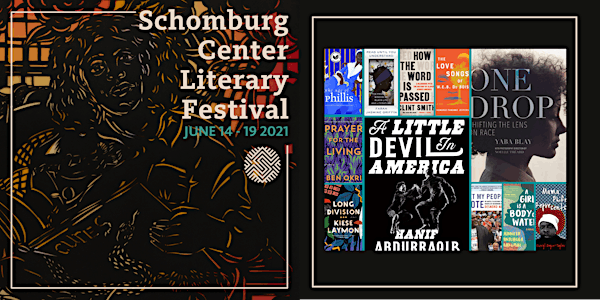 Schomburg Center Lit Fest: Words Like Freedom
We are celebrating Juneteenth with an incredible lineup of authors from across the globe.
About this event
The Schomburg Center Literary Festival expands the center's long tradition of championing authors of African descent from across the globe and publications that celebrate Black history and culture. Join us on the final day of the festival for readings, author talks, and panel discussions. Check back for updates closer to the festival!
Readers everywhere who wish to order copies of the books featured, can do so online at The Schomburg Shop. All proceeds benefit The Schomburg Center for Research in Black Culture.
These programs will be streamed on Zoom and simulcast to YouTube. You must register with your email address in order to receive the link to participate. Please check your email shortly before the discussion to receive the link. American Sign Language (ASL) and captioning are provided for all for all virtual events.
WORDS LIKE FREEDOM SCHEDULE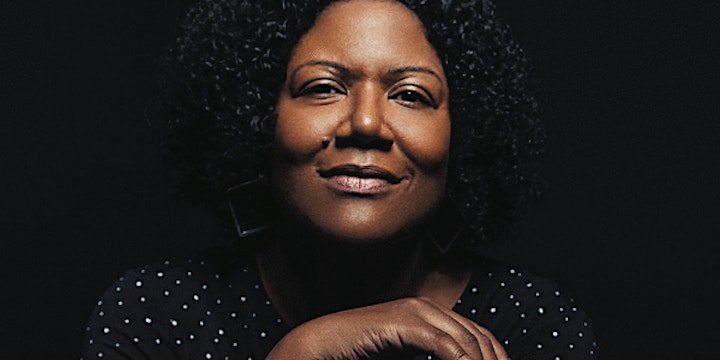 10:30 AM (EDT) | JUNETEENTH OPENING PROGRAM
11:00 AM (EDT) | Read Until You Understand: Farah Jasmine Griffin in conversation with Tressie McMillan Cottom
Pre-order Read Until You Understand
12:00 PM (EDT) | Clint Smith, reading and conversation with Dr. Andrea Roberts
HOW THE WORD IS PASSED: A Reckoning With the History of Slavery Across America by Clint Smith
Beginning in his hometown of New Orleans, Clint Smith leads the reader on an unforgettable tour of monuments and landmarks—those that are honest about the past and those that are not—that offer an intergenerational story of how slavery has been central in shaping our nation's collective history, and ourselves.
12:15 PM (EDT) | Yaba Blay, reading and conversation with Dr. Courtney R. Baker
One Drop: Shifting the Lens on Race by Yaba Blay (Non Fiction)
One Drop explores the extent to which historical definitions of race continue to shape contemporary racial identities and lived experiences of racial difference. Featuring the perspectives of 60 contributors representing 25 countries and combining candid narratives with striking portraiture, this book provides living testimony to the diversity of Blackness.
1:00 PM (EDT) | Ben Okri, reading and conversation with Chris Abani
Prayer for the Living by Ben Okri (Fiction)
Playful, frightening, even shocking—the stories in this collection blur the lines between illusion and reality. This is a writer at the height of his power, making the reader think, making them laugh, and sometimes making them want to look away while holding their gaze. Stories here are set in London, in Byzantium, in the ghetto, in the Andes, in a printer's shop in Spain. The characters include a murderer, a writer, a detective, a man in a cave, a man in a mirror, two little boys, a prison door, and the author himself.
1:15 PM (EDT) | Honorée Fanonne Jeffers, reading and conversation with incoming Schomburg Director, Joy Bivins
The Age of Phillis (Poetry) GET THE BOOK
In 1773, a young, African American woman named Phillis Wheatley published a book of poetry that challenged Western prejudices about African and female intellectual capabilities. Based on fifteen years of archival research, The Age of Phillis, imagines the life and times of Wheatley: her childhood in the Gambia, West Africa, her life with her white American owners, her friendship with Obour Tanner, and her marriage to the enigmatic John Peters.
The Love Songs of W.E.B. Du Bois (Fiction) by Honorée Fanonne Jeffers GET THE BOOK
The great scholar, W. E. B. Du Bois, once wrote about the Problem of race in America, and what he called "Double Consciousness," a sensitivity that every African American possesses in order to survive. Since childhood, Ailey Pearl Garfield has understood Du Bois's words all too well. To come to terms with her own identity, Ailey embarks on a journey through her family's past, uncovering the shocking tales of generations of ancestors—Indigenous, Black, and white—in the deep South. In doing so Ailey must learn to embrace her full heritage, a legacy of oppression and resistance, bondage and independence, cruelty and resilience that is the story—and the song—of America itself.
2:00 PM (EDT) | Kiese Laymon + Desmond Meade, reading and conversation with Reginald Dwayne Betts
Long Division by Kiese Laymon (Fiction) GET THE BOOK
Written in a voice that's alternately humorous, lacerating, and wise, Long Division features two interwoven stories. Brilliantly "skewering the disingenuous masquerade of institutional racism" (Publishers Weekly), this dreamlike "smart, funny, and sharp" (Jesmyn Ward), novel shows the work that young Black Americans must do, while living under the shadow of a history "that they only gropingly understand and must try to fill in for themselves" (The Wall Street Journal).
Let My People Vote: Battle to Restore the Civil Rights of Returning Citizens by Desmond Meade (Memoir) GET THE BOOK
"You may think the right to vote is a small matter, and if you do, I would bet you have never had it taken away from you." Thus begins the story of Desmond Meade and his inspiring journey to restore voting rights to roughly 1.4 million returning citizens in Florida—resulting in a stunning victory in 2018 that enfranchised the most people at once in any single initiative since women's suffrage. Let My People Vote is the deeply moving, personal story of Meade's life, his political activism, and the movement he spearheaded to restore voting rights to returning citizens who had served their terms.
2:15 PM (EDT) | Cheryl Boyce-Taylor + Donika Kelly
Mama Phife Represent by Cheryl Boyce-Taylor (Memoir, Poetry) GET THE BOOK
Mama Phife Represent is a hybrid-story that follows the journey of a mother's grieving heart through her first two years of public and private mourning. Told through a tapestry of narrative poems, dreams, anecdotes, journal entries, and letters, these treasured fragments of their lives show a great love between mother and son.
The Renunciations: Poems by Donika Kelly (Poetry) GET THE BOOK
The Renunciations is a book of resilience, survival, and the journey to radically shift one's sense of self in the face of trauma. Moving between a childhood marked by love and abuse and the breaking marriage of that adult child, Donika Kelly charts memory and the body as landscapes to be traversed and tended. These poems construct life rafts and sanctuaries even in their most devastating confrontations with what a person can bear, with how families harm themselves.
3:00 PM (EDT) | Jennifer Nansubuga Makumbi, reading and conversation with Dr. Ainehi Edoro-Glines, Brittle Paper
A Girl is a Body of Water by Jennifer Nansubuga Makumbi (Fiction)
In her thirteenth year, Kirabo confronts a piercing question: who is my mother? Kirabo has been raised by women in the small Ugandan village of Nattetta―her grandmother, her best friend, and her many aunts―but the absence of her mother follows her like a shadow. Seeking answers from Nsuuta, the local witch, Kirabo learns about the woman who birthed her, who she discovers is alive but not ready to meet. Nsuuta also helps Kirabo understand the emergence of a mysterious second self, a headstrong and confusing force inside her―this, says Nsuuta, is a streak of the "first woman": an independent, original state that has been all but lost to women.
3:15 PM (EDT) | Harlem Writers Guild Author Preview
with executive director Diane Richards and guild authors John Robinson, Marc Polite, Angela Dews, Malik Kirkwood, Eartha W. Hicks, Robert Woodbine, Kay Bell, Judy Andrews, Minnette Coleman
4:30 PM (EDT) | CLOSING Hanif Abdurraqib in conversation with Dawnie Walton
A Little Devil in America: Notes in Praise of Black Performance by Hanif Abdurraqib
At the March on Washington in 1963, Josephine Baker was fifty-seven years old, well beyond her most prolific days. But in her speech she was in a mood to consider her life, her legacy, her departure from the country she was now triumphantly returning to. "I was a devil in other countries, and I was a little devil in America, too," she told the crowd. Inspired by these few words, Hanif Abdurraqib has written a profound and lasting reflection on how Black performance is inextricably woven into the fabric of American culture.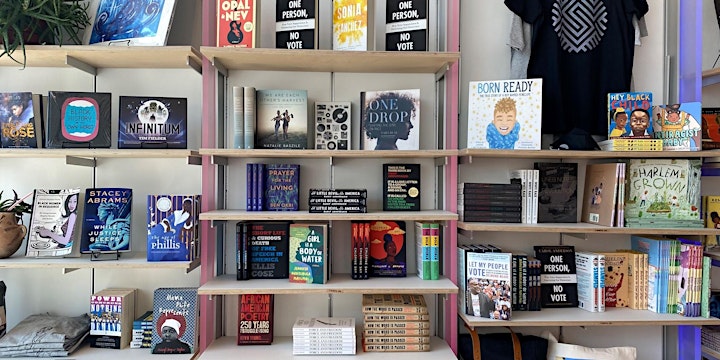 SCHOMBURG SHOP
Readers everywhere who wish to order copies of books featured during the festival and more, can do so online at The Schomburg Shop. All proceeds benefit The Schomburg Center for Research in Black Culture.
ABOUT THE SCHOMBURG CENTER LITERARY FESTIVAL
The Schomburg Center Literary Festival: Reading the African Diaspora expands the center's long tradition of championing authors of African descent from across the globe and publications that celebrate Black history and culture. The day-long book festival has been reconfigured as a virtual festival taking place over six days as the Schomburg Center's doors remain temporarily closed due to COVID-19. Throughout the week, our featured authors and books will help us explore concepts of freedom, culminating on June 19, also known in the United States as Juneteenth, a day in 1865 marking freedom for enslaved people in Galveston, Texas.
CLICK HERE FOR THE FULL FESTIVAL SCHEDULE
​The Schomburg Center Literary Festival is generously sponsored by:
Deutsche Bank Americas Foundation
New York Life Foundation
Artwork: Book of Cures by Barbara Earl Thomas, Courtesy of Claire Oliver Gallery and Barbara Earl Thomas. Photo: Spike Mafford Photography
PRESS 
Please send all press inquiries (photo, video, interviews, audio-recording, etc) at least 24-hours before the day of the program to Amy Geduldig at amygeduldig@nypl.org.
PUBLIC NOTICE AND DISCLAIMER
During this Program, you will be using third-party platforms such as Zoom and YouTube, for the purpose of communication. We encourage you to review the privacy policies of every third-party website or service that you visit or use, including those third parties with whom you interact with through our Library services. This service may collect some personally identifying information about you, such as name, username, email address, & password. This service will treat the information it collects about you pursuant to its own privacy policy, which can be found here: Google Privacy Policy, Zoom Privacy Policy, YouTube Privacy Policy. For more information about these third-party links, please see the section of NYPL's Privacy Policy describing "Third-Party Library Services Providers" at https://www.nypl.org/help/about-nypl/legal-notices/privacy-policy.