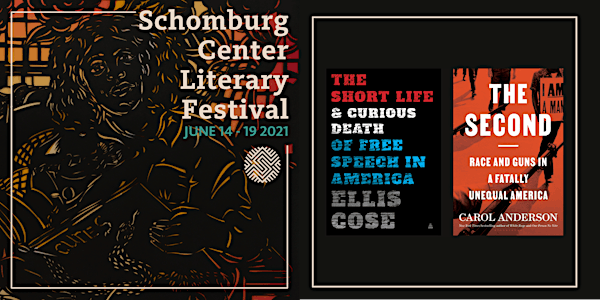 Schomburg Center Lit Fest: Two Freedoms with Carol Anderson and Ellis Cose
Carol Anderson and Ellis Cose books take us through our fraught history with the first and second amendments to the U.S. Constitution
About this event
The Schomburg Center Literary Festival expands the center's long tradition of championing authors of African descent from across the globe and publications that celebrate Black history and culture.
Day 2: Two Freedoms
Carol Anderson, author of The Second: Race and Guns in a Fatally Unequal America, and Ellis Cose, author of The Short Life and Curious Death of Free Speech in America, take us through our fraught history with the first and second amendments to the U.S. Constitution.
Moderator: C. Nicole Mason, PhD
FEATURED BOOKS
GET THE BOOK: The Short Life and Curious Death of Free Speech in America
Free speech has long been one of American's most revered freedoms. Yet now, more than ever, free speech is reshaping America's social and political landscape even as it is coming under attack. Bestselling author and critically acclaimed journalist Ellis Cose wades into the debate to reveal how this Constitutional right has been coopted by the wealthy and politically corrupt. Cose offers an eye-opening wholly original examination of the state of free speech in America today, litigating ideas that touch on every American's life.
GET THE BOOK: The Second: Race and Guns in a Fatally Unequal America
In The Second, historian and award-winning, bestselling author of White Rage Carol Anderson powerfully illuminates the history and impact of the Second Amendment, how it was designed, and how it has consistently been constructed to keep African Americans powerless and vulnerable. The Second is neither a "pro-gun" nor an "anti-gun" book; the lens is the citizenship rights and human rights of African Americans.
ABOUT THE PARTICIPANT (S)
CAROL ANDERSON is the Charles Howard Candler Professor and Chair of African American Studies at Emory University. She is the author of One Person, No Vote, longlisted for the National Book Award and a finalist for the PEN/John Kenneth Galbraith Award; White Rage, a New York Times bestseller and winner of the National Book Critics Circle Award; Bourgeois Radicals; and Eyes off the Prize. She was named a Guggenheim Fellow for Constitutional Studies. She lives in Atlanta, Georgia.
ELLIS COSE is the author of a dozen books on issues of national and international concern, including the best-selling The Rage of a Privileged Class. Cose is a widely respected journalist who has served as columnist and contributing editor of Newsweek, editor page chief for the New York Daily News, a fellow at the National Research Council/National Academy of Science, a fellow of the Joint Center for Political and Economic Studies, a fellow of the Gannett Center for Media Studies at Columbia University, a fellow of the Center for Free Speech and Public Engagement of the University of California, and a contributor and columnist for numerous major publications, including USA Today and TIME. Cose has appeared on the Today Show, Nightline, Dateline, ABC Evening News, Good Morning America, PBS "Time to Choose" election special, Charlie Rose, CNN's Talk Back Live, and a variety of other nationally televised and local programs. He lives in New York City
DR. C. NICOLE MASON is the president and chief executive officer of the Institute for Women's Policy Research (IWPR). Having stepped into the role in November 2019, Dr. Mason is the youngest person currently leading one of the major inside-the-Beltway think tanks in Washington, D.C., and one of the few women of color to do so. As one of the nation's foremost intersectional researchers and scholars, Dr. C. Nicole Mason brings a fresh perspective and a wealth of experience to the Institute for Women's Policy Research. For the past two decades, Dr. Mason has spearheaded research on issues relating to economic security, poverty, women's issues, and entitlement reforms; policy formation and political participation among women, communities of color; and racial equity. Her writing and commentary have been featured in the New York Times, MSNBC, CNN, NBC, CBS, the Washington Post, Marie Claire, the Progressive, ESSENCE, Bustle, BIG THINK, Miami Herald, Democracy Now, and numerous NPR affiliates, among others.
These programs will be streamed on Zoom and simulcast to YouTube. You must register with your email address in order to receive the link to participate. Please check your email shortly before the discussion to receive the link. American Sign Language (ASL) and captioning are provided for all for all virtual events.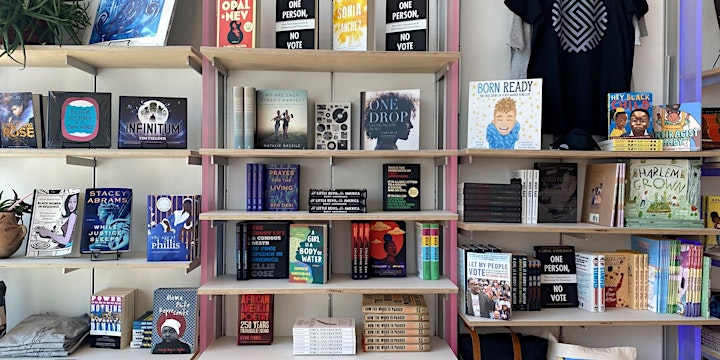 SCHOMBURG SHOP
Readers everywhere who wish to order copies of books featured during the festival and more, can do so online at The Schomburg Shop. All proceeds benefit The Schomburg Center for Research in Black Culture.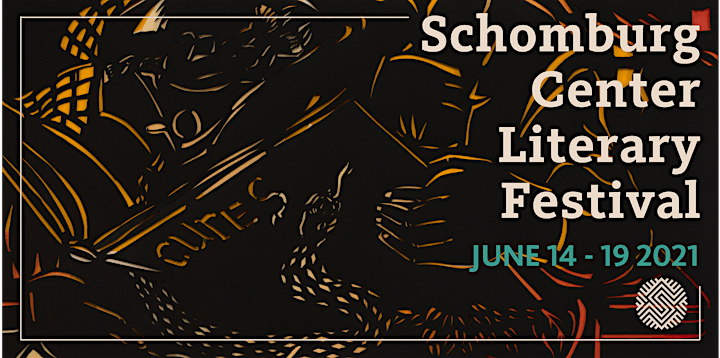 ABOUT THE SCHOMBURG CENTER LITERARY FESTIVAL
The Schomburg Center Literary Festival: Reading the African Diaspora expands the center's long tradition of championing authors of African descent from across the globe and publications that celebrate Black history and culture. The day-long book festival has been reconfigured as a virtual festival taking place over six days as the Schomburg Center's doors remain temporarily closed due to COVID-19. Throughout the week, our featured authors and books will help us explore concepts of freedom, culminating on June 19, also known in the United States as Juneteenth, a day in 1865 marking freedom for enslaved people in Galveston, Texas.
CLICK HERE FOR THE FULL FESTIVAL SCHEDULE
​The Schomburg Center Literary Festival is generously sponsored by:
Deutsche Bank Americas Foundation
New York Life Foundation
Artwork: Book of Cures by Barbara Earl Thomas, Courtesy of Claire Oliver Gallery and Barbara Earl Thomas. Photo: Spike Mafford Photography
PRESS 
Please send all press inquiries (photo, video, interviews, audio-recording, etc) at least 24-hours before the day of the program to Amy Geduldig at amygeduldig@nypl.org.
PUBLIC NOTICE AND DISCLAIMER
During this Program, you will be using third-party platforms such as Zoom and YouTube, for the purpose of communication. We encourage you to review the privacy policies of every third-party website or service that you visit or use, including those third parties with whom you interact with through our Library services. This service may collect some personally identifying information about you, such as name, username, email address, & password. This service will treat the information it collects about you pursuant to its own privacy policy, which can be found here: Google Privacy Policy, Zoom Privacy Policy, YouTube Privacy Policy. For more information about these third-party links, please see the section of NYPL's Privacy Policy describing "Third-Party Library Services Providers" at https://www.nypl.org/help/about-nypl/legal-notices/privacy-policy.