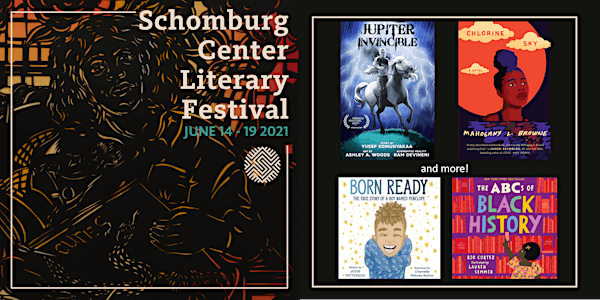 Schomburg Center Lit Fest: No Small Voice
A half-day of readings, author talks, and panel discussions for young people, featuring prose and poetry, and comic books and storybooks
About this event
The Schomburg Center Literary Festival expands the center's long tradition of championing authors of African descent from across the globe and publications that celebrate Black history and culture. Join us on Day 4 of the festival for a half-day of readings, author talks, and panel discussions for young people, featuring prose and poetry, and comic books and storybooks.
Readers everywhere who wish to order copies of all the featured books can do so online at The Schomburg Shop. All proceeds benefit The Schomburg Center for Research in Black Culture.
These programs will be streamed on Zoom and simulcast to YouTube. You must register with your email address in order to receive the link to participate. Please check your email shortly before the discussion to receive the link. American Sign Language (ASL) and captioning are provided for all for all virtual events.
NO SMALL VOICE SCHEDULE
1:00 PM (EDT) | Jupiter Invincible by Yusef Komunyakaa, Illustrator, Ashley A. Wood, and Ram Devineni, AR Creator
Moderator: Tim Fielder
Jupiter Invincible is an augmented reality comic book series about an African-American enslaved person, Jupiter, who is suddenly given the power of immortality. The story takes place on a Southern plantation near Baltimore before the U.S. Civil War. The project is a mixture of pop-culture, history, innovative technology, and dynamic storytelling to address structural racism. We believe bold new stories and narratives are needed to create a cultural shift and challenge perceptions about race in America. The comic is funded by the National Endowment for the Arts and written by Pulitzer Prize winning poet Yusef Komunyakaa.
2:30 PM (EDT) | Chlorine Sky by Mahogany L. Browne (YA)
Chlorine Sky is a novel-in-verse about a young girl coming-of-age and stepping out of the shadow of her former best friend. With gritty and heartbreaking honesty, Mahogany L. Browne delivers a novel-in-verse about broken promises, fast rumors, and when growing up means growing apart from your best friend.
Mahogany L. Browne is a writer, organizer & educator. Executive Director of Bowery Poetry Club & Artistic Director of Urban Word NYC & Poetry Coordinator at St. Francis College. Browne has received fellowships from Agnes Gund, Air Serenbe, Cave Canem, Poets House, Mellon Research & Rauschenberg. She is the author of recent works: Chlorine Sky, Woke: A Young Poets Call to Justice, Woke Baby, & Black Girl Magic. As the founder of the diverse lit initiative, Woke Baby Book Fair, Browne is excited to release her newest poetry collection responding to the impact of mass incarceration on women and children, I Remember Death By Its Proximity to What I Love, as well as her upcoming young adult novel Vinyl Moon, a story of survival set under the Brooklyn skyline. Mahogany lives in Brooklyn, New York.
4:00 PM (EDT) | Children's Books
Born Ready by Jodie Patterson
Penelope knows that he's a boy. (And a ninja.) The problem is getting everyone else to realize it. In this exuberant companion to Jodie Patterson's adult memoir, The Bold World, Patterson shares her son Penelope's frustrations and triumphs on his journey to share himself with the world. Penelope's experiences show children that it always makes you stronger when you are true to yourself and who you really are.
The ABCs of Black History by Rio Cortez
B is for Beautiful, Brave, and Bright! And for a Book that takes a Bold journey through the alphabet of Black history and culture. Letter by letter, The ABCs of Black History celebrates a story that spans continents and centuries, triumph and heartbreak, creativity and joy. It's a story of big ideas––P is for Power, S is for Science and Soul. Of significant moments––G is for Great Migration. Of iconic figures––H is for Zora Neale Hurston, X is for Malcom X. It's an ABC book like no other, and a story of hope and love. In addition to rhyming text, the book includes back matter with information on the events, places, and people mentioned in the poem, from Mae Jemison to W. E. B. Du Bois, Fannie Lou Hamer to Sam Cooke, and the Little Rock Nine to DJ Kool Herc.
Ruby's Reunion Day by Angela Dalton
This joyful picture book taps into the rich African American tradition of family reunions, with delicious food at the heart of the celebration. Once a year, each of Ruby's relatives prepares a special dish to share at their family reunion. Daddy calls it their "signature dish"—and Ruby wants one of her own. She wanders through the bustling kitchen looking for inspiration. As she watches Pop-Pop's chicken sizzling in the skillet, Uncle G slicing onions, and Auntie Billie cooking corn on the hot grill, she wonders if she's just too young to have a signature dish. That's when she finds it— the perfect solution! This sweet picture book is filled with the tenderness and warmth of this multigenerational extended family and the food they share.
5:30 PM (EDT) | Black Boy Joy! with Issac Fitzsimons, Kwame Mbalia, and Julian Winters
Join us for conversation with Issac Fitzsimons about his debut YA novel The Passing Playbook, a feel good teen romance about a trans athlete who must decide between fighting for his right to play and staying stealth. Brein Lopez of Children's Book World said, "Isaac Fitzsimons has scored a goal for Trans Boy Joy." We continue the exploration of joy with Kwame Mbalia, author of the Tristan series and editor of the forthcoming collection Black Boy Joy , and contributor, Julian Winters, author of YA LGBT fiction. Black Boy Joy celebrates the joys of Black boyhood with stories from seventeen bestselling, critically acclaimed Black authors.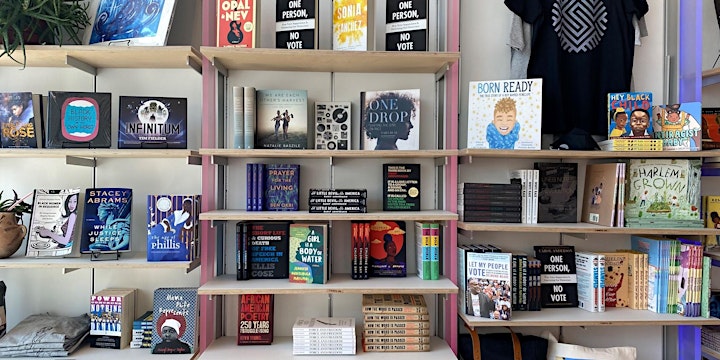 SCHOMBURG SHOP
Readers everywhere who wish to order copies of books featured during the festival and more, can do so online at The Schomburg Shop. All proceeds benefit The Schomburg Center for Research in Black Culture.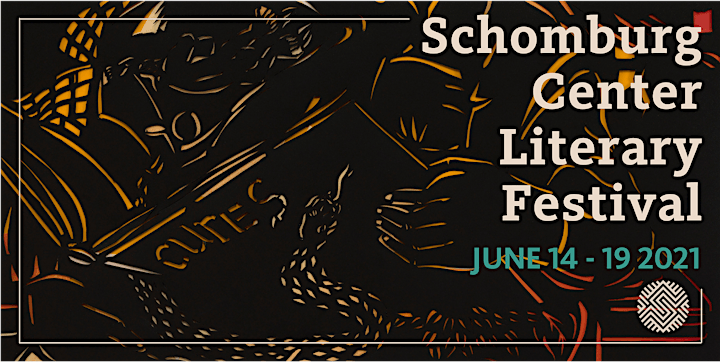 ABOUT THE SCHOMBURG CENTER LITERARY FESTIVAL
The Schomburg Center Literary Festival: Reading the African Diaspora expands the center's long tradition of championing authors of African descent from across the globe and publications that celebrate Black history and culture. The day-long book festival has been reconfigured as a virtual festival taking place over six days as the Schomburg Center's doors remain temporarily closed due to COVID-19. Throughout the week, our featured authors and books will help us explore concepts of freedom, culminating on June 19, also known in the United States as Juneteenth, a day in 1865 marking freedom for enslaved people in Galveston, Texas.
CLICK HERE FOR THE FULL FESTIVAL SCHEDULE
​The Schomburg Center Literary Festival is generously sponsored by:
Deutsche Bank Americas Foundation
New York Life Foundation
Artwork: Book of Cures by Barbara Earl Thomas, Courtesy of Claire Oliver Gallery and Barbara Earl Thomas. Photo: Spike Mafford Photography
PRESS 
Please send all press inquiries (photo, video, interviews, audio-recording, etc) at least 24-hours before the day of the program to Amy Geduldig at amygeduldig@nypl.org.
PUBLIC NOTICE AND DISCLAIMER
During this Program, you will be using third-party platforms such as Zoom and YouTube, for the purpose of communication. We encourage you to review the privacy policies of every third-party website or service that you visit or use, including those third parties with whom you interact with through our Library services. This service may collect some personally identifying information about you, such as name, username, email address, & password. This service will treat the information it collects about you pursuant to its own privacy policy, which can be found here: Google Privacy Policy, Zoom Privacy Policy, YouTube Privacy Policy. For more information about these third-party links, please see the section of NYPL's Privacy Policy describing "Third-Party Library Services Providers" at https://www.nypl.org/help/about-nypl/legal-notices/privacy-policy.