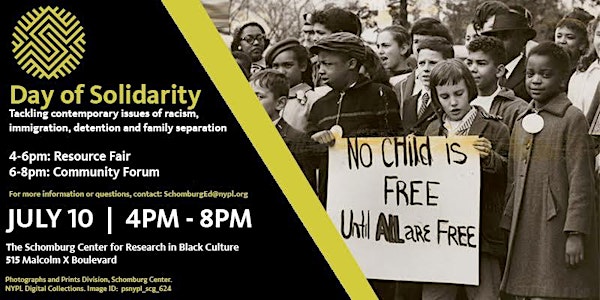 Schomburg Center Day of Solidarity/ Dia de Solidaridad
When and where
Location
Schomburg Center for Research in Black Culture 515 Malcolm X Boulevard New York, NY 10037 United States
Description
Join the Schomburg Center for our Day of Solidarity that will include an open forum and resource fair tackling contemporary issues of racism, immigration, detention and family separation. Highlighting the historic criminalization of racialized bodies, our Day of Solidarity will feature community organizers, activists, and guest speakers who amplify solidarity and grassroots activism. This event reflects the Schomburg Center's role as a historic resource and accessible safe space, committed to serving the public and strengthening our communities.
4-8pm: Resource Fair in the Langston Hughes Lobby

6-8pm: Community Forum in the Langston Hughes Auditorium
Registration is recommended, but not required. For more information or questions, contact: SchomburgEd@nypl.org
-
Acompañanos en el Schomburg Center para Dia de Solidaridad, un foro abierto y feria de recursos sobre asuntos contemporáneos de racismo, inmigración, detención, y la separación de familias. Alumbrando la criminalización de los cuerpos de diferente razas, Dia de Solidaridad incluirá organizadores, activistas, y oradores invitados quienes amplifican solidaridad y activismo de base. Este evento refleja el papel del Schomburg Center como un recurso histórico y espacio accesible, sirviendo al público y fortaleciendo nuestras comunidades. Se recomienda el registro, pero no es obligatorio.
4-8 pm: Feria de Recursos en el Vestíbulo de Langston Hughes
6-8 pm: Foro Comunitario en la Sala de Langston Hughes
Para preguntas o conseguir más información contacte a: SchomburgEd@nypl.org
Featured Panelists
Denise Romero, Immigrant Rights Activist

Denise Romero is an immigrant rights activist and DACA recipient from Mexico. She volunteers for the New York State Youth Leadership Council and is a member of the International Socialist Organization.

Farah Tanis, Black Womens Blueprint
Farah Tanis is the co-founder, Executive Director of Black Women's Blueprint working nationally and at the grassroots to address the spectrum of sexual violence against women and girls in Black/African American communities, and working with Historically Black Colleges and Universities (HBCUs) across the nation on issues of gender, race, sexuality, anti-violence policy and practice. Tanis was the national co-chair of the March for Black Women. She chaired the first Truth and Reconciliation Commission in the U.S. ever to focus on Black women and their historical and contemporary experiences with sexual assault. Tanis is a NoVo Foundation - Move to End Violence Program, Cohort 3 Movement Maker, a U.S. Human Rights Institute Fellow (USHRN) and a member of the Task Force on the UN Convention on the Elimination of Racial Discrimination. Until 2017, Tanis served on the Advisory Board of SurvJustice and Faculty Against Rape.
Zellie Imani, Black Liberation Collective
Zellie Imani is a community organizer and educator living in NJ. Zellie has served in diverse K-8 settings as an English/Math teacher and curriculum developer. Most recently, Zellie has been organizing against anti-black state violence with St Louis based Millennial Activists United and Black Lives Matter Paterson. He is also a co-founder of the Black Liberation Collective, a collective consisting of Black students who are dedicated to transforming institutions of higher education through unity, coalition building, direct action and political education that has initiated the #StudentBlackOut movement across campuses in the United States and Canada.
Chanel Porchia-Albert, Ancient Song Doula Services
Chanel Porcia has been working within infant and maternal health since 2008 and founded Ancient Song Doula Services, a doula organization focused on bringing full spectrum doula services and classes to those whom are often overlooked within marginalized communities and communities of color in an effort to address the disproportionately high infant and maternal mortality rate among African-American women in NYC and co-owner of Ancient Light Studio in Brooklyn, NY. Her work in reproductive health has taken her across the world to Uganda where she worked as a maternal health strategist and board member of Village Birth International, working on advisory boards with Ariadne Labs at Harvard School of Public Health, Colombia University Medical School, and various others. Currently, she serves as a birth justice consultant and provider engagement with the NY City Department of Health and Mental Hygiene and on various independent projects with Ancient Song.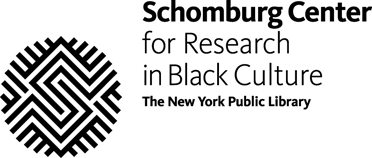 GUESTS
Please note that holding seats in the Langston Hughes Auditorium is strictly prohibited and there is no food or drinks allowed anywhere in the Schomburg Center.

AUDIO/VIDEO RECORDING
Programs are photographed and recorded by the Schomburg Center. Attending this event indicates your consent to being filmed/photographed and your consent to the use of your recorded image for any all purposes of the New York Public Library.

PRESS
Please send all press inquiries (photo, video, interviews, audio-recording, etc) at least 24-hours before the day of the program to Ayofemi Kirby at ayofemikirby@nypl.org.

Please note that professional photography and video recordings are prohibited without expressed consent.