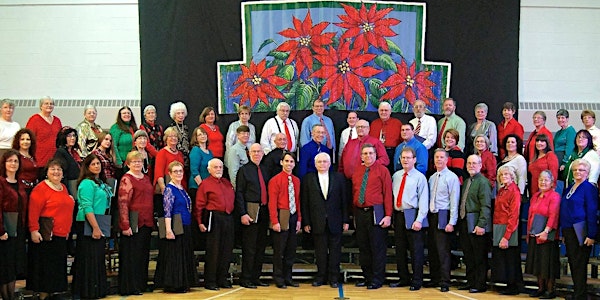 Schoharie Valley Singers Holiday Concert "We Need A Little Christmas"
43rd Annual Holiday Concert SCHOHARIE VALLEY SINGERS LIVE - Saturday December 11, 2021 - 7:30PM
About this event
Due to Covid Considerations...
To attend in person (with facial covering) at the LDS Church in Central Bridge, you must sign up and obtain a ticket from a choir member. Limited Seating!
Watch Livestream on YouTube: Please register using this site. Once Registered You Will Receive a Link via Email Just Prior to the Concert that Will Take You to the Livestream Broadcast on YouTube.
Note: Tickets for both In Person and Livestream are by Donation. For those wishing not to see the livestream broadcast will see it posted free at a later date.
The Schoharie Valley Singers are proud to present "We Need A Little Christmas" – An in person and a virtual concert. The concert will be livestreamed in person and also viewable on Saturday, December 11th beginning at 7:30 pm on the Schoharie Valley Singers YouTube channel. The Singers will perform eleven pieces of music. There is no official ticket price for the concert; however, the Singers are asking for Donations.
A Brief History – The Schoharie Valley Singers were founded in 1979 as the Depot Lane Singers by the late Frances B. Tripp, a former Schoharie High School music teacher. In 2005, direction of the group was passed on to Mitch Haverly, a retired music teacher from Berne Knox-Westerlo Central School. Mr. Haverly was named Director Emeritus in 2018, when Benjamin April took over as Artistic Director. In 2018, the Depot Lane Singers were renamed the Schoharie Valley Singers and became incorporated as an independent not-for-profit 501(c) 3 organization.
We Invite You to Join Us! – We are always welcoming new voices of any age (7th grade and above). If you are not sure of your voice part, we can help you find out! We also have a "Fifth Section", made up of non-singing volunteers who assist in concert preparation, set-up, ushering, ticket sales, etc. Details can be found on our website www.schoharievalleysingers.org, and on Facebook @SchoharieValleySingers. Emails are always welcome at schoharievalleysingers@gmail.com for those wishing for more information.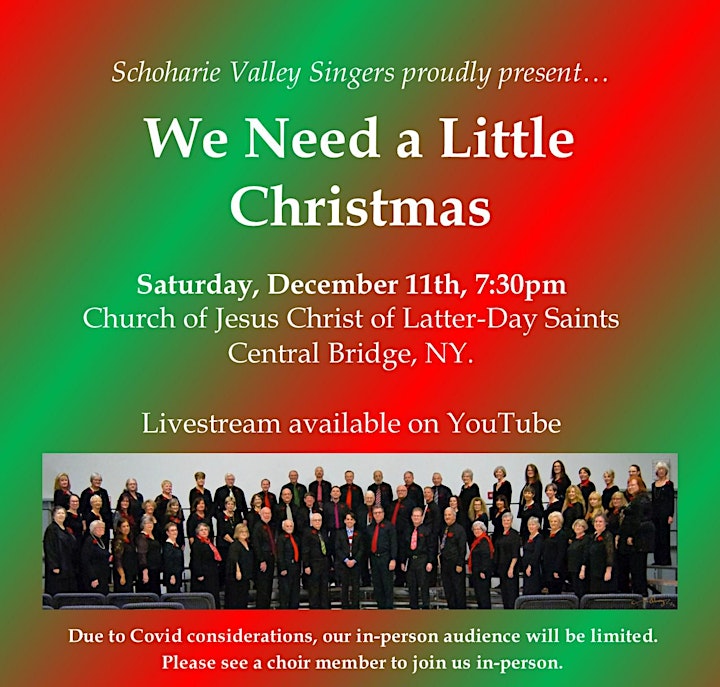 Donations May be Made by Using a Credit Card or by check payable to: Schoharie Valley Singers c/o Marie Muller, Treasurer 139 Bridge Street Schoharie, NY 12157