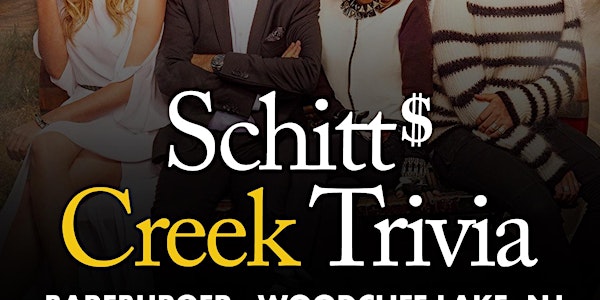 Schitt's Creek Trivia
"Let's go. I've had enough waking hours for one day."
Date and time
Tuesday, March 28 · 5:30 - 6pm EDT
Location
Bareburger 455 Chestnut Ridge Road Woodcliff Lake, NJ 07677
About this event
Choose a wig from the wig wall, get the Jazzagals together (virtually, of course) and get ready for Schitt's Creek Trivia at Bareburger - Woodcliff Lake, NJ on Tuesday, March 28 at 5:30pm, sponsored by Alexis Rose Communications (Alexis Rose, CEO). Hopefully you'll score better than David on M'Lady Magazine's "How Electric Is Your Relationship?" quiz from Summer 1991, but either way it'll be more fun than watching improv at Rose Apothecary's Open Mic night!
For reservations visit; http://Schitts032823.Eventbrite.com
The best way to reserve tickets is by selecting a team captain and having them be in charge of tickets for ALL team members.
For example, if Mulan, Princess Tiana, Jiminy Cricket and Pumba are a team and Mulan gets put in charge, she will then reserve tickets for herself, Princess Tiana, Jiminy Cricket and Pumba = (4) in total.
PLEASE ONLY RESERVE SINGLE TICKETS IF YOU ARE PLAYING BY YOURSELF.
We will send a confirmation email to everyone closer to the event.
"Do you fold it in half like a piece of paper and then drop it in the pot, or what do you do?" "I don't know how to fold broken cheese like that!"
About the organizer
Trivia, AD was created on a whim and caught on thanks to its appeal to movie, television, book, and pop culture enthusiasts. With a following of like-minded fans, our goal became to deliver fun, custom trivia events that appeal to both dedicated fans and casual players. Through painstaking design and relentless attention to detail, Trivia, AD promises an enjoyable, unique experience.

Five challenging rounds, guaranteed to put a smile on your inner nerd's face. 5 rounds lasting 90 minutes of fun while proving you know the most.

Trivia, AD is the leader in virtual and in-person events.  Email info@triviaad.com to book your virtual private, corporate or birthday trivia event.
Bar owners and restaurant owners in the tri-state area (NYC, NJ, CT), email info@triviaad.com to schedule your weekly trivia night.