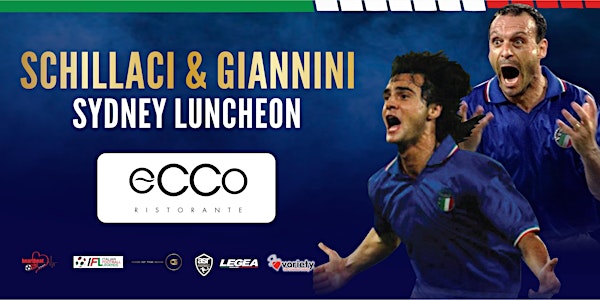 SCHILLACI-GIANNINI | Sydney Luncheon @ Ecco Restaurant
SCHILLACI | GIANNINI - ONE LUNCHEON ONLY - SYDNEY - 3 Course Meal (Beer & wine included)
When and where
Location
Ecco Ristorante 2 Saint Georges Crescent Drummoyne, NSW 2047 Australia
About this event
COME AND JOIN US AND DINE IN STYLE WITH ITALIA 90 HEROES, SALVATORE "TOTO" SCHILLACI & GIUSEPPE "BEPPE" GIANNINI.
An exclusive event packed with fun, nostalgia, silent auctions and door prizes. Your opportunity to take home signed memorabilia and to relive those memories of the era of the historic Magical Nights (Notti Magiche) 3 Course Meal (Beer & wine included) Memories of Italia 90: Totò Schillaci's crazy eyes, the Notti Magiche soundtrack, the shiny Azzurri's shirts and the mascotte Ciao! The Italian 1990 World Cup was one of the most iconic global tournament. It showcased all the rampant imaginary at the peak of the Italian Soccer.
ABOUT SCHILLACI: Schillaci and Giannini dominated for their national team who made it all the way to the semi-finals on the biggest stage of them all, The 1990 FIFA World Cup, Italia 90, exiting to Diego Maradona's beloved Argentina. During Salvatore Schillaci club career, he played for Messina (1982–1989), Juventus (1989–1992), Internazionale (1992–1994) and Júbilo Iwata (1994–1997). At the international level he was the surprise star of the 1990 FIFA World Cup, as he helped Italy to a third-place finish on home soil. Coming on as substitute in Italy's first game, Schillaci went on to score six goals throughout the World Cup, claiming the Golden Boot as the leading goalscorer, and received the Golden Ball as player of the tournament ahead of established stars Lothar Matthäus and Diego Maradona, who came second and third respectively. That year he also placed second in the 1990 Ballon d'Or, behind Matthäus.
ABOUT GIANNINI: AS Roma star number 10, Giuseppe Giannini's technique, passion, and finesse gave him a solid tenure at AS Roma for over a decade. During this time, he brought his beloved Roma and teammates together, securing an astounding four major Italian titles - three-time Coppa Italia and one time winner of the biggest prize in all of Italian football - Il Scudetto. With 55 Serie A goals to his name, UEFA honours, and recently inducted into the AS Roma Hall of Fame, Giannini is an idol to many thousands of past, present, and doubtless future generations.
Master of Ceremonies: Andy Paschalidis Heartbeat of Football (HoF), a not-for-profit organisation, was established in early 2016 by media personality and football enthusiast Andy Paschalidis. Heartbeat of Football promotes healthy hearts in sport via: Awareness: player, participant & community education programs Prevention: minimisation of health risks through simple screening checks Action: "rescue-ready" defibrillators at all sporting fields around the country.
Limited Tickets, Hurry! Don't Miss out!