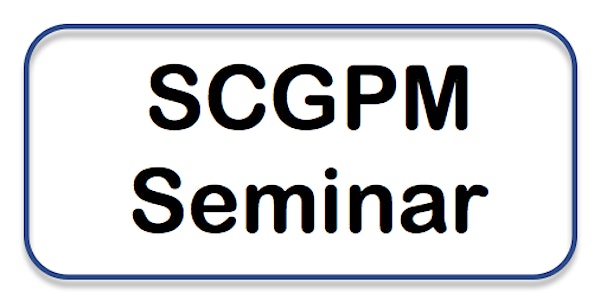 SCGPM Seminar: Jon Sorenson, Invitae Jon cannot talk, come for pizza anyway
When and where
Location
James H. Clark Center 318 Campus Dr Seminar Room S361 Stanford, CA 94305
Description
[ My apologies: Jon cannot speak today, but register for pizza and come anyway. ]
"Summing the Parts: How Invitae Created a Best-in-Class Variant Interpretation System"
Jon Sorenson, Invitae
Wednesday, April 19th
12:00 - 1:00PM
Clark S361 - Lunch provided
---
ABOUT THE SCGPM: The Stanford Center for Genomics and Personalized Medicine (SCGPM) seeks to advance genomic technology so that someday both genetic and molecular profiling will become powerful and routine tools for predicting disease risk and monitoring and treating a wide range of pathologies. Towards this mission, the SCGPM serves to centralize and develop collaborative intellectual and technological resources that promote genomic research and analysis, predict drug response, educate physicians, and examine the ethics of personalized medicine. This includes large basic science projects such as ENCODE that decipher the human genome as well as clinical research projects such as the sequencing of cancer genomes and individuals with inherited diseases. Through these efforts, the Center aims to bring genomics to the clinic.
For more information about the SCGPM, go to http://scgpm.stanford.edu.
The SCGPM supports the Genetics Bioinformatics Service Center, a SoM core facility for genomics research that provides a secure on-premise computing infrastructure, Google Cloud gateway, and bioinformatics consulting. The facilities are available to all faculty members at Stanford University.
More @ http://gbsc.stanford.edu. Send inquiries to scg-action@lists.stanford.edu .