Multiple Dates
Scents of Nature: Forest Bathing in an Artist's Garden + Aromatherapy Works...
Description
EVENT IS FULLY BOOKED.

This first in a series of Forest Bathing Hawaiʻi special events offers a sensory immersion on the grounds of Kahalu'u Gallery and Gardens. A two-hour forest bathing walk is followed by a one-hour aromatherapy workshop. Also includes: a light, healthy lunch; a copy of the book Aromatherapy and You; and your take-home sample of blended Essential Oils.

The morning begins with a unique forest bathing experience in which you'll be guided on a gentle, mindful stroll through gardens designed and created by the late Hawai'i artist Hiroshi Tagami. This serene, private estate is an ideal setting to leave behind the stresses of the world and get in touch with the healing powers of the natural world. As we move through the garden and follow the paved switchback which descends into the forested gully at the back of the property, your certified forest therapy guide will offer a series of "invitations" to help you re-connect with nature and with yourself through your senses.

"Forest Bathing" (translated from "shinrin-yoku," an established public health practice in Japan) is a growing global wellness movement backed by 30 years of scientific research on the physical and psychological benefits of immersing yourself in nature. See more, including recent national media coverage on forest bathing at www.forestbathinghi.com. Forest Bathing Hawai'i was recently ranked among the top 5 "incredible once-in-a-lifetime travel experiences" in the world by Forbes.com.

Please bring water, hat, sunglasses, sunscreen, mosquito repellant, a rain jacket, and walking sticks if you need them. For your safety and comfort, it's recommended that you wear close-toed shoes with good traction; light-weight, long-sleeved shirt & long pants.
The two-hour walk concludes with a refreshing tea made from an endemic Hawaiian plant found in the garden. A short lunch break follows with your choice of three healthy offerings from Kalapawai Market.
We'll email a confirmation and ask you to place your order at that time for your choice of sandwich: the Hummus Wrap, Tsunami (tuna salad), or Turkey Cranberry. All come with tossed greens.

We'll next proceed into the air-conditioned "tea room" for a one-hour aromatherapy workshop led by Alexandra Avery, author of Aromatherapy and You. You'll hear a brief history of aromatic healing with Essential Oils, then learn the basics of Essential Oil blending and some of the secrets of natural perfumery. You'll get to make some sample blends to take home and get a free copy of Alexandra's book!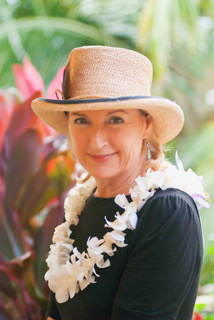 Alexandra grew up on the windward shores of
Oahu, taking advantage of the profuse floral bouquets that floated in the air, free for the breathing. She honed her interest in scent
into a career, and has been formulating plant-based skin care products since 1975. It has grown into AuNaturelBotanicals, a family business operated on an organic farm in Oregon.
Her childhood home is the site of The Scent Atelier, where Alexandra delights in creating Essential Oil formulas specifically suited for each client.
Her line of AuNaturelBotanicals will be available for purchase.
Your visit also includes free entrance into the art galleries on the grounds after the aromatherapy workshop. You'll find in those galleries paintings and giclees by Hiroshi Tagami and Michael Powell, ceramics, sculpture, photography, and jewelry.

Gratuities not included. Promotional discounts and gift certificates do not apply to this special event.

** For a 3-hour forest bathing experience in Honolulu, check out Forest Bathing in a Rain Forest. **
** Give the gift of a forest bathing walk with a gift card. **


Are there ID or minimum age requirements to enter the event?
Minimum age: 16 years old.

What are my transportation/parking options for getting to and from the event?
The Kahalu'u Gallery and Gardens is located in a residential neighborhood on the windward side of O'ahu, an approximately 40-minute drive from Waikīkī. Take the more scenic H-3 freeway, if time allows, to experience the stunning Ko'olau mountains up close.

You'll find plenty of free parking along Lamaula Road (park on the grassy shoulder).

How can I contact the organizer with any questions?
Feel free to message me on Facebook @forestbathinghi or email forestbathinghi@gmail.com.