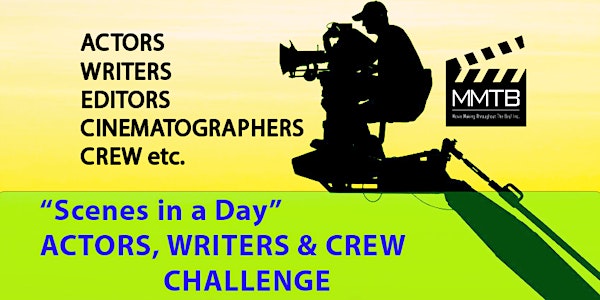 'Scenes in a Day' ACTORS, WRITERS & CREW Challenge
ACTORS, WRITERS, CREW!!! COME COMPETE!! -SCENES MADE ON THIS EVENT WILL BE Screened at a local Theater **Must Register in ADVANCE
When and where
Location
MMTB - Movie Making Throughout the Bay! Inc. 13 Pacific Avenue Rodeo, CA 94572
About this event
ACTORS, WRITERS, CREW!!!
Compete In Teams! Everyone Welcome!
**Must Register in ADVANCE.
Compete to win BEST WRITER, BEST CINEMATOGRAPHY, BEST EDITING, and BEST ACTING!
-SCENES MADE ON THIS EVENT WILL BE Screened at a local Theater in the Bay Area during BASH. And Voted on!!! It may also be part of a bigger feature film and distributed and streamed.
- Everyone attending this event will receive IMDB credits after it Screens in Festival or Distributed Whichever Comes First.
-Come for the Credits, REEL, Networking, Food, but most of all THE FUN!!!!
Register FAR in Advance Before We Sell Out!
**Drinks, and snacks will be provided. Lunch provided with correct pass-Please arrive having eaten a big breakfast already.
- EVERYONE MUST Arrive ON TIME (30 min early for new people) for Paperwork/ ID Check In
- Teams Assigned Random
- Collaborate, Write, and Film AT LEAST One Scene with Your Team Depends How Fast You Get Your Wardrobe, Props and Story Together.
-WRITERS WARNING- In order to take this challenge, you need to be flexible, and quick on your writers feet. You are welcome to bring a few scripts that are 1 page or less, and can be easily rearranged for additional props, type of actor, and location. Must be able to think of ideas under pressure, write quickly, and work with others great without any EGO.
-ACTORS WARNING- In order to take this challenge, you need to be flexible with writers and monologues, however the actor will be able to choose props, wardrobe, mood like happy, sad etc and location for their scenes. Must be able to work well with others without any EGO.
-DP/Editors/Crew- Will Be Switching Off, and Will Fillm As Many Scenes As Possible (criteria given there)
- Plenty of Free Parking
MMTB Production Studios, Theater and Lounge
13 Pacific ave Rodeo Ca, 94572
-----
-Under 18?- Parent or Guardian Must Accompany at all times. Child must have a current entertainment work permit copy along with them to leave with us.
-----
-For Photos of past events visit our Album Section on Facebook at- https://www.facebook.com/MovieMakingBay/photos_stream?tab=photos_albums
-----
MMTB is a Non-Profit Organization, any Donations are appreciated.
--------
-To get in our Filmmakers and Actors Database for future employment opportunities- http://www.moviemakingbay.com/ Click Register
------
CARPOOL- We have a carpool page for MMTB Members, you MUST be registered before you can be accepted in the group. There is no guarantee to find ride, especially if you are new, however, the earlier you register and start posting to the carpool page, the more likely you will catch a ride.- https://www.facebook.com/groups/MMTB.carpool