Description
"I'm sick and tired of being sick and tired"
-- Fannie Lou Hamer
Fannie Lou Hamer grew up poor, uneducated and powerless.
But she didn't let that stop her.
She gained a richness that cannot be measured in dollars, wisdom generated by a discerning mind, and a moral authority commanded by unfettered integrity.
Many people tried to bring her down. But she stood up for herself, and carried herself with dignity. That's why she inspired the original musical Fannie Lou.
The Oct. 22, 2016, performance of Scenes and Songs from Fannie Lou presents highlights from the musical in concert format. Enacted by a talented cast supported by a stellar musical ensemble, the three performances will take place at Hunter College's Lang Recital Hall, at 1 p.m., 4 p.m. at 8 p.m. Come to either the early afternoon (1 p.m.), late afternoon (4 p.m.) or evening (8 p.m.) performance, and experience the unique telling of Fannie Lou Hamer's story.
We hope you'll join us!
In addition to the performance, the Oct. 22 event will feature a pre-performance interactive discussion about the creation of Fannie Lou Musical, conditions in Mississippi in the early 1960's (the musical's setting), and the history and current conditions of voting rights with composer/lyricist Felicia Hunter and a panel of experts from various fields. The perspective-setting discussion will continue after the performance and will include questions from the audience and comments from some of the cast members.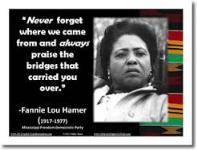 FYI: Facts about Fannie Lou Hamer
The public side of Fannie Lou Hamer begins with voting rights.
In August 1962, at the age of 44, Mrs. Hamer decided she had had enough of being treated like a second-class citizen. She volunteered, along with 17 other prospective voters, to travel to the county seat to register to vote.
They were turned away. In fact, for their effort their bus was pulled over by law enforcement officers on the charge that the vehicle's color was "too yellow."
This didn't deter Mrs. Hamer. She kept trying, and eventually won the right to vote. Needless to say, it was a hard-fought victory. One of the repercussions of her attempt to register was being kicked out of her home by the owner, who was adamantly against voting rights for African Americans.
After she gained her voting right, Mrs. Hamer determined to help other citizens exercise their rights as well. Because of that effort, she was jailed and beaten.


The musical Fannie Lou focuses on these early stages of Mrs. Hamer's social activism.

It depicts Fannie Lou Hamer's perseverance

This musical examines what it must have been like for Mrs. Hamer and other voting rights activists in rural Mississippi during the early 1960's who, despite odds that were against them, pressed on to exercise their rights as citizens.

It chronicles Fannie Lou Hamer's journey

Composer-lyricist Felicia Hunter takes the audience through a sea change of emotions as Mrs. Hamer and people around her experience a community in the midst of indelible transformation.

It reflects Fannie Lou Hamer's determination

While showing sides of Mrs. Hamer that reveal her human qualities, the production also focuses on the seemingly other-worldly courage that allowed her to rise above cultural restrictions of her time.

It embraces Fannie Lou Hamer's spirit

The dialogue is riveting, the music is captivating and the storytelling is dynamic.
The all-original music in Fannie Lou is a splendid mix of of blues, jazz, soul, opera, spoken word and traditional musical theater original songs. While true and organic to the period – the setting for Fannie Lou is rural Mississippi in the early 1960's – the music also "is able to reach beyond decades to connect with 21st-century audiences," noted composer/lyricist Felicia Hunter. "That's what I think our audience members find so compelling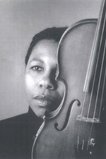 Composer/Lyricist Felicia Hunter (Photo by Harold Shapiro)

about the music. It doesn't try to refashion history aurally. Rather the music, which like the story of Fannie Lou Hamer was thoroughly researched, is framed with instrumentation and arrangements that you actually could have heard 50 years ago. Audiences are transported by it, yet they find the themes so universal that they're also able to connect with the music on a contemporary level. That's exciting."
The ensemble performers consist of more than a dozen actors, singers and musicians who bring to life onstage the story of the valiant efforts to secure voting rights for all.
After seeing "Scenes and Songs from Fannie Lou," audience members have deemed it "amazing," "moving," "beautiful" and "powerful."


PROGRAMS THROUGH THE DAY
Early Afternoon Performance
1 p.m.
Discussion of voting rights with
Rev. Dr. Glenmore Bembry Jr.
Pastor, Trinity Baptist Church, Brooklyn
and
Ms. Mary Jenkins
Membership Chair, League of Women Voters of the City of New York
MODERATOR: Felicia Hunter, Creator, Fannie Lou Musical

Performance
"Scenes and Songs from Fannie Lou"
*****************
Late Afternoon Performance
4 p.m.
Discussion of voting rights with
Ms. Crystal Joseph
Vice President, League of Women Voters of the City of New York
and
Mr. Jack Bryant
President, Stamford NAACP
MODERATOR: Felicia Hunter, Creator, Fannie Lou Musical
Performance
"Scenes and Songs from Fannie Lou"
***************
Evening Performance
Discussion of voting rights with
8 p.m.
Ms. Esmeralda Simmons, Esq.
Founder and Executive Director, Center for Law and Social Justice at Medgar Evers College
INTERVIEWER: Felicia Hunter, Creator, Fannie Lou Musical

Performance
"Scenes and Songs from Fannie Lou"
******************
OUR STELLAR CAST, OUTSTANDING MUSICIANS AND INTREPID CREATIVE TEAM ARE:*
Trorian Brackett
Angela Watson-Modeste
Ben Marcus
Benjamin Culpepper
Maya Posey
Dorothy Chan
Lisa Dennett
Nancy Magarill
Michael Moss
Karen Stefano
Amber Yi-Wen Ho
Desi Waters
Cameron Draper
Aaron Boscanin
Rick DellaRatta
Felicia Hunter
Marie Wilson
Hanna Elizabeth Young
Sisi Wright
Emily Senkowsky
Sam Krivda
Jessica Raymonvil
* Find out more about each of them here
(Note: A talk-back session with cast members and creatives will follow each performance, and there also will be tme for audience questions and comments following each pre-performance discussion session.)
******************
Questions? Want to bring a group? Please email us at info@fannieloumusical.com

See you Oct. 22!
"Come for the art. Leave with the knowledge."


Looking forward to seeing you there!

If you have a promotional discount code, please don't forget to type it in after clicking on the green "Tickets" box.
Please note that this is a not-for-profit event. All proceeds will be directly applied to production costs.

For more information about Fannie Lou Musical, please visit our website at www.fannieloumusical.com or email info@fannieloumusical.com. To obtain tickets for groups for the Oct. 22 performance, please email info@fannieloumusical.com.
And, as a special thanks for your interest in Fannie Lou Musical, you're welcome to download, for free, demos of some of the music from the Fannie Lou score. To get started, please go here.

See you on Oct. 22!