Description
Voting Rights Activist Fannie Lou Hamer
To Be Celebrated at Yale's Woolsey Hall

Event to Feature

Fannie Lou Musical Performers, New Haven Mayor Toni Harp,
Community Leaders, Yale Scholars

One hundred years ago, in a rural Southern town where black lives mattered not nearly enough, a child was born to husband-and-wife sharecroppers. She would be the last of the couple's 20 children. They named her Fannie Lou.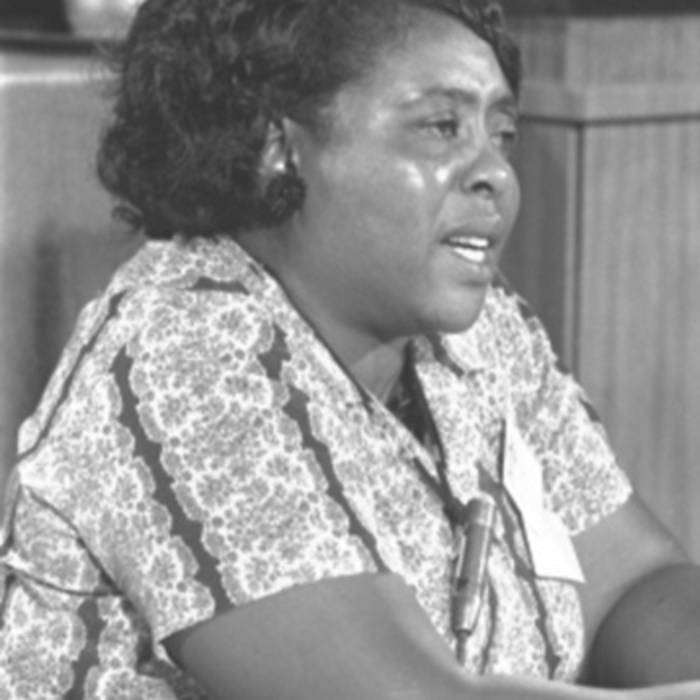 Like her parents, and brothers and sisters before her, Fannie Lou was conscripted to constant field work so the family could survive economically. She started at age 6, and dropped out of school at 12 to help out the family even more. But that was her early life. Years later she would reject the ingrained cultural patterns that severely restricted the lives of African Americans, and boldly dare to unearth a different destiny for herself as a grassroots spokesperson, civil rights activist and voting rights advocate.
On Sunday, Oct. 1, at Yale University's historic Woolsey Hall, the centennial of Fannie Lou Hamer's birth will be celebrated with a special presentation of excerpts from the acclaimed musical Fannie Lou. The event, titled "Scenes and Songs from Fannie Lou: Celebrating the 100th Anniversary of the Birth of a Voting Rights Heroine," will take place from 3 to 5 p.m.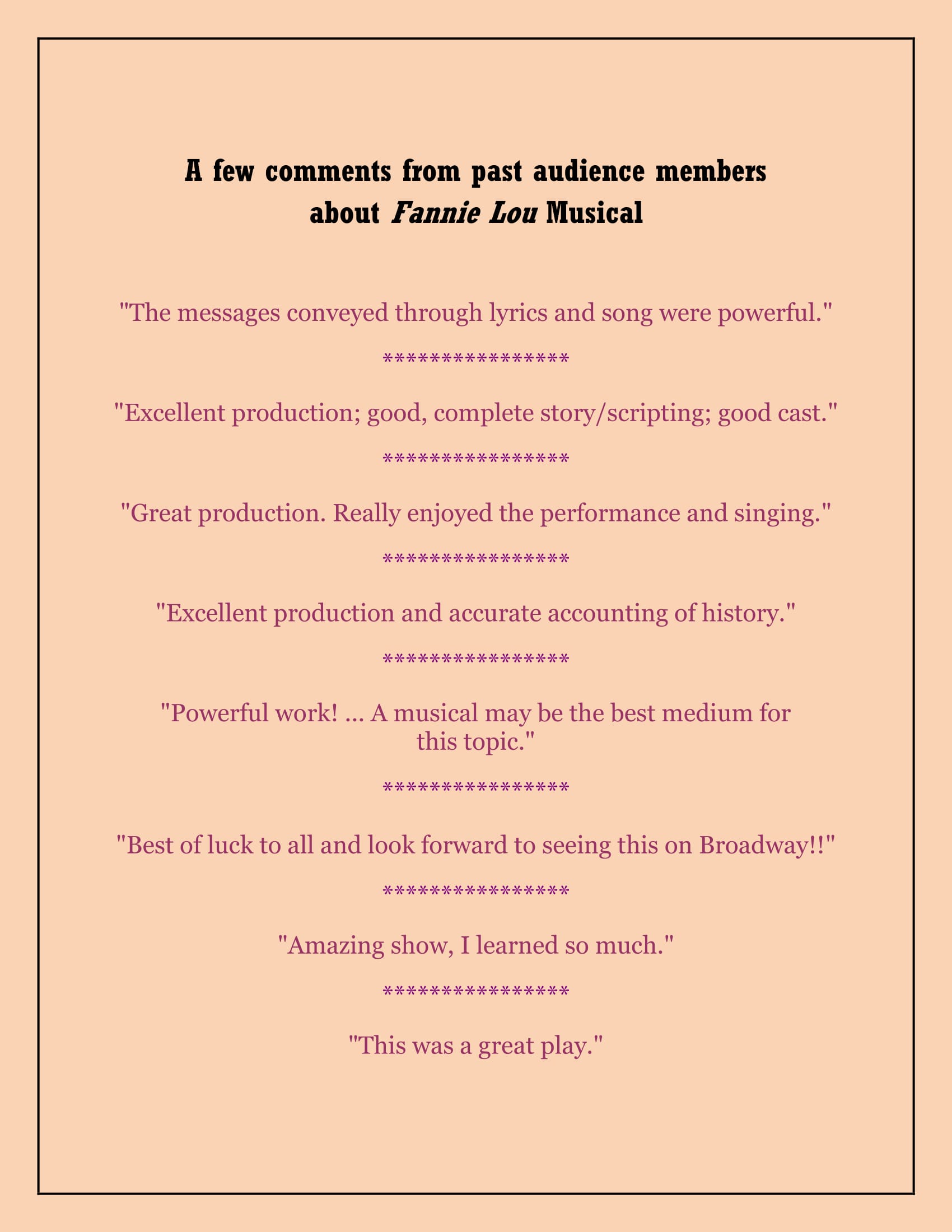 In addition to Fannie Lou Musical cast members and musicians, event participants will include Yale University Prof. Kathryn Lofton, Yale University Associate Prof. Crystal Feimster, Greater New Haven NAACP President Doris Dumas and Stamford NAACP President Jack Bryant. Along with the performance, the one-time-only event will feature pre-performance discussions about Fannie Lou Hamer's work, legacy and the period during which she lived; and a post-performance Q and A session.
"I'm delighted about the roster of participant that will be part of this wonderful celebration," said Felicia Hunter, creator of Fannie Lou Musical.
"Fannie Lou Hamer's life demonstrates that one person can make a difference. It is a living testimony to the strength of the human spirit over adversity. She was a woman of the people who operated at the grassroots level, and it is wonderful that such esteemed Yale scholars as Dr. Lofton and Dr. Feimster, and community leaders President Dumas and President Bryant, will be part of this special event celebrating her life and legacy."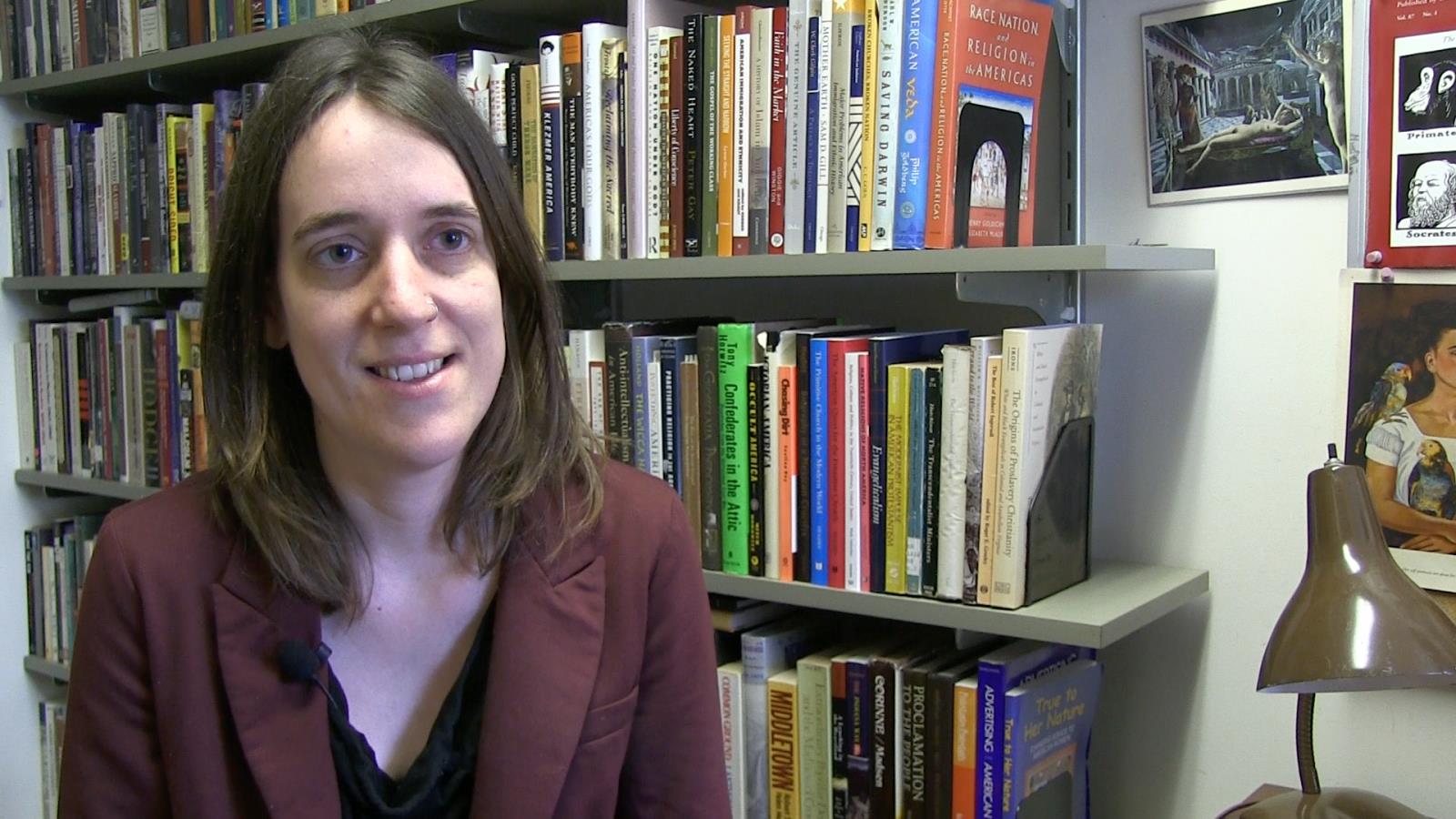 Lofton chairs the Dept. of Religious Studies at Yale, and serves as professor of religious studies, American studies and history. She also serves the university as deputy dean for diversity and faculty development. Her research focuses on the links between religion and its cultural constructions, and how culture impacts religion. Lofton has won several teaching honors, including Yale's Poorvu Family Award for Interdisciplinary Teaching. In 2010 the History News Network named her one of the nation's 100 Top Young Historians. Among her scores of writings and presentations is an entry about Fannie Lou Hamer published in the Encyclopedia of Modern Christian Politics.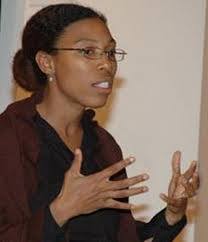 Feimster, an associate professor of African American studies, American studies and history at Yale, focuses her teaching and research interests on connections between social and political history. She is an expert on United States 19th- and 20th-century women's history and African American history. Her research has examined various aspects of social movements, racial and sexual violence, war, law and citizenship. She is particularly interested in the day-to-day existence of those who have been marginalized by their society's power structure, and how they manage to overcome seemingly insurmountable obstacles to create opportunities for themselves. Among her publications is the book "Southern Horrors: Women and the Politics of Rape and Lynching," which one reviewer described as "an eloquently written study" of the book's two divergent subjects, Ida B. Wells and Rebecca Latimer Felton. Feimster's exceptional classroom skills have been recognized with teaching honors, among them the prestigious Yale Provost Teaching Prize, whose annual recipients are nominated by deans and department chairs for demonstrating a "high level of teaching excellence" at Yale.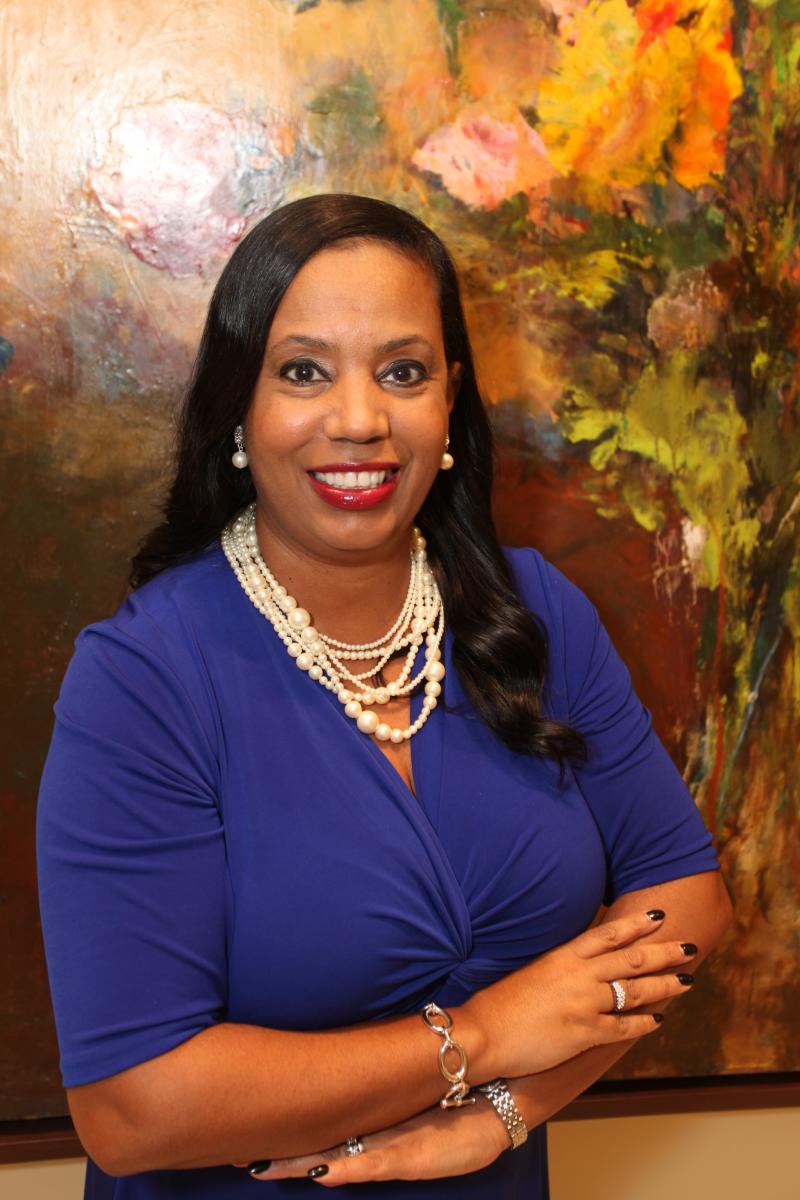 Dumas also made history with the office she holds. In 2014 she became the first elected female president of the Greater New Haven NAACP. Lauded for her leadership qualities, she is particularly interested in serving members in the areas of transportation, the education gap and home ownership. The NAACP's support of voter registration has always been a major focus, and Dumas wants her local branch to continue its strong emphasis on voter education and utilizing the power of the ballot.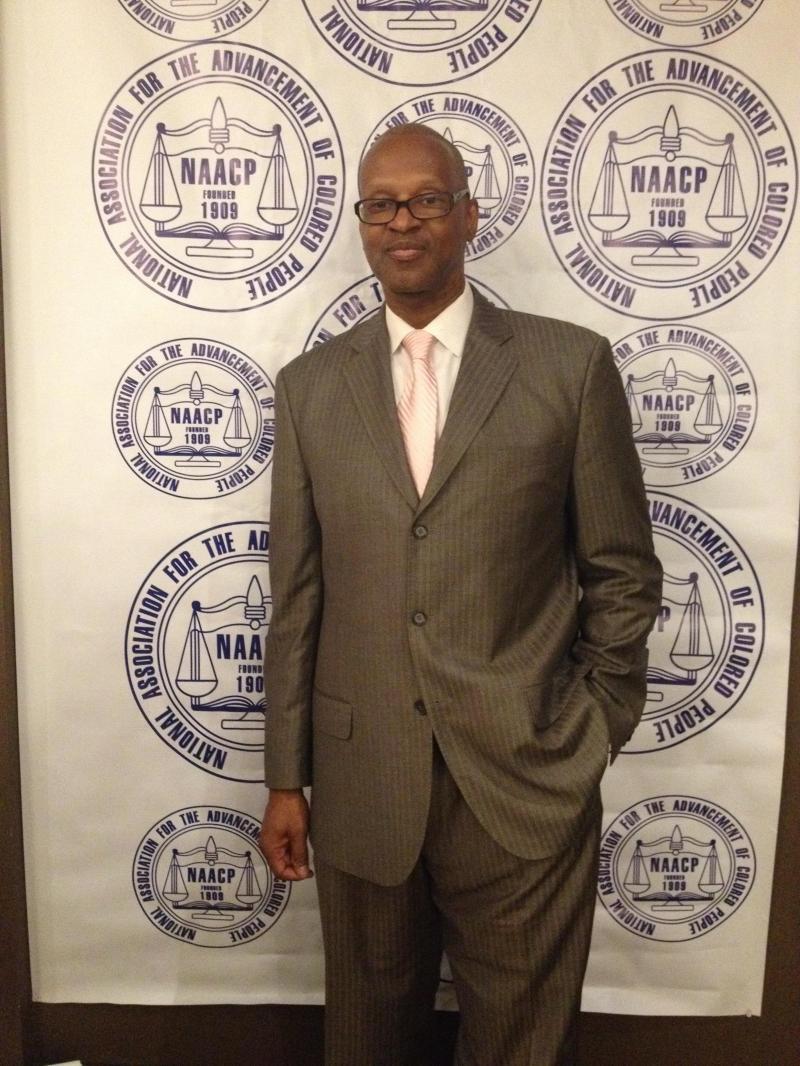 Bryant's roles with the Stamford NAACP have ranged from youth adviser, to 1st vice president, to his current position as president. He has forged partnerships with a number of community organizations and spearheaded programs for area youth, focusing particularly on academics, personal enhancement and college preparation. The Stamford NAACP credits Bryant's strong and effective leadership for helping transform the organization from a reactive to a proactive entity.

Born Oct. 6, 1917, Fannie Lou Hamer grew up poor and uneducated. However, she refused allow her circumstances to define her. In the summer of 1962, in an environment in which black people were intimidated to the point where their lives were threatened if they attempted to vote, Hamer decided she would exercise that Constitutional right. The Ruleville, Miss., resident joined a contingent of other black Mississippians who travelled to the county seat to register. They were turned away. But shutting the door on their efforts that day in effect opened the door to Fannie Lou Hamer's activism. After that incident, she persisted until she was finally allowed to register. Not only did she vote, but she also later ran for office. She attracted national attention in 1964, when she testified before the Democratic National Convention's Credentials Committee, and is among those whose efforts influenced the passage and signing, by President Lyndon Johnson, of the 1965 Voting Rights Act. Fannie Lou Hamer fought tirelessly for voting and other civil and human rights needs for the rest of her life. Her activism came at a price, however. In addition to withstanding violence and death threats, she was plagued by a number of health problems that included diabetes, hypertension and cancer. She died in 1977 at the age of 59.
"Fannie Lou Hamer's courage and perseverance were amazing," said Hunter, who was inspired to write her original musical after reading a biography about Hamer. "Imagine living in a time when you couldn't determine your own life, when you didn't dare dream of aspirations that, because of your race, or gender, or class, or social status, or economic limitations, were far beyond your grasp. When city or state ordinance dictated you couldn't even drink from a public water fountain because of the color of your skin.
"Fannie Lou Hamer dedicated her life to breaking through such imposed barriers, not only for African Americans, but for all people. And she knew that exercising the right to vote is a key element of self-determination and being able to achieve one's goals."

Fannie Lou musical is an artwork of fact-based fiction that depicts the early stages of Hamer's activism through her character and several fictional characters who represent various ways of thinking about the voting rights movement. In addition to Fannie Lou, there is Rev. Hill, leader of the local voting rights movement; Junior, a teenager whose own tragic past makes him skeptical about the adults' voting rights activities; Laura, who is realistic yet hopeful – until her dreams for her son are cruelly dashed; Pamela, a college student from the North who has come to Ruleville to volunteer with the voting rights effort; Mr. Richards, the wealthiest man in the county – and a staunch segregationist; among other characters.
"Even though the action takes place more than 50 years ago, I wanted the musical to be relevant for 21st-century audiences, and especially for young people," said Hunter.
Audience reaction suggests that she achieved that goal. Fannie Lou and its sister production "Scenes and Songs from Fannie Lou" -- which features, in concert format, selected music and dialogue from the full-length production – have been met with standing ovations and rave audience reviews since the first public performance in Stamford, Conn., in 2011. Since then it has been performed before a variety of audiences in an array of venues, from a community arts center in Washington, DC, to a college campus in New York City, to the internationally renowned Carnegie Hall.
Post-performance audience comments have especially praised the original music in Fannie Lou. Audiences cite the musical's songs, in addition to seeing the story of Fannie Lou Hamer enacted on the stage, as having a lasting impact.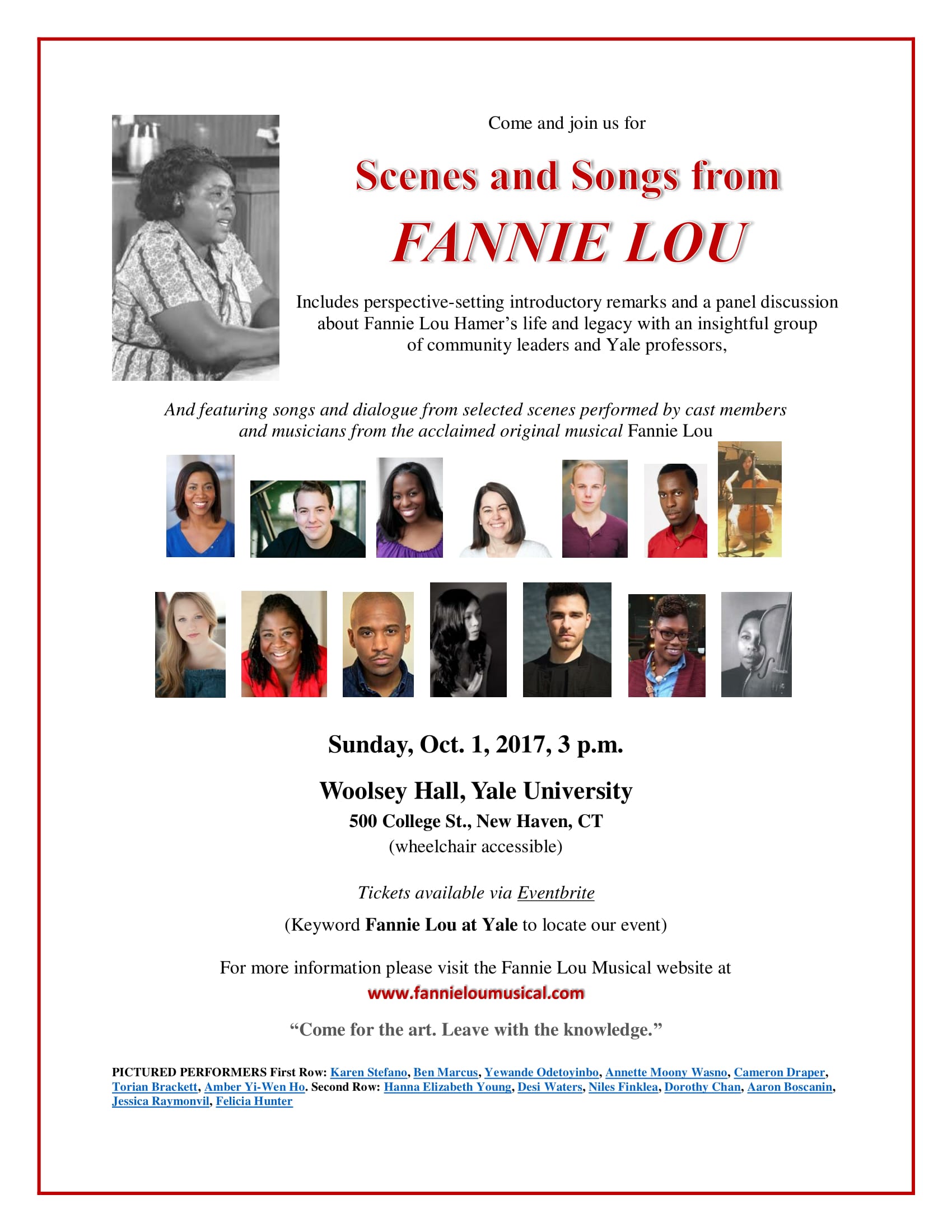 More information about Fannie Lou Musical, including how to listen to demos of some of the original songs in the production for free and additional information about Fannie Lou Hamer, can be found on the show's website, www.fannieloumusical.com.
------------------------------
TICKET SELECTION

Purchase Tickets for the Oct. 1 "Scenes and Songs from Fannie Lou" Event
A Celebration of the 100th Anniversary of Fannie Lou Hamer's Birth

Thank you for choosing to join us for the Oct. 1 celebration of Fannie Lou Hamer's life and legacy!
Please note that "Scenes and Songs from Fannie Lou: Celebrating the 100th Anniversary of the Birth of a Voting Rights Heroine" is a not-for-profit event. All are welcome, and tickets are priced so that anyone who wants to attend the event can.
Ticket costs are as follows:
$35 -- Main Floor mid-section center
$25 -- Main Floor center
$15 -- Main Floor left/right
$10 --Parquet Terrace left/right
For more information about Fannie Lou Hamer and Fannie Lou Musical, please visit www.fannieloumusical.com


THANK YOU! WE'RE LOOKING FORWARD TO SEEING YOU FOR THE CELEBRATION OF THE LIFE AND LEGACY OF MRS. FANNIE LOU HAMER AT YALE UNIVERSITY!!
Please note: All ticket orders placed after Sept. 10 will be Will Call