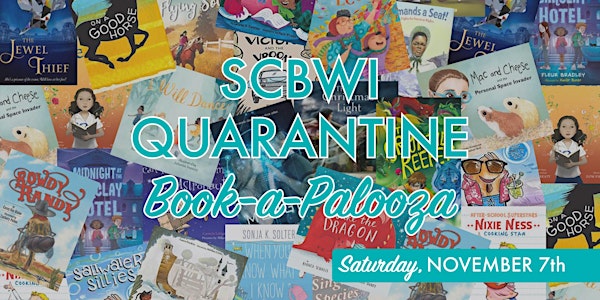 SCBWI Quarantine Book-a-Palooza
It's an all day book-a-palooza! Join Second Star and the SCBWI Rocky Mountain Chapter to celebrate the unsung book birthdays of 2020!
About this event
Humans aren't the only ones who missed their big birthday bashes this year!! There are a lot of sad books all over Colorado right now, just waiting to be celebrated! Since we can't all get together in person to share cake and celebrate these amazing, brand new stories, we figured we'd bring the party right into your home!!
Join Second Star to the Right for an all day book-a-palooza celebrating all of the unsung book birthdays of 2020 from our very own SCBWI Rocky Mountain Chapter authors and illustrators! We'll welcome all of our local favorites in a series of 45 minute panels, including some time for Q + A! Don't let these uncelebrated stories languish another day! RSVP now and secure your spot today! One RSVP gets you access to as many panels as you'd like! Spend the day with us and celebrate them all or just pop in for your family favorite! Put on your party hat, grab some cake, and we'll Meet you there!!
PANEL TIMES ARE AS FOLLOWS (noted in MST) *books available with RSVP*
10:30 am – Dow Phumiruk, Jolene Gutierrez, Carmela LaVigna Coyle, AJ Irving, & Ana Crespo
11:45am – Lija Fisher, Nanci Turner Steveson, Claudia Mills, & Fleur Bradley
1:00pm - Nancy Bo Flood, Lauren Kerstein, Beth Anderson, Gregory Barrington, Natasha Wing and Stan Yan
2:15pm - Jeannie Mobley, Darby Karchut, Jim and Steph Kroepfl, Sonja Solter, Linda Osmundson, & Samantha Cohoe
3:30pm - Casey Rislov, Laura Perdew, Lydia Rueger Shoaf, Bianca Schulze, Susan Quinlan
IMPORTANT EVENT & TICKET INFORMATION