| | |
| --- | --- |
| SCBWI-Los Angeles Writer's Days 2013: Diversity! Saturday March 9, 2013 (8am-6pm) and Sunday March 10, 2013 (9am-4pm) | |
Event Details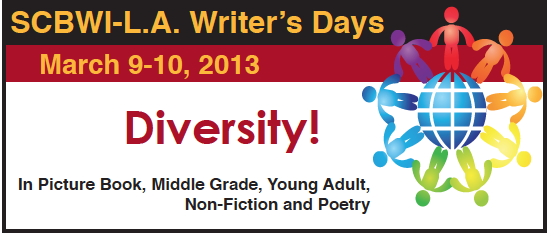 SCBWI-Los Angeles Invites You To Join Us As We Explore

DIVERSITY in Children's Literature: Writer's Days 2013

at the Clairbourn School, 8400 Huntington Drive, San Gabriel, CA
Saturday and Sunday, March 9th and 10th, 2013

Saturday, March 9, 2013:  Registration and bookselling (and coffee!) opens at 8:00am, Program begins at 9:00am

FEATURING
Adriana Dominguez, Literary Agent at Full Circle Literary and former Editor at HarperCollins Children's Books.  Keynote:  "The Market for Diverse Literature: Challenges and Opportunities"
Daniel Nayeri, Digital Editorial Director of the Houghton Mifflin Harcourt Children's Book Group.  Keynote: "What Diversity Isn't"

Malinda Lo, Award-Winning Author of Ash and Huntress.  Keynote: "Cultural Intersections: How I Came to Write What I Write"

Nikki Grimes, Award-Winning and New York Times Bestselling Author of What is Goodbye and The Road To Paris.  Keynote: "The Poetry of Patience: How to Create A Classic"

A Crystal Kite Award Ceremony honoring Eugene Yelchin, who won for his illustrations of Won Ton: A Cat Tale Told In Haiku

And A Faculty Panel on Diversity!
The day will also include:

ANNOUNCEMENTS
The Sue Alexander Service and Encouragement Award (SASE) - our region's tribute to a volunteer of the year!
Writing Contests - you can't win if you don't enter!

WRITTEN FACULTY CRITIQUES

A few of our faculty have agreed to do a limited number of written critiques.  This is a great opportunity to get a fresh pair of expert eyes on your project, and learn how to take your work to the next level!
CONFERENCE FACULTY AND PAL REGIONAL VOLUNTEER BOOK SIGNINGS!
WRITING EXERCISES
... AND MORE!
Catered lunch included.  Saturday's events end at 6pm.

SPECIAL MEMBERS-ONLY SUNDAY INTENSIVES
Four tracks to choose from on Sunday March 10, 2013 - each packed with five hours of information, access to industry leaders and hands-on exercises!  To join as a member of the Society of Children's Books Writers and Illustrators, just vist http://www.scbwi.org and then come back here to register!

Sunday, March 10, 2013: Registration opens at 9:00am, Program begins at 9:20am.

Session 1:  Picture Book Intensive Track
with Editor Daniel Nayeri (AM) and Literary Agent Adriana Dominguez (PM)

Editor Daniel Nayeri's 2 1/2 Hour Picture Book Intensive:  New Ways of Showing
The course begins with a discussion on the changing forms of picture books in the digital age - from enhanced ebooks to animated films.  An example of the editorial process for picture books will be followed by a craft activity, and one picture book manuscript from the audience will be used for a full layout exercise.
Literary Agent Adriana Dominguez's 2 1/2 Hour Picture Book Intensive: So You Think You Know How To Write And Pitch Diverse Picture Books?
Writing and pitching diverse picture books is entirely different from writing and pitching so called "mainstream" books... or is it?  In this workshop, we will discuss what every writer should take into account in crafting their work... and when approaching an agent or publisher!  A crash-course in writing and presenting diverse picture books that get noticed.
 


Session 2:  Novel Intensive Track
with Literary Agent Adriana Dominguez (AM) and Editor Daniel Nayeri (PM)
Literary Agent Adriana Dominguez's 2 1/2 Hour Novel Intensive: So You Think You Know How To Write And Pitch Diverse Novels?
Writing and pitching diverse novels is entirely different from writing and pitching so called "mainstream" novels... or is it?  In this workshop, we will discuss what every writer should take into account in crafting their work... and when approaching an agent or publisher!  A crash-course in writing and presenting diverse novels that get noticed.
Editor Daniel Nayeri's 2 1/2 Hour Novel Intensive:  New Ways of Telling
The course begins with a discussion on the changing forms of stories in the digital age - from apps to "game books."  A craft exercise on dialogue will be our focus, along with Q&A, and workshop.  We end with a presentation on the word, "interesting."

Session 3:  Poetry Track
Metaphorically Speaking: The ABC'S Of Crafting A Novel-In-Verse

with Nikki Grimes

What exactly is a novel-in-verse?  It is, first and foremost, a story with all the prime elements of any good story: character, voice, plot, and story arc.  What makes these stories different, though, is that they are told through an intricate web of poems.  But how, exactly, is that achieved?  This hands-on workshop for poets will explore the basics of storytelling through poetry, beginning with the picture book, and ending with the novel-in-verse.  Topics will include character, voice, the marriage of poetry and dialogue, story arc, the use of diverse poetry forms, and the importance of metaphor.  Attendees will create a suite of poems for a picture book story, as well as a suite of poems for a middle grade or YA novel-in-verse.   The course will combine lectures on craft, writing exercises, and critique.  Attendees will also walk away with a bibliography of suggested novels-in-verse.
Pre-intensive writing assignment: Create four fully developed character sketches.
            a) two child characters, between the ages of 7-9
            b) two teen characters, ages 14-15
Sketches should include family structure and background; place of origin; quirks; interests, hobbies, etc.; basic personality traits; sample dialogue that captures each character's voice; physical aspects, if they inform who the character is, in some way (e.g. if a character is especially short and feels inferior or insecure because of it.)  Generally speaking, who a character is inside matters far more than what he or she looks like on the outside.
These character sketches are crucial to the workshop.  Attendees will be working on picture book stories and novels-in-verse passages using the characters they have created.  There will be little or no time to work on this during the intensive.
Pre-intensive Reading List
Spoon River Anthology by Edgar Lee Masters
Diamond Willow by Helen Frost
Oh Brother by Nikki Grimes
Dark Sons by Nikki Grimes
In the interest of time, Oh Brother will be used as a template for some of the writing exercises.  The other titles on the list will be referred to throughout the course, and sample passages studied.
Session 4:  World Building Track

Setting As Character: Building Your World
with Malinda Lo
Malinda writes:  "During this five-hour intensive on world-building, I will ask writers to consider the common assumptions behind creating fantasy worlds—including sexism, racism, and what constitutes historical accuracy—and then I'll show them how to dismantle those assumptions before they create their worlds. I will also teach writers my five foundations of world-building: rules, rituals, power, place, and food. Finally, writers will have the opportunity to do some writing exercises that reflect on these issues and techniques."
While it's not required, Malinda suggests: 
"I will be discussing the following books during the workshop so if folks want to read them in advance, that would be great:

Ship Breaker by Paolo Bacigalupi
White Cat by Holly Black
The Hunger Games by Suzanne Collins
The Golden Compass by Philip Pullman
Silver Phoenix by Cindy Pon"
Sunday Enrollment is limited. 
Catered lunch included.
Sunday's program ends at 4pm.

To pay by check - Choose your ticket(s) and click on Show Other Payment Options under the Order Now button.
* Contest Rules:
1.  You must be a currently registered member of SCBWI.
2.  You must be registered for the Saturday session of SCBWI-L.A. Writer's Days 2013.  (As proof, please attach a copy of your registration ticket in your e-mail. You will receive this ticket by e-mail when you register.)
3.  Submissions must state entry category.
4.  Submit one unpublished manuscript in manuscript format (Fiction or Nonfiction): Picture Book (text only, no illustrations or dummies), Middle Grade (first 10 pages), Young Adult (first 10 pages), Poetry (a collection of 10 poems on a single theme).
5.  Please include the following information in your submission:
a. SCBWI Current Member Name
b. Address
c. Contact Numbers
d. E-mail
e. Title of Your Piece
f. Entry Category (Chosen from these Categories: PB Fiction, MG Fiction, YA Fiction, Non-Fiction OR Poetry.)
6.  Please e-mail your entry to scbwilacontests@gmail.com with the subject title: WRITER'S DAY CONTEST 2013
7.  Attach your submission as a Word Document/RTF File. If you aren't able to, you may copy your work into the body of your e-mail.
8.  All entries must be e-mailed by midnight (PST) on February 11, 2013.
9.  An award may not be given if there are fewer than five submissions in a category or judges feel no submission is deserving.
10. Please be sure to follow these submission guidelines. Submissions not in compliance with these rules will not be considered.
11. The judges, while highly qualified, shall remain anonymous.
** Manuscript Critique:
Complete PB ms, 10 pages MG/YA, OR 10 Poems. Must be e-mailed by February 13, 2013. You must be registered for SCBWI-L.A. Writer's Days 2013 and have paid for a critique.  (As proof, please include a copy of your registration ticket. You will receive this ticket by e-mail when you register.)  Attach your submission as a Word Document/RTF File. If you aren't able to, you may copy your work into the body of your e-mail.  Please note that this is an extremely limited opportunity, and will likely sell out.

In the subject line write "WD 2013 Critique - Your Name - Genre"
make sure to include your phone number
email to:
sjonesrogan@aol.com
 ****
The Fine Print:
Take advantage of the "Early Bird Discount" by registering before February 12, 2013

Current SCBWI Membership will be verified. If your membership is not current and you have signed up as a member, you will be given the option of renewing your membership or paying the Non-Member price. 

Join SCBWI at http://www.scbwi.org/ and be eligible for the contests and discount!
You may register at the door; however, only cash and checks will be accepted at the door and note that the Sunday intensives may sell out.

Please note: no refund after February 22, 2013. $15 charge for refund before February 22, 2013. To ask for a refund, e-mail your refund request and a copy of your registration ticket to

sjonesrogan@aol.com  Please include your mailing address in your request.
****
More on our Conference Faculty:
Adriana Dominguez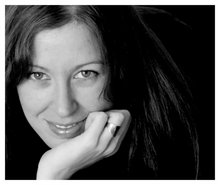 Adriana Dominguez has 15 years of experience in publishing, most recently as Executive Editor at HarperCollins Children's Books, where she managed the children's division of the Latino imprint, Rayo. Prior to that, she was Children's Reviews Editor at Críticas magazine, published by Library Journal. She has performed editorial work for many children's and adult publishers, both on a full time basis and as a freelance consultant, on English and Spanish language books.
Adriana is also a professional translator, and has worked on a number of translations of best-selling and award-winning children's books. She became a literary agent in 2009, when she joined Full Circle Literary as their east coast representative. For more information on her work as a literary agent, please visit the agency's website at: http://fullcircleliterary.com/index.htm
Adriana is mami to a very active and curious toddler who keeps her busy, and makes her exceptionally happy.
Nikki Grimes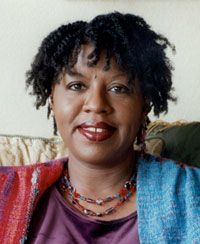 New York Times bestselling author Nikki Grimes is the recipient of the 2006 NCTE Award for Excellence in Poetry for Children.Her distinguished works include ALA Notable book What is Goodbye?, Coretta Scott King Award winner Bronx Masquerade, the novels Jazmin's Notebook, Dark Sons,and The Road to Paris (Coretta Scott King Author Honor Books).Creator of the popular Meet Danitra Brown, Ms. Grimes lives in Corona, California.
Malinda Lo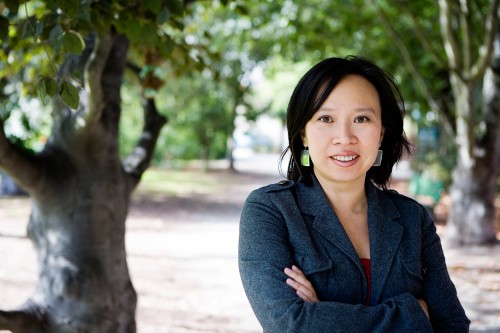 Malinda Lo was born in China and moved to the United States as a child. Ash, her first novel, was a finalist for the William C. Morris YA Debut Award, the Andre Norton Award for YA Science Fiction and Fantasy, and the Lambda Literary Award for Children's/Young Adult, and was a Kirkus 2009 Best Book for Children and Teens. Her second novel, Huntress, is a companion novel to Ash and is an ALA Best Book for Young Adults. Her young adult science fiction duology, beginning with Adaptation, will be published in fall 2012. Formerly, she was an entertainment reporter, and was awarded the 2006 Sarah Pettit Memorial Award for Excellence in LGBT Journalism by the National Lesbian & Gay Journalists Association for her work at AfterEllen. She is a graduate of Wellesley College and has master's degrees from Harvard and Stanford Universities. She now lives in Northern California with her partner and their dog.  http://www.malindalo.com/

Daniel Nayeri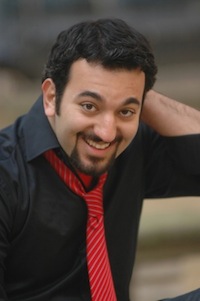 Daniel Nayeri was born in Iran and spent a couple of years as a refugee before immigrating to Oklahoma at age eight with his family. He is the author of Straw House, Wood House, Brick House, Blow, a collection of four novellas, which have been called, "the writer's equivalent of a singer with a four-octave range". Kirkus called it, "Provocative and deeply satisfying," Bookpage named it "a delightful amalgam of the high and the low, the silly and the sublime," and the BCCB mentioned the "breathtakingly vivid word smithery" in its starred review. He wrote and produced The Cult of Sincerity, a feature film acquired by PBS. In addition to his writing, Daniel is the digital editorial director of Houghton Mifflin Harcourt, Children's Group. Before that, he was a professional pastry chef.  http://danielnayeri.com/


Eugene Yelchin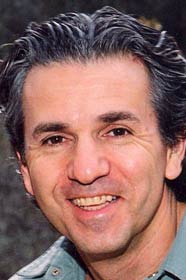 The first culture shock the Russian-born artist Eugene Yelchin experienced in the United States was a classified page in the Boston Globe. Dozens of ads called for painters. Yelchin was thrilled. What an amazing country, he thought. He was a painter — he'd just had a solo museum show in Russia. Newly arrived to America, Yelchin sadly didn't understand that house painters were needed, not fine artists.
In St. Petersburg Yelchin graduated from the Leningrad Institute of Theater Arts. For the stage, he designed sets and costumes for dramas, comedies and ballets. He co-founded a children's theatre in Siberia and he was selected as the Russian representative to the Stage Design Biennial in Prague. However his application to immigrate to the United States was not taken kindly by the Soviet cultural authorities. Somebody else was sent to Prague and every theatrical poster bearing his design credit was reprinted without his name on it. Yelchin became a person non-grata.
After arriving to Boston (and learning that only a certain kind of painter was in demand) Yelchin took his portfolio to a variety of art directors, including one who worked for the Boston Globe, who mistook Yelchin's stage designs for editorial illustrations. Yelchin, understanding little, nodded enthusiastically and soon was illustrating for the Boston Globe. When one of his first pictures was reprinted in Graphis Annual of Illustration, Yelchin became a full-time illustrator.
Since then Yelchin's art has appeared in magazines and newspapers and advertising campaigns. He even designed the original polar bears for Coca Cola. When he earned his second master's degree from the film school of the University of Southern California in Los Angeles, he directed TV commercials and designed characters for animated films. As a fine art painter, Yelchin went on to exhibit in museums and galleries in the US and abroad. His paintings are in several important collections of Russian and American contemporary art.
In 2006 at the SCBWI conference in New York, Yelchin received the Tomie DePaola illustration award. His whimsical, expressive and realistic art attracted editors and art directors, and he has since illustrated children's books for HarperCollins, Simon and Schuster, Henry Holt, Harcourt, Clarion Books and the Roaring Brook Press.
In 2012, Breaking Stalin's Nose, a middle grade novel that he had written and illustrated received a Newbery Honor award. Horn Book magazine called Breaking Stalin's Nose one of the Best Books of 2011. In the same year, Won Ton, a picture book he illustrated was named ALA Notable Book. In 2010, the picture book Rooster Prince of Breslov that he illustrated received the National Jewish Book Award. His other books received starred reviews, and were on Children's Choice and the Independent Booksellers lists.
Today, Yelchin speaks pretty perfect English and the only house he ever paints is his own in Topanga, California. He lives there with his wife, Mary Kuryla, an accomplished writer, their two children, Isaac and Ezra.
http://eugeneyelchinbooks.com/about.php
We hope to see you at our Writer's Days 2013!
Lee and Sarah, your co-Regional Advisors, SCBWI - Los Angeles
***
NEW:  We've arranged a special rate for conference attendees with a local hotel, The DoubleTree Monrovia-Pasadena Area.  Find out more here!

Where

Clairbourn School
8400 Huntington Dr.
San Gabriel, CA 91775