Description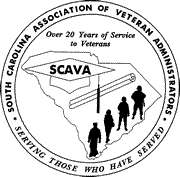 South Carolina Association of Veteran Administrators
January 23, 2017
Dear Certifying Official,
Once again it's time for the SCAVA Spring Conference! As we all know, there is a wealth of information presented at the SCAVA Conferences for School Certifying Officials. To ensure that we are kept up to date, SCAVA will hold our 2017 Spring Conference in Greenville, SC. The conference will be on March 28 – 30, 2017 at the Crown Plaza in Greenville, SC. We are excited and looking forward to a great turnout!
As usual, we will hold a workshop for new and experienced certifying officials led by Gwen Youngblood, ELR, and Frank Myers from the State Approving Agency. News, information and VA updates from Muskogee and the Atlanta RPO will be presented.
Member Early Bird Conference Registration Fee - $150.00 until February 28, 2017
Member Regular Conference Registration Fee - $175.00
SCAVA Membership Fee $25.00 per year (The membership covers July 1, 2016 – June 30, 2017)
Non-Member Conference Registration Fee - $175 until February 28, 2017
Cancelation (Online only) by February 28, 2017
Payments should be made payable to SCAVA and mailed to ATTN: Terria C. Williams - Claflin University 400 Magnolia Street Orangeburg, SC 29115. If paying by credit card, please submit the Credit Card Form from the SCAVA website.
Reservations can be made by calling Crown Plaza Hotel central reservations at 877-834-3613 or SCAVA Spring Conference 2017
Don't forget to bring your door prizees for the Give-A-Ways!!!!!
We look forward to seeing you at the conference!
Sincerely,
Anthony Davis
SCAVA President
---
SOUTH CAROLINA ASSOCIATION OF VETERAN ADMINISTRATORS
(Tentative) SCAVA Spring Conference Agenda
Tuesday, March 28 – Thursday, March 30, 2017
Crown Plaza, Greenville, SC
Tuesday, March 28, 2017
12:00 – 5:00 Conference Registration/Check In
1:00 – 3:00 Certifying Officials Workshop Gwen Youngblood, SC ELR
Frank Myers, SC State Approving Agency
3:00 – 5:00 President's Drop In
Dinner on your own
Wednesday, March 29, 2017
7:00 – 8:30 Breakfast (Hotel Restaurant)
8:00 – 10:00 Conference Registration
8:30 – 8:45 Pledge of Allegiance and Welcome Color Guard
8:45 – 9:00 Greenville Greetings
9:00 – 9:30 Upstate Warrior Solution
9:30 – 10:30 Debt Management Center
10:30 - 10:45 Break
10:45 – 11:45 Atlanta Regional Update Ron Scoggins, Supervisory ELR
12:00 – 1:30 Buffet Lunch (Provided)
1:30 – 2:30 SC State Approving Agency Update Frank Myers, State Approving Agency
2:30 – 3:00 VA Certification Best Practices Anthony Davis
3:00 – 3:30 Break/Q & A
3:30 - 4:30 SCAVA Business Meeting
Dinner on your own
Thursday, March 30, 2017
7:00 – 8:30 Breakfast (Hotel Restaurant)
8:30 – 9:00 National Guard (CAP) Update Lt. Colonel Sean Egnew
9:00 – 9:30 Vocational Rehab Update LaTanya Wright
9:30 – 10:00 Free Tuition Program Update Howard Metcalf
10:00 -10:30 Roundtable Discussion
10:30 -11:00 Wrap Up/Evaluations/Door Prizes/Adjournment