Description
Looking for a casual networking experience close to home? Join YNPN Twin Cities for Scattershot Café: Networking in Your Neighborhood. Gather with fellow young nonprofit professionals in coffee shops throughout Minneapolis and St. Paul to discuss what's on your mind. Pick a location close to home, or select the topic that most interests you, and get networking!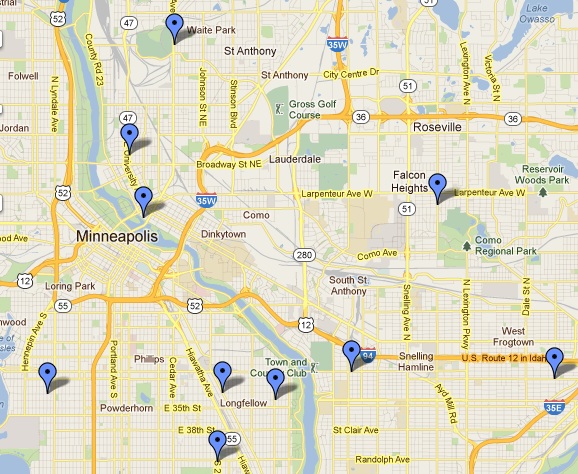 Most locations will facilitate a group of about ten, so register early. Join the conversation online:
YNPN Facebook
YNPN Twitter - #YNPNScattershot
YNPN LinkedIn
Click Here to See a Map of Locations and Full Descriptions
Minneapolis
Transplanted to the Twin Cities – Modern Times Café
Leader: Alison Griffin – Most recently AmeriCorps Program Coordinator with Rise, Inc., originally from Illinois.
Location: Modern Times Café – 3200 Chicago Ave. South, Minneapolis, MN 55413
Tweeting for Professional Development – Urban Bean
Leaders: Chris Oien – Web Communications Associate for the Minnesota Council on Foundations
Jamie Millard - Communications Specialist, Charities Review Council
Description: Live tweeting your favorite TV show and connecting with your friends is great, but have you wondered how else you can tap the power of Twitter to advance your career? Join us for a conversation and opportunity to not only share how you're utilizing Twitter for networking, but also find out tips and tricks for targeting/segmenting your followers and utilizing third party apps for increased effectiveness. This will be a hands-on, lab-like discussion, so please feel encouraged to bring laptops and smartphones!

Location: Urban Bean – 3255 Bryant Ave. South, Minneapolis, MN 55408
Nonprofit Book Club – Alm Corner Café
Leader: Kelly Rowan – Fund Development Consultant with the Excelsior Bay Group
Description: Love nonprofits AND books? Let's get together over a cup-o-joe and talk! Whether it's a practical guide that has changed the way you work in your nonprofit role, or you have a favorite book that you know your fellow nonprofit peers would love, join us at Alm Corner Cafe. You could even bring the book itself if you're interested in swapping.
Location: Alm Corner Café – 3302 Central Ave. Northeast, Minneapolis, MN 55418
Corralling Conversations 2.0 – Longfellow Turtle Bread
Leader: Leah Lundquist – Pursuing a Masters in Public Policy at the U of M's Hubert H. Humphrey Institute of Public Affairs
Location: Longfellow Turtle Bread - 4205 East 34th St., Minneapolis, MN 55406
Foundational Financial Sanity for Young Nonprofit Professionals - The Beat Coffeehouse
Leader: Jared Rendell - Coach: STAGES Initiative at Thrivent Financial for Lutherans
Description: A real-life conversation about money and what its like to be a young nonprofit pro and still live with wisdom, freedom, and sanity when it comes to the financial part of life. The STAGES Initiative is on a mission to help 1 million people worry less about money. This will not be a sales talk. Bring stories, ideas, and favorite tools to share with others and hear from an expert on some key things to know and do.

Location: The Beat Coffeehouse, 1414 West 28th St., Minneapolis MN 55408
Conversations about Youth Development: Highlights, Challenges, Collaboration – Peace Coffee Shop
Leader: Nick Cross – Associate Educator at Sanford Middle School in Minneapolis
Description: Let's get together to share highlights of our year, challenges we are facing in current or future programming, and brainstorm ways that we can collaborate on projects!

Location: Peace Coffee Shop - 3262 Minnehaha Ave. South, Minneapolis, MN 55406
Nonprofit Law 101 – Victory 44

Leaders: Rinal Ray - Staff Attorney at Minnesota Justice Foundation
Emily Robertson - Attorney with Robertson Law Office serving the legal needs of the nonprofit/tax-exempt community
Description: Rinal and Emily love the nuance and intricacies of nonprofit law. Join them for conversation on the laws and regulations that govern nonprofits, considerations in starting an organization, and resources available to you and your organization.
Location: Victory 44 - 2201 North 44th Ave., Minneapolis, MN 55412
Networking for Jobs – Wilde Roast Café
Leader: Virginia Brown – Director of Volunteer Services at the Animal Humane Society
Location: Wilde Roast Café – 65 Main Street SE, Minneapolis, MN 55414
St. Paul
Nonprofit Consulting: Getting Started – Nina's Coffee Café
Leaders: Krysten Lynn Ryba – Research Associate at Wilder Research
Cary Walski - Owner of Social Good and Technology Education & Outreach Coordinator at MAP for Nonprofits
Location: Nina's Coffee Café – 165 Western Avenue North, St. Paul, MN 55102
Navigating Your Many Hats: A Discussion for Nonprofit Generalists – Coffee Grounds
Leader: Lisa Joyslin – Volunteer Resources Director for the American Red Cross, Northern Minnesota Region
Location: Coffee Grounds – 1579 Hamline Avenue North, St. Paul, MN 55108
How to Be a Former AmeriCorps Member – Kopplin's
Leaders: Josh Lambrecht – Program Manager at Minnesota Education Corps
Lauren Van Schepen – Nonprofit Services Assistant at the Minnesota Council of Nonprofits
Location: Kopplin's – 2038 Marshall Avenue, St. Paul, MN 55104
Organizer of Scattershot Café: Networking in Your Neighborhood
The Twin Cities chapter of the Young Nonprofit Professionals Network is a community of nonprofit staff, volunteers, supporters, and allies: current and future leaders who want to connect with others in the social sector.
Our mission is to provide and promote opportunities for the development of young nonprofit professionals.