Join us in a listening party and hear from Chinatown residents who will speak about their lived realities as SRO tenants.
About this event
UPDATE: This program is now taking place on Friday, June 25, 5-6:30PM
在 6/25 星期五, 下午5:00-6:30, 跟我們一起在網上慶祝"愛的守戶"的開幕派對。那裡, 會有講者講關於藝術和住房權力。
APICC is proud to feature Vida Kuang's Scattered Home as part of the 24th annual United States of Asian America Festival: Forging Our Futures - SoMa & Chinatown.
該項目是亞太裔文化中心年度第24屆美國亞裔藝術節的一部分,打造我們的未來 - 市場街以南(SOMA)和華埠
愛的守戶 is a series of talking portrait banners depicting the lives of three intergenerational SRO tenants in Chinatown. Single room occupancies are common housing conditions in Chinatown, Tenderloin, SOMA, and the Mission where tenants live together in a single 70sq. ft room, often with multiple generations. Each portrait has a code to bi-lingual audio stories from youth and elder SRO tenants speaking about family, mental health, navigating a pandemic, and dreams for their futures.
愛的守戶是一系列有聲肖像橫幅,描繪了華埠三位跨世代散房租客的生活。 散房是華埠,田德隆(Tenderloin),市場街以南(SOMA)和米慎區的常見住房環境,房客時常在一個70平方呎的房間跟幾代家人一起居住。 每幅肖像都有一個代碼,通往來自散房家庭的青年和長者所記錄的雙語語音故事,講述家庭,心理健康,應對病毒大流行以及為自己未來的夢想。
Creator: Vida
Storyteller: Anna, Kiki, Sister Huang, and Yessica Hernandez from Coalition on Homelessness
創作人:Vida
說書人:Anna,Kiki,黃姐, Yessica Hernandez 從 Coalition on Homelessness
Access needs:
Language interpretation will be available in Cantonese
Other language and CC TBD
ABOUT VIDA KUANG (PRODUCING ARTIST)
Vida Kuang 鄺楚瑩 is raised by a Toisan matriarchy and the streets of Chinatown. Her art centers intergenerational joy, memory, and class struggle as experienced by poor/working class peoples. Vida finds art and culture as ways to decolonize herself and her communities' hearts and minds towards collective liberation.
Follow Vida Kuang at @vida.kuang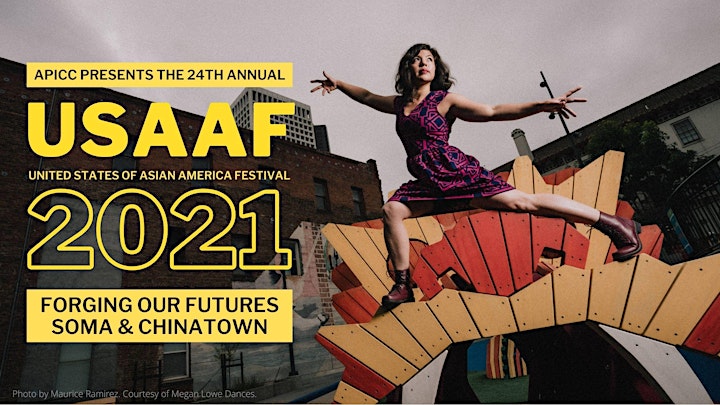 ABOUT THE UNITED STATES OF ASIAN AMERICA FESTIVAL
This year's 24th annual United States of Asian American Festival (USAAF) presents over 20 different programs reflecting the artistic accomplishments and cultural diversity of San Francisco's Pacific Islander and Asian American communities. USAAF showcases artists representing a diverse range of ethnic and cultural groups and aims to heighten the visibility of Asian and Pacific Islander (API) artists working in all disciplines - theater, music, dance, film, literature, visual arts, and more! Our goal is to nurture and empower these groups to be self-sufficient while providing the support they need to grow.
This year's theme, Forging Our Futures - SoMa & Chinatown, explores how we are fostering recovery, resilience and regeneration in our communities, what place-making and community building looks like, past, present and future and how we're imagining and manifesting empowered future for ourselves and our communities.
USAAF 2021 is funded by the San Francisco Arts Commission, San Francisco Grants for the Arts, California Arts Council, Fleishhacker Foundation, Zellerbach Family Foundation, startsmall and National Endowment for the Arts.