A candid discussion on domestic violence and human trafficking. This is a Community Awareness Event.
About this event
Join us for this exciting and informative webinar with hard truths about domestic abuse and human trafficking, self-defense methods, powerful messages, inspiring stories from dynamic speakers, along with giveaways and so much more. You don't want to miss this.
Participants will leave this workshop inspired and empowered with a clear understanding of domestic violence; what constitutes domestic violence, statistics concerning victims of domestic violence, and the cycle of domestic violence. Panel speaker will also be provided with information concerning the impact of domestic violence on children and child development, including the possibility of children exposed to domestic violence growing to become perpetrators and victims of domestic violence in adulthood.
Together, we can call attention to and fight the shocking realities of these injustices happening right here in our communities.
Entrance is Free - Zoom link will be emailed to you upon registration.
This event is open to young lades ages 14 and up. This event will cover topics such as:
Type of Abuse
Mindset
Self Defense
Human Trafficking
The Scary Truths of Domestic Violence is sponsored by the following 501(c)(3) non-profit organizations:
Raising BeYOUtiful Butterflies founded by Dr. Trinise White-Foster. For more information about Raising Be.YOU.tiful Butterflies visit www.raisingbeyoutifulbutterflies.org
Surviving to Thriving Nonprofit founded by Heather Knight. For more information about Surviving to Thriving visit https://tothriving.org
Life Circle 72 founded by Bridget Simpson. For more information about Life Circle 72 visit https://lifecircle72.org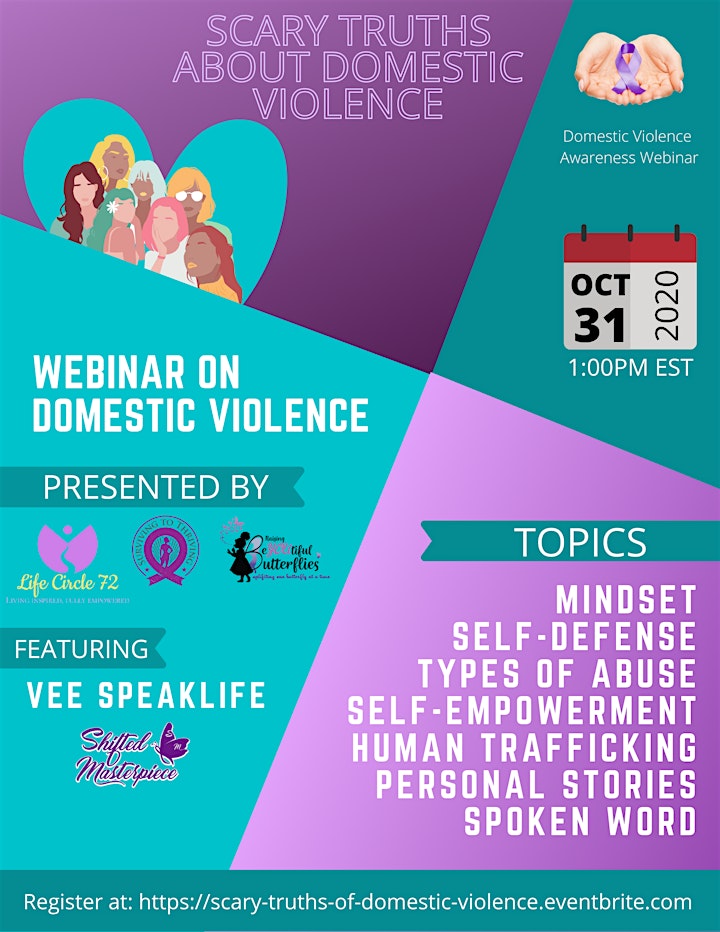 Organizer of Scary Truths of Domestic Violence
Raising BeYOUtiful Butterflies, is a girls mentoring and empowerment development program located in metro Atlanta created to disrupt the cycles of poverty, prevent teen pregnancy, and build self-esteem and confidence by uplifting, empowering, and educating young girls between the ages of 4-21. Our mission is to educate and empower girls by inspiring them to recognize and embrace their own potential to be confident, self-sufficient, unique, determined, and powerful in their lives as well as in their communities, while encouraging sisterhood.