Join us for a FREE Scary Movie Night!
About this event
Calling on all cult classic horror movie lovers and Thrill Seekers!
You Belong Here and 7Octoberz are hosting a FREE movie night! Join us on Friday, November 15th, 2019 from 7pm - 10pm. Popcorn and candies will be provided!
We will be screening The Lost Boys
Looking forward to getting spooked with you!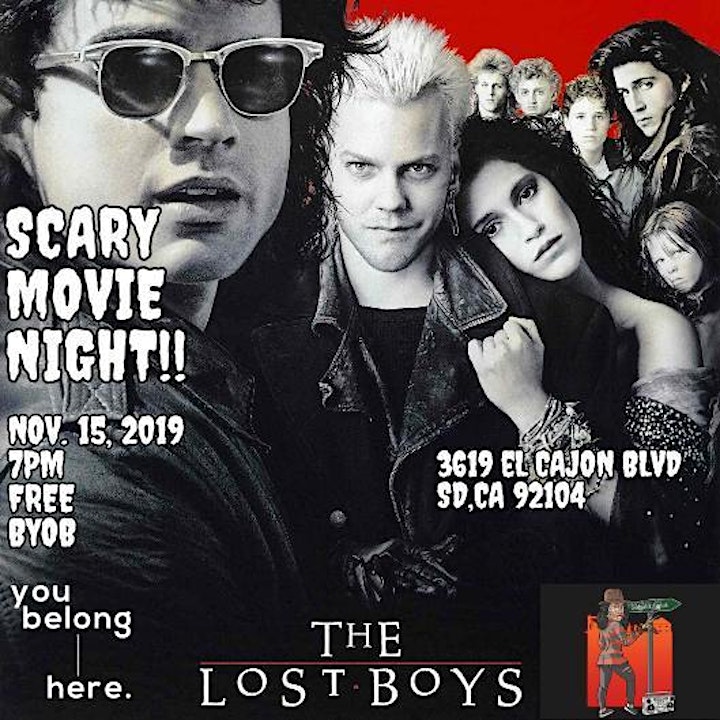 Organizer of Scary Movie Night: The Lost Boys
You Belong Here is a space for creatives to co-work, collaborate, and connect with other like-minded individuals and businesses. We encourage our community to teach, learn, connect and support one another - all with the goal of helping you grow your business and brand with accessible tools and education, in-person networking events and workshops, community programming, and coming together.
You Belong Here is a space of radical inclusivity.
Our community is diverse, composed of all ages, ethnicities, identities and backgrounds. Our community is curious, ambitious and positive. They are eager to learn from and share with those around them.
They have something to contribute. Open to new ideas. They want to explore and share their culture with others, and build something wonderful with and for their community.