Description
#SCARYCHRISTMAS2015 WAS SOLD OUT @ 666 TICKETS!
WE OPENED THE SALES UP AGAIN TO 777 TICKETS!
Get there EARLY before the food and booze runs out!
Party starts @ 8pm.

NEW LOCATION!
Hedgehog Studios
10532 Burbank Blvd.
North Hollywood, CA 91601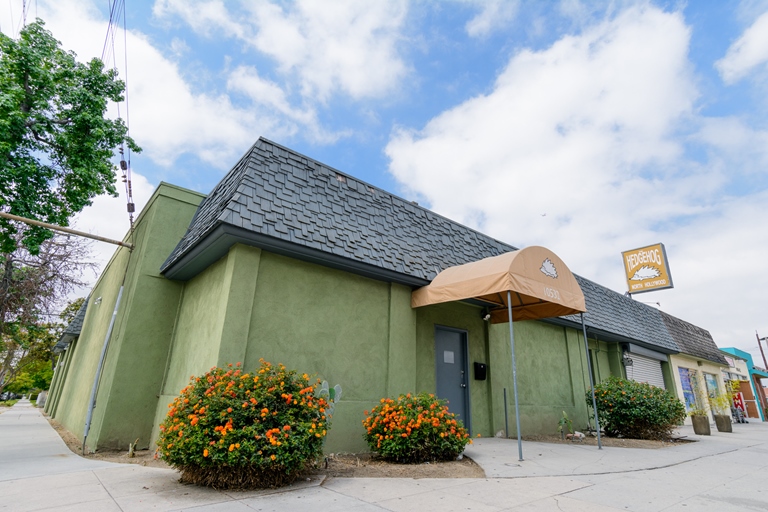 Parking is not the best in the area so...

GET A FREE RIDE!
Lyft is offering FREE RIDES to and from 10532 Burbank Blvd., North Hollywood, CA! Download the free Lyft app and enter promo code "LAX50" in the payment section before requesting a ride for up to $50 IN FREE RIDE CREDIT - this code is for new users and valid for 30 days and there's no extra charge for passengers!
---
It's time once again for our year end wrap party! Seraph Films, Nvisionate Studios, We Are Indie Horror, and 3 Cubed Studios invite you to come and celebrate another year of filmmaking and kick the season off right with a very "Scary" Christmas!
Join us for our annual night of hanging out, socializing, reflecting, announcements for the new year, and wishing one another a very "Scary" Christmas – all under the careful eye of production designer Wendelyn Slipakoff!
We will have music, awards, snacks, drinks and more. We are adding new sponsors every day and really taking this party to an all new level this year!

Monsters Unite will be holding a toy drive at this year's party!

Please bring a NEW UNWRAPPED TOY or sports equipment for kids of all ages, including teens.

Monsters Unite in coordination with Los Angeles Fire Department's "Spark of Love" is a toy drive benefiting LA County children in need.
In addition... Please consider making a $5 minimum donation per person attending the event. This is not mandatory and completely up to you to donate. We are providing you with a Free night of entertainment, decorations, haunted maze, sponsors, snacks, and an open bar. The night is our donation to you. Due to the unforeseen circumstances of having a sold out event of over 666 people and then having to move our event to another location... We REALLY did not want to cancel the party but honestly... Us Indie Filmmakers are WAY over our budget! LOL! You like us... YOU really like us!

To make a donation, you may do so via this event page near where you order your tickets. Thank you for your generosity.

Remember to use #SCARYCHRISTMAS2015 when posting photos this weekend!

We are excited to have you join us for this scaretacular event!
Thank you!
Mary Lou, Justin, Gene, Nick, Neil, and Brian
Seraph Films
Nvisionate Studios
3 Cubed Studios
We Are Indie Horror


PS: VOLUNTEERS NEEDED TOMORROW 12/20 from 11am - 3pm to help clean up and take down the decorations and haunted maze. If you are attending tonight or just would like to help tomorrow please REPLY to CONFIRM and then come to this location between 11am - 3pm Sunday, 12/20.

Hedgehog Studios
10532 Burbank Blvd.
North Hollywood, CA 91601
(please come as early as possible)

Thank you in advance for helping us celebrate another amazing year in film!
EVENT SPONSORS



Monsters Unite in coordination with Los Angeles Fire Department's "Spark of Love" is a toy drive benefiting LA County children in need.
Bill Rude works professionally as a designer, animator, and effects expert with a penchant for retro horror. Work of his has been seen in various movies and TV shows, including True Blood, Ghost Whisperer, Strange Rituals, and the Science of Fear.
Drunken Devil Productions is a Los Angeles based, horror-centric entertainment production company. Drawing inspiration from past and present pop culture, horror and fantasy genres, and a menagerie of cultural folklore and mythos, the company seeks to produce high-quality, imaginative, and theatrical attractions designed to provoke, engage, and ultimately entertain modern audiences.
Whereas in the past the hard edge functionality of rubberwear had a tendency to scare some people away, the soft lines of femininity to be found in Alyssa Norman's work could see anyone, whether they have a fetish edge or not, gracing not just the nightclubs but any chic Parisian boulevard. With emphasis on flowing lines that work to flatter the curves of the body, Blacklickorish Latex is the word in elagant haute couture. Beautifully made with a high degree of understanding in tailoring and the potential of the material of rubber, Alyssa's work will make you look nothing more than stunning, sexy, and powerful.
Our specialties include: Filming Weddings, Private Events, Parties, Music videos, Interviews, and Sports functions. We will create a pricing package specifically for your event.
DRINK AND FOOD SPONSORS
Born of Love, Obsession and a Degree of Spirited Madness. In contrast to its rather macabre bottle, the rum is a genuine thing of beauty. Available at Bevmo!
Jack Daniel's is a brand of Tennessee whiskey and the top selling American whiskey in the world. It is produced in Lynchburg, Tennessee, by the Jack Daniel Distillery, which has been owned by the Brown-Forman Corporation since 1956.
Pabst Blue Ribbon is brewed in the finest traditions of an American Premium Lager dating back to 1844. Brewed with a combination of 2 & 6-row malted barley, select cereal grains and American and European hops, Pabst Blue Ribbon is fermented with a proprietary lager yeast. Our unique fermentation and maturation process results in a smooth, full bodied beer with a clean, crisp finish with a fine noble hop aroma.
As Small Town Brewery continues to roll out new craft beers, Kovac is intent on providing the beer loving public with unique flavors that continue his family's beer-making tradition. Available on draft and in bottles.
Our whiskey, distilled in California, acquires all of its smokey flavor from hand selected, forest fire ravaged Oak. Our coffee is custom-roasted by a micro-batch company in Los Angeles to fit Fliquor Bean's taste profiles.
Refreshing and packed with nutrients, our original line is Mother Nature's drink of choice.
New Amsterdam® Vodka is five times distilled from the finest grains then filtered three times. It's so smooth you can create a perfect cocktail or drink it straight. Our premium process makes our vodka as iconic as the cityscape on the bottle.
New Amsterdam® Gin is crafted with botanicals, citrus, and a nod to juniper. It's a modern take on the 400-year tradition. The smooth finish lets you drink it straight or as the centerpiece of a perfect martini.
Monster Energy is an energy drink introduced by Hansen Natural Corp. (HANS) in April 2002. The company is also known for supporting many extreme sports events such as BMX, Motocross, Speedway, skateboarding and snowboarding, as well as eSports. In addition, Monster Energy promotes a number of music bands around the world, like Asking Alexandria, The Word Alive, Maximum the Hormone and Shinedown.
Yummy Cupcakes® is authentic…the real deal…baking scrumptious gourmet cupcakes and cupcake treats in house from scratch with our own Chef-created proprietary recipes, since March 2004!
In 1970, four friends got together and created the Follow Your Heart® Market and Restaurant in Canoga Park, California. From these small quarters, we served vegetarian soups, sandwiches, and salads to a growing vegetarian community. Eventually, the ever-increasing need for new vegetarian products led us to put our energy and ingenuity into creating our own line of all natural foods.
Even our carnivorous friend agree, that these guys provide mouth-watering food! Southern Fried Vegan provides delicious vegan versions of popular festival foods to festivals, street fairs, breweries, wineries, and farmers markets throughout southern CA. We also cater events from small gatherings of friends to weddings. Our signature menu item is the southern fried vegan chickun sandwich.
At Veggie Grill, vegetables are the rockstars! We see every season as an opportunity to celebrate them at the center of your plate, with bold and craveable flavors.
We see you as one of us. Not as a diet, but as a person. As someone seeking out the veggie… and the fruit, the grain and the nut. We see you as veggie positive.
So come feel the warmth of our grill. Feel vibrant and replenished. Feel positively better.
Instead of hungover – you can feel bright, alert and well-rested the next day – with Booze Burner…


Perfect Bar is the perfect bar if you crave smooth, delicious, all natural, incredibly nutritious, freshly ground peanut or almond butter. We sweeten that to perfection and add high quality protein and 20 organic superfoods and use Mother Nature's preservative, cold, to keep it tasting like we just made it.