Description
The perfect workshop to get involved in just before Christmas! Get colourful and experiment with multi-coloured dyeing techniques and walk away with two scarves ready for gifting to that special someone or to keep just for you!
No previous dyeing experience is necessary, just an open eagerness to get some colour on cloth!
What's covered in this fun and practical 3hr workshop
• Different techniques for multi-coloured fabric dyeing without using excessive amounts of water or dye powder
• Several methods for applying the dye to fabric will be covered including direct dyeing or hand painting, layered, crumpled and spiral dyeing, and patterned dyeing
• Types of dyes and their application
• Types or fibres or fabrics that these particular dyes work best with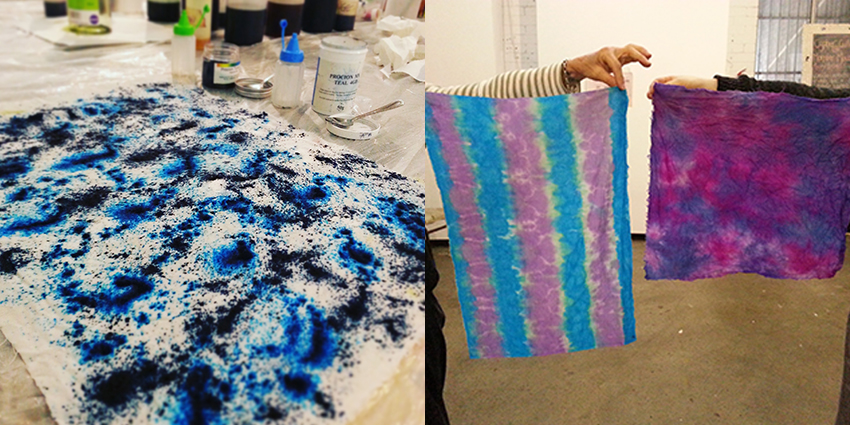 What's supplied?
All dyestuffs required for the day and two scarfs per person. One silk habuti 90x90cm and one cotton voile 90x200cm.
A selection of fabric pieces for experimentation will also be available. Participants are also encouraged to bring along their own fabric or garments (white or very pale colour) to dye on the day. It is also recommended to bring along some plastic bags to transport wet, dyed fabric home in.
Disposable gloves will be provided, aprons are not, so bring one along if you can. Clothes you don't mind getting dyed (if it happens) and closed in, non-slip shoes are recommended.
The Venue
Monster Mouse Studios is a not-for-profit mixture of art studios, communal & multipurpose creative spaces located footsteps from the heart of Marrickville, Sydney.
Get tickets to book your spot now.