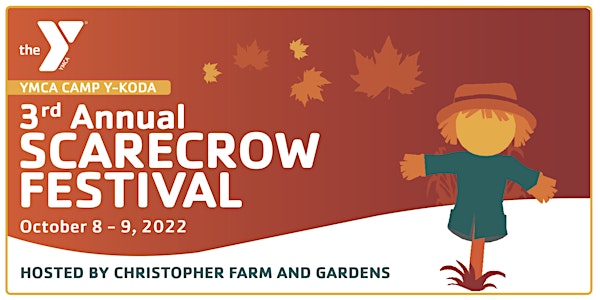 Scarecrow Festival Saturday, October 8, 2022 - Tickets
Scarecrow Festival Saturday, October 8, 2022 --- Tickets
When and where
Location
The Christopher Farm and Gardens W580 Garton Road Sheboygan, WI 53083
About this event
Scarecrow Festival at Christopher Farm & Gardens October 8-9, 2022
Scarecrow Festival at Christopher Farm & Gardens is a fundraising event for YMCA Camp Y-Koda Outdoor Skills & Education. Bring your family & friends Saturday or Sunday from 9:00 am - 4:00 pm to experience the beautiful fall colors along the shore of Lake Michigan, explore the gardens and youth activities, such as arts & crafts, fishing, fall stories, and more!
Scarecrows created by local community groups will be displayed in areas throughout the property. Event goers will vote for the best scarecrow designs in the categories of business, non-profit, child/family, and school.
This event is open to the public. General attendance admission is $5.00 per child and $10.00 per adult. Children age 2 and under are free! The general admission ticket provides you with access to the event on the day your ticket is designated for.
There are two options for parking!
Free Parking - Off-site at Kohler Generators parking lot, N7650 Lakeshore Rd, Sheboygan, WI 53083. Guests will receive a shuttle-ride by school bus to the Festival property.
Accessible parking will be provided on-site at Christopher Farm & Gardens at no cost.
V.I.P Parking - A limited number of parking spots are available to purchase. V.I.P Parking provides parking on-site at the Orchard Field Entrance at Christopher Farm & Gardens. W580 Garton Road, Sheboygan, WI 53083.
The event will take place rain or shine. No refunds will be offered.
See details on the Camp Y-Koda Website: https://sheboygancountyymca.org/camp-y-koda/scarecrow-festival.html
For more information, please contact YMCA Camp Y-Koda 920-467-6882 or email Jeremiah Dentz at jdentz@sheboygancountyymca.org