Scarborough South Asian Film Festival: Through A Social Justice Lens
Scarborough South Asian Film Festival: Through A Social Justice Lens
Sat, November 19, 2016, 9:30 AM – 4:00 PM EST
Description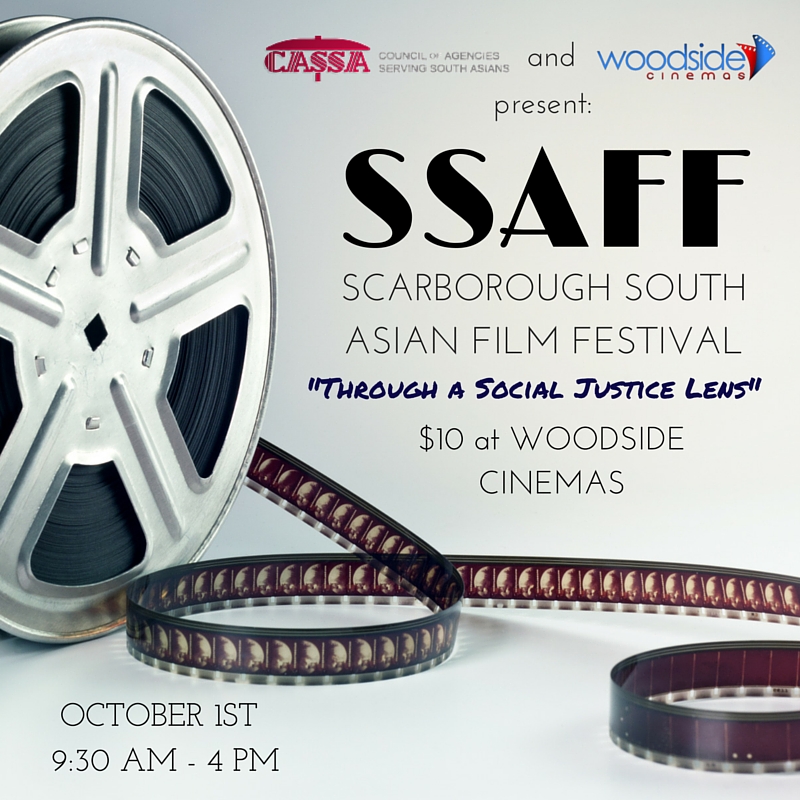 The Council of Agencies Serving South Asians (CASSA) in partnership with Woodside Cinemas is proud to announce that it will be putting on its first ever film festival!
The Scarborough South Asian Film Festival (SSAFF) will be featuring a host of eye-opening short films and documentaries from all across Canada and South Asia, examining the social justice issues affecting our communities.

We will be highlighting not only our unique experiences, but also the common threads that unite us. Whether examining the experiences of LGBTQ South Asians, dissecting stories of discrimination, delving into the struggles of immigrants coming to this country, or looking at issues of poverty faced by our communities, this festival will examine South Asian identities and the way that they influence and shape our lives.
When: Saturday, November 19th from 9:30 am to 4 pm
Where: Woodside Cinemas
How much? $10
$10 gets you unlimited access to all of our films, as well as our breakfast with some of the artists and directors that have helped make this event possible
This festival will be a fundraiser for CASSA's mobile exhibit displaying contributions of South Asians in Canadian history, for the celebration of Canada's 150th anniversary next year. We look forward to welcoming you, your friends and your family to make this event a success.
If you have any questions on the festival or are interested in submitting a film, please do not hesitate to contact Kiran Khan by email or phone at kiran@cassa.on.ca or 416-932-1359.
---