Description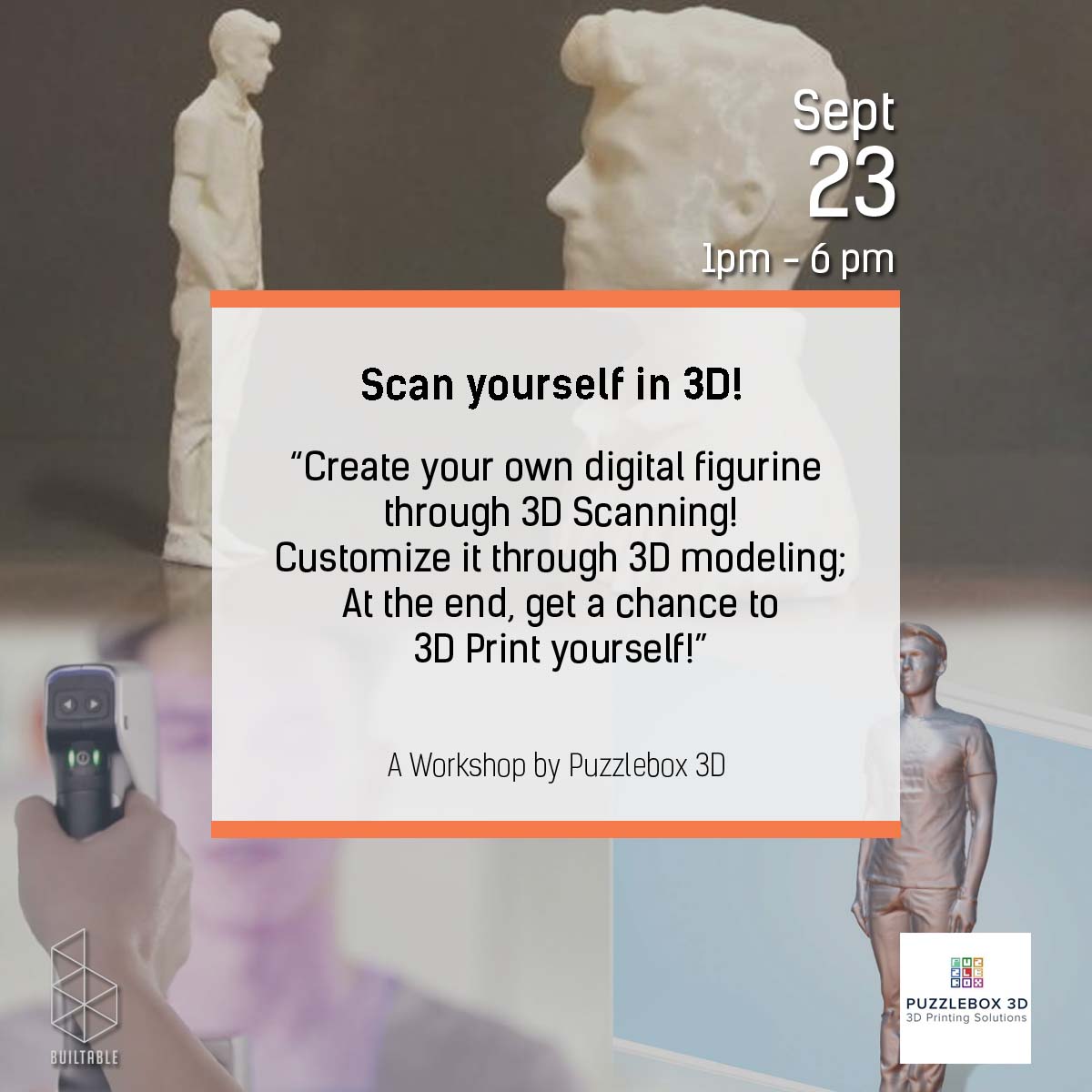 Scan yourself in 3D!
Create your own digital figurine through 3D scanning! Customize it through 3D modelling; At the end, get a chance to 3D print yourself!
COMPANY PROFILE:
PuzzleBox3D are specialists in 3D Printing Technology in the country. We have FDM 3D Printers, SLA 3D Printers, Filaments, Parts and Services under one roof!
They are distributors for Award-winning products under the Ultimaker brand, Formlabs brand, Zortrax, Flashforge and EinScan Products + Innofil 3D Printing filaments, PrintLab Education, Kideville, Makerversity and more!
EVENT DATE:
September 23, 2017
1:00 PM - 6:00 PM
EVENT FEE:
Early Bird - Php 1,200 (Until September 16,2017)
Normal Rate - Php 1,500 (Until September 22,2017)
THINGS TO BRING:
Head gear (i.e. hat, bonnet) to cover hair
Light color shirt (non-reflective)
PROGRAM:
1:00 - 1:30 Introduction - 3D Scanning (includes possible applications)
1:30 - 3:30 3D Scanning all participants (using Einscan)
3:30 - 5:30 Fixing 3D Scan files (Autodesk Maya, meshmixer and netfabb)
5:30 - 6:00 Finalizing 3D models
6:00 - 6:15 3D printing (tentative)
HOW TO RESERVE
1.Confirm slot via SMS, Email, Eventbrite ticket or MeetupPH
CONTACT PERSON
Rizza
+63 917 7270288
EMAIL
connect@builtable.co
2.provide your full payment through bank deposit
Metrobank Acct:
CTT.Synergy Corporation
Metrobank Acct No.
0 007 881 000 616
or
BDO Acct:
CTT.Synery Corporation
BDO Acct No.
000668083218
or
paypal
3.send us a proof of your payment (Scanned/Picture of Deposit Slip or payment) and shoe size