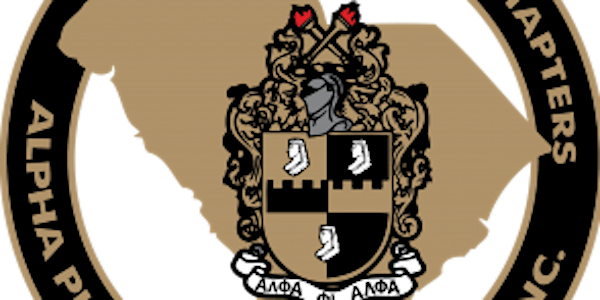 SCAlpha Winter IMDP Training -Jan 2023
We will conduct a Winter IMDP Certification Training Session for South Carolina Brothers in Winter 2023.
By SC Chapters of Alpha Phi Alpha Fraternity, Inc.
Date and time
Sunday, January 8 · 11:30am - 3:30pm PST
About this event
We will be conducting a Fall IMDP Training Session for SCAlpha. This is a Zoom Online meeting and will open at 2:30 PM EST. The training session will start at approx. 3 PM, EST.
These sessions will train brothers to act as Sponsors, Recommenders, and members of the Intake Management Team as well as Chapter Officers. Once completed, Those attending the seminar will be IMDP certified until December 31, 2023. 
Be reminded that Alpha chapters must achieve certain IMDP certification levels in order to participate in any IMDP Activities. Note, the following requirements for chapters wanting to participate in the IMDP process.
All District Officers must be IMDP certified.
All Chapter Officers must be IMDP certified.
50% of Active Chapter members must be IMDP certified.
All Sponsors and Recommenders must be IMDP certified.
Training will take ~4 hours to complete. We will NOT be conducting a Risk Management Certification at this time. Brothers are encouraged to start the Risk Management self-paced training at Alpha University. Brothers must be present throughout the training in order to be certified.  (NO EXCEPTIONS)
About the organizer
We are the thirty-three (33) chapters of Alpha Phi Alpha Fraternity, Inc. representing the District of South Carolina. We proudly emphasize the aims of Alpha Phi Alpha: Manly Deeds, Scholarship, and love for all Mankind, by implementing the Fraternity's National programs and maintaining brotherhood in Alpha through social, civic, and community-based programs and events. Chapter programs include efforts with the March of Dimes, MLK Memorial Project, Boy Scouts of America, Big Brothers & Big Sisters, and many others.
Our mission is to develop leaders, promotes brotherhood and academic excellence, while providing service and advocacy for our communities throughout South Carolina.
Currently, we have fifteen (15) undergraduate chapters located at public and private colleges and universities, and seventeen (17) graduate chapters in most major cities in South Carolina. Annually, the District sponsors a District Conference in the Fall, a District College Brothers Summit in the Spring, and a District Leadership Retreat in the late Summer.