Description
Scaling Your Startup with Digital Marketing
with Bob Tripathi
Most start-ups fail to get off the ground not because of technology, product, people or capital but simply because they have learned the art of marketing for new customer/User acquisition. Customer acquisition starts by building a solid Digital Marketing infrastructure that can scale as the company grows. Startups can execute brilliant "marketing on a dime" or "growth hacking" tactics by simply focusing on tactics that matters the most. Attend this unique workshop and learn the strategy and how-to tactics like SEO, Content Marketing, Social Media, Paid Advertising, and more. When executed holistically, these tactics combined can help catapult startups to the next level of growth in this step-by-step guided workshop.
Schedule:
9:30am: Registration and Networking
9:45am: Session Begins
11:00am: Session Ends
This session is part of an all day Lab at the Center. To learn more and register for the other sessions, see below.
12:30-2pm Speaking the Language of Your Prospects: How Achieve Your Earliest Sales
2:30 - 4pm Meet the New Breed of Funding Programs for Diverse Founders
OUR SPEAKER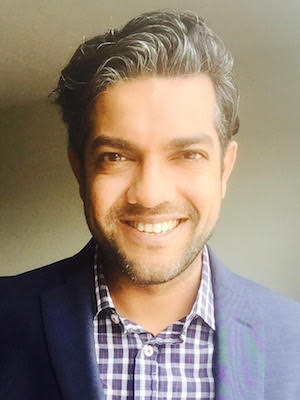 Bob Tripathi
Bob Tripathi is a passionate, holistic Digital Marketing leader helping companies to build their digital business and professionals to transform their careers with marketing for 14+ years.
Even though Bob's passion lies in working with start-ups and helping them build their digital infrastructure. Bob has worked with companies like Discover Financial, Sears Holdings, iEmployee.com and many others (through consulting work) to achieve massive growth through digital marketing skills and thought leadership. Bob is a classic roll-up-the-sleeves entrepreneur and his passion for startup marketing led him to bid farewell to large brands and launch Instant E-Training, an online education company hyper focused on Digital Marketing education.
Bob loves building marketing infrastructure that aligns companies for long-term success and as a result I thrive in fast paced environments. Bob's expertise lies in customer acquisition and a strong believer in "purpose of a business is to create a customer" that has driven him to marry the science of data driven marketing with the art of creating beautiful customer experiences to execute innovative customer acquisition strategies.
With 16+ years of deep domain expertise across Marketing, Sales, Customer Success and Analytics function takes great pride in his work. Bob does not work in marketing but breathes Digital Marketing and most people would agree on his deep domain expertise & passion about all things digital marketing.
Over the years, Bob has also co-authored a book, spoken at numerous conferences, written tens of articles, given interviews, created digital training workshops and spoken at hundreds of webinars.