Scaling Your Organizational Culture

Tuesday, November 10, 2015 from 6:30 PM to 8:30 PM (EST)
Event Details



"Company Culture" is often a leading reason that professionals are attracted to a startup or small business.  Leadership teams collaborate with Human Resources to ensure hiring practices, employee engagement, learning and development support the organization's mission and reflect its culture, but to what extent can culture be maintained in every aspect of an organization as it grows?
 Though every startup and small business dreams of the day they can increase headcount, scaling the practices that allow leadership teams to provide a consistent culture and brand is challenging.  Join four Hoyas who have extensive experience in serving on leadership teams and in human capital roles for growing companies in Washington, D.C. for a panel discussion on their strategies for maintaining and evolving your company culture during growth periods.
SCHEDULE
6:30 - 7:00pm |  Networking Reception
7:00 - 8:00pm | Panel Discussion & Questions 
8:00 - 8:30pm | Networking Reception
*A special thank you to The Meltzer Group for providing catering at this event.
MODERATOR
Neil Shah (B'10) | Co-Founder & CEO, Aspire
Neil spends his days working on Aspire's sales, strategy and product development. In past ventures, he was the co-founder of Compass Partners, the nation's largest college-aged entrepreneurship education program, and Raleway, a web development firm for inspiring companies. He also has experience as a product manager for EverFi, a millennial-focused education startup. His dog, Apollo, is a slightly better programmer than him — but only slightly.
PANELISTS
Nicole Seaver Crowley (C'99) | Senior Director of Human Resources, The Rock Creek Group
Nicole Crowley is the Senior Director of Human Resources at The Rock Creek Group, an investment advisory firm in Washington, DC.  She leads talent management and human resources for the firm.  Prior to this, she led the talent acquisition and HR business partner teams at LivingSocial.  Nicole also worked at The Advisory Board Company for over ten years across a variety of human resources functions, including talent acquisition, mergers and acquisitions management, and organizational development. She is a graduate of Georgetown University where she received her B.A. in Psychology.
Adam Fernandes (MPP'12) | Director, Eagle Hill Consulting 
Adam Fernandes is a Director at Eagle Hill Consulting, a boutique management consulting firm based in Arlington, VA.  In this role, Adam leads human capital consulting projects across multiple industries. He is a one-of-a-kind 'Work-Life Balance' thought leader who is changing how our numerous Federal clients approach the issue—and is challenging his colleagues at Eagle Hill Consulting to strive to get this balance right every day.
At Eagle Hill, Adam has built a robust "Work-Life Balance" business line.  Since his early success in 2011, four other Federal agencies have partnered with Eagle Hill to assess and improve their work-life programs in an operational environment.  In 2014, Adam led a research effort focused on how generational differences influence work-life balance, and how employers can use Work-Life Balance programs to increase employee retention, productivity, and engagement.  Adam presented this research to other professionals at leading human resources organizations, including the Society for Human Resources Management. 
Adam has led the way in promoting work-life balance at Eagle Hill—positioning our company to win numerous local and national 'Best Place to Work' awards (e.g., Vault, Washingtonian, Washington Post, and U.S. Chamber of Commerce).  He is a graduate of the McCourt School of Public Policy where he received a Master's in Public Policy.  
Dominique Taylor (B'00) | Vice President of Talent Management, EverFi
Dominique Taylor is EverFi's Vice President of Talent Management and is responsible for all things related to attracting and retaining the incredible people that make EverFi an amazing company and special place to work. She focuses her energies and talents on uncovering and cultivating progressive corporate strategies that support the company and the team's growth. Dominique joined EverFi from the Advisory Board Company where she managed client recruiting and retention process improvement efforts, helping hospitals and health systems implement best-in-class workforce management practices. She also worked with the Advisory Board Company's internal Career Management team where she focused on corporate recruitment initiatives. Prior to the Advisory Board Company, Dominique launched her career as a Strategy Consultant with the Monitor Company in Boston. Dominique was drawn to EverFi because of the company's mission, its people and its proximity to Georgetown University and the Tombs. Dominique graduated with a bachelor's degree in Technology Management from Georgetown University's McDonough School of Business in 2000 and has earned her PHR and SHRM-CP.
Emily White (S'13) | Head of Talent & Culture, Optoro
Emily White is Optoro's Senior Director of Talent and Culture. In her role, Emily is responsible for identifying, developing and rewarding Optoro's exceptional talent, while also serving as a steward and champion of the company's strong culture and core values. Emily joined Optoro from Edgeworth Economic, a boutique consulting firm in DC, where she led their HR function. Previously, Emily was the Assistant Director of Alumni Career Services at Georgetown University, where she managed the award winning webinar program and student-alumni career focused programs. Emily launched her career at the Advisory Board Company, and ultimately served as their Chief of Staff, leading a team of associates with responsibility for hiring, staff allocation, and career development. Emily graduated Phi Beta Kappa from Catholic University, and also holds a Masters in Human Resources Management from Georgetown University. Outside of work, Emily serves on the Georgetown University Alumni Association Board of Governors and is actively involved with Children's National Medical Center's Junior Council.
---
Thank you to our sponsors!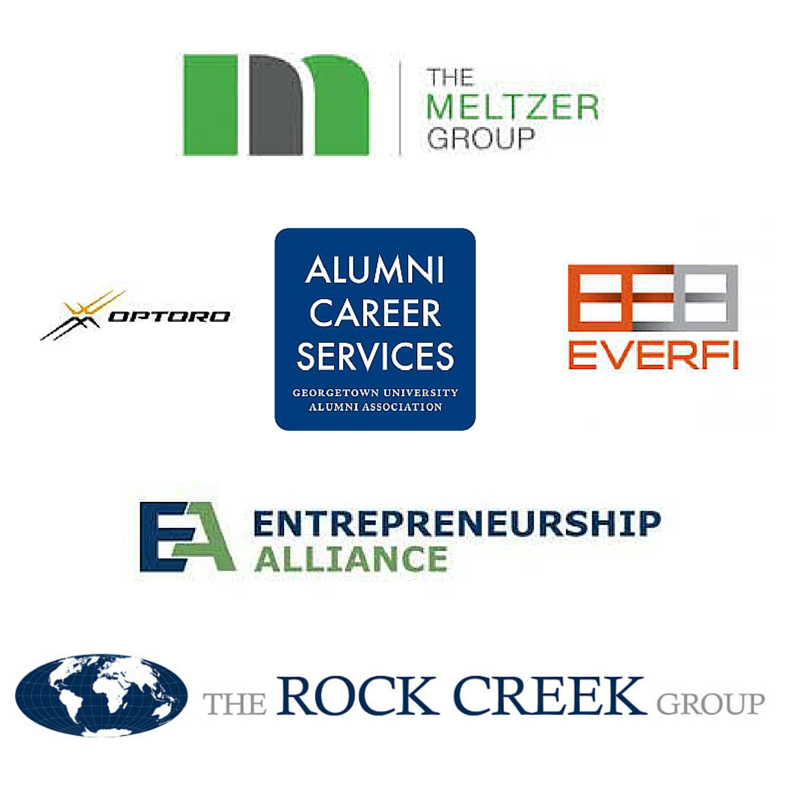 When & Where

EverFi
3299 K St NW
Suite #4
Washington, DC 20007


Tuesday, November 10, 2015 from 6:30 PM to 8:30 PM (EST)
Add to my calendar