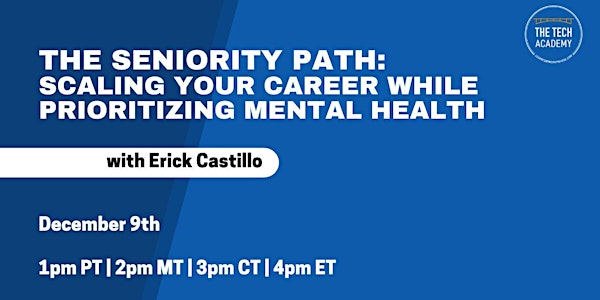 Scaling Your Career While Prioritizing Mental Health With Erick Castillo
Join us on Friday at 1 pm pacific, 2 pm Mountain to network and discuss working in tech!
About this event
Erick Castillo will be joining us to discuss scaling your career while prioritizing mental health in software development.
In this Talk, Erick will cover:
Understanding the Senior Engineer profile
Analyzing the mistakes that delay growth and drain mental energy
Mapping out the personal sustainable plan for a successful software engineer career since the early years
Erick is a Senior Software Engineer and is currently working at Mentor Collective.
Join us Friday, December 9th at 1 pm Pacific Time (2p MT, 3p CT, 4p ET) in our Google Meet room.
Can't make it live? We will be posting the recording to our Tech Talks playlist on our YouTube Channel: https://bit.ly/TTA-techtalks
Don't miss this great opportunity to learn and network!