Scaling Up-Rockefeller Habits Business Growth Workshop January 2020
About this Event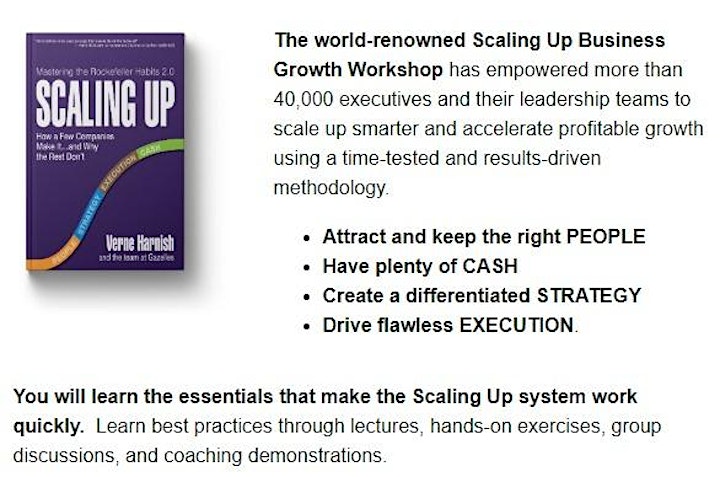 WHAT WILL YOU GAIN BY ATTENDING THIS WORKSHOP:
You will learn the proven Scaling Up and Rockefeller Habits™ methodologies to enable you to scale your business more effortlessly.
You will develop a powerful strategic plan for your business that will align your team on the strategies and execution necessary to dominate your industry and win.
WHAT YOU'LL SPECIFICALLY LEARN:
Cash Management - how to double your operating cash flow in twelve months.
Market Intelligence - how leading firms "learn faster" to remain ahead of their competitors and to drive priority setting.
People - how to select and hire A Players and then avoid demotivating them.
Core Ideology - bringing your core values and core purpose alive to energize your employees and simplify your human resource systems.
BHAG™ (Big Hairy Audacious Goal) - aligning it with your business fundamentals.
Brand Promise - the key strategic decision that differentiates you from competitors i.e. "if you can't state your strategy in a sentence, you don't get it!".
Annual and Quarterly Focus - the most critical short term decisions an executive team can make to drive alignment and performance.
Rockefeller Habits Checklist™ - ten essential habits that reduce the executive time needed to manage the business from 50 hours/week to less than 15 hours.
Meeting Rhythm - the daily, weekly, monthly, quarterly, and annual meeting rhythm and the specific agendas that make them effective and practical.
Metrics - the three types of metrics that drive the business on a daily and weekly basis.
Priorities - using daily, weekly, and quarterly themes to drive alignment and focus
Organizational Structure - the most effective organizational charts and how to apply them to keep everyone accountable.
Themes - how to use them to make your priorities memorable and add energy to your organization - ten essential habits that reduce the executive time needed to manage the business from 50 hours/week to less than 15 hours.
WHO SHOULD ATTEND?
This course is open to business leaders interested in amplifying their success and scaling up their businesses via a proven course trajectory. We welcome lifelong learners and those hungry for best practices and cutting edge thought leadership. We welcome leaders who want to develop their team—and know they can't do it alone – and are willing to invest in an outside resource for help. To maximize results and return on investment, we encourage leaders and senior teams to attend together.
Led by one of the leading Certified Scaling Up Coaches, this workshop will get your Team Aligned and Accelerate Growth!
Is your limiting factor People, Strategy, Execution or Cash?
The world-renowned Scaling Up Business Growth Workshop empowers you to accelerate profitable growth using a time-tested and results-driven methodology.
Through this exclusive learning experience, Certified Scaling Up Coaches have empowered more than 40,000 executives and their leadership teams with proven tools and strategies to scale up smarter. It will help you:
ALIGN
Get faster results with less effort by developing organizational clarity and accountability.
ACCELERATE
Develop a strategic advantage over the competition. Position your brand as a market leader.
ADVANCE
See your company's reputation and revenues soar as employees understand and fulfill 100% of your brand promises. Using the Rockefeller Habits 2.0, Certified Scaling Up Coaches have enabled companies to dominate their industries and make a bigger difference in the world.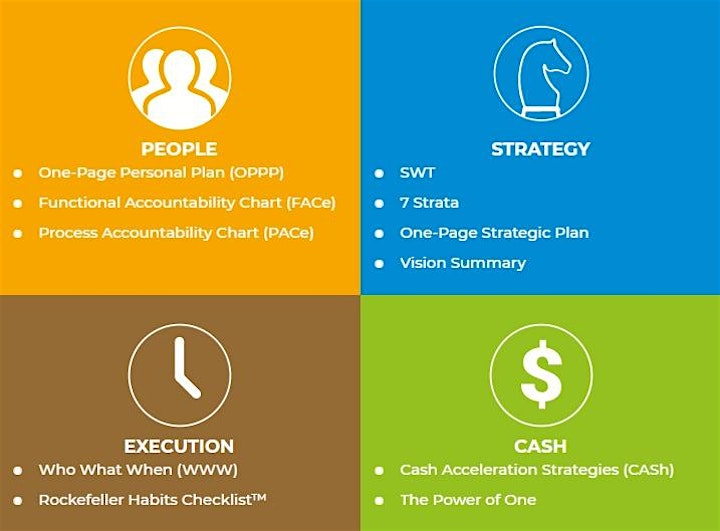 Of the people you have on your team right now, how many would you enthusiastically re-hire?
Here is what you will learn at the Scaling Up Workshop regarding the PEOPLE decision:
You'll learn to find, attract, retain and engage the right PEOPLE-A Players
How to increase accountability and results
How the cost of a mis-hire can easily be 15x salary or more
How to determine your A Players from your Bs and Cs
How to coach B Players into A Players

You know you have a great strategy in place when you are outpacing your industry in terms of both growth and profitability. Does yours?
Here is what you will learn at the Scaling Up Workshop regarding the STRATEGY decision:
How to develop a truly differentiated strategy that's also clear and simple that drives 2x growth and 3x profits
How to find the niche profit pools in your industry that yield a disproportionate share of the profit
How to get your entire team literally "on the same page" with 3 to 5 year strategies that deliver accelerated growth towards your BHAG™
How to develop core values that really matter to your employees and actually drive your culture and business
Determine your X-Factor that gives you a 10x to 100x underlying advantage versus your competition
Is your execution both drama-free and highly profitable or does it rely on "heroics" that cost you time and money?
Here is what you will learn at the Scaling Up Workshop regarding the EXECUTION decision:
How to implement the Rockefeller Habits--used by over 40,000 companies to successful scale up and dominate their industries.
Learn how to fine-tune processes to run without drama and reduce by 80% the time it takes to manage your business
How to create a culture of accountability and results to drive superior execution
Learn how our online One Page Strategic Plan process and platform literally becomes the Management Operating System for your business–making accountability and execution far easier by transforming the invisible into the visible

Does your business produce enough cash flow that you are not reliant on banks or investors? Are you flush with cash to fund organic growth?
Here is what you will learn at the Scaling Up Workshop regarding the CASH decision:
How to improve your cash conversion cycle (CCC) with our Scaling Up Cash process to double the amount of cash in your business within 12 months
How to more than double your business valuation by applying the "Power of One" to each of the 7 key financial levers in your business
How to build the "best team money can buy" to improve Labor Efficiency Ratios (LERs), one of the biggest factors in your firm's profitability
How to achieve 3x profitability vs. your industry
Learn how to accelerate profitable GROWTH using the Rockefeller Habits™.
PEOPLE STRATEGY EXECUTION CASH
These are the critical decisions that growth companies must get right to maximize their revenue, profit and time. This Scaling Up workshop will teach you tools for making the right decisions to drive business growth.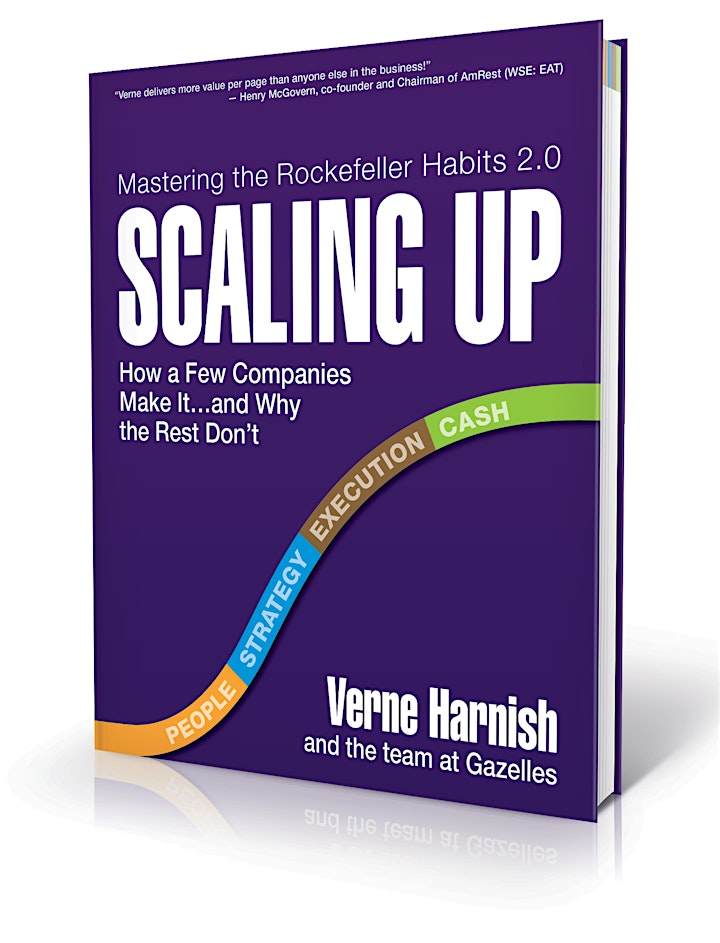 All participants receive a FREE copy of:
Book: SCALING UP: How a Few Companies Make It... and Why the Rest Don't
Workbook: Growth Tools
Digital Workbook: Growth Kit
All CEOs receive:
A comprehensive Scaling Up Assessment on their business detailing specific opportunities
A consultation with acclaimed certified coach Rick Crossland to review the results of your assessment
Both of these valued at over $1,000
Here is what clients of workshop host Rick Crossland are saying:
"Rick has immersed himself into our business and industry to help us immediately address our challenges. His strategic approach to our business, specifically the sales process, helped us to develop a digital sales playbook as well as a lead measure tracking system to drive accountability throughout the organization. Combining these improvements with his approach to attracting and retaining "A Player" talent has been a tremendous asset for our business including the turnaround of a key region, reduction of employee turnover, and the coaching and development of several rising leaders." ~ Matt Butzier, Vice President and General Manager, The Palmer-Donavin Manufacturing Company
"The performance improvement in the executives Rick has worked with has been incredible! The program is a terrific return-on-investment to our business. His program has helped us build an industry leading apprentice program for sales talent, an internal corporate training university for rising leaders, strategies to dramatically improve labor turnover in warehousing, and an innovative approach to sales management that is driving bottom-line profits. We have committed to being a team of only A Players and our culture and performance is better as a result. " ~Shawn Richard, Vice President Human Resources, The Palmer-Donavin Manufacturing Company
Here're what our CEO alumni have to say about Scaling Up:
"Scaling up a significant business requires precisely the kind of discipline and focus detailed in Verne's practical and 'how-to' driven book." ~ Scott Farquhar, co-founder and CEO, Atlassian
"I was in a YEO Forum with a guy who took his company from $7 million to $40 million; after hearing his repeated references to Verne Harnish, I finally attended the Rockefeller Habits workshop. Without ever going, I would still be running a mom and pop operation, and hating my job!" ~ Scott Nash, CEO, MOM's Organic Market
Scaling Up is Your Partner in Growth
Scaling Up is the leading coaching association serving companies poised for exponential growth. Our certified business coaches empower businesses around the world to scale to new heights while enjoying the climb.
Event Details:
Doors open at 8:00am. Breakfast and coffee served from 8:00-8:30am. Presentation starts at 8:30am. Special VIP Lunch included.
Cancellation Policy: Cancellations made 30 days or more prior to event will receive a full refund. Cancellations between 8 and 30 days of the event will receive a refund for the paid amount, less a $100 per person cancellation fee. If your cancellation is made with less than 8 days before the event, we are happy to transfer your registration to another team member in your company. There will be no refund for cancellations less than 8 days before the event.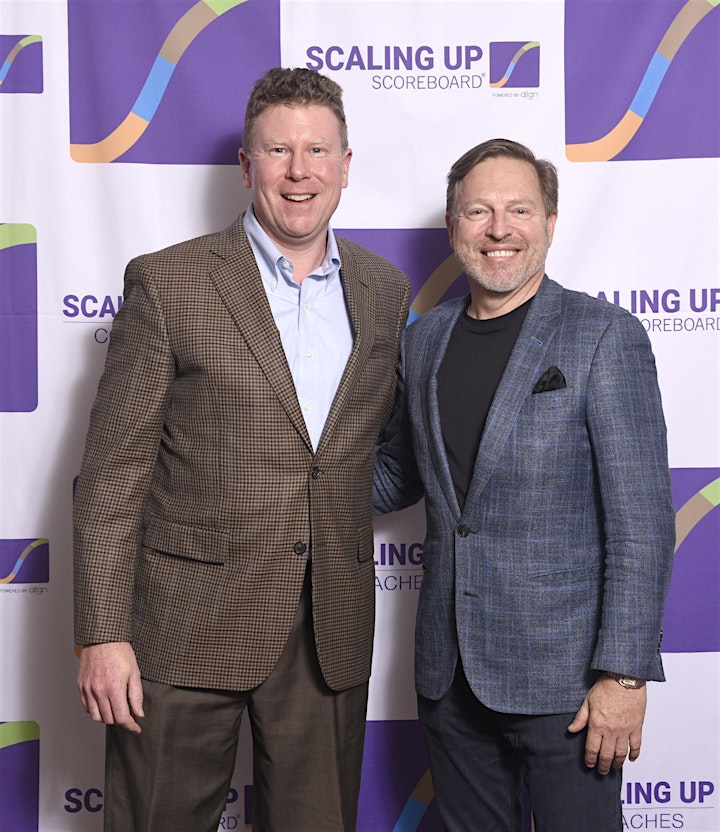 Meet your Workshop Host, Scaling Up Certified Coach Rick Crossland
As a Certified Scaling Up Coach, Rick assists growth companies with the development of the One-Page Strategic Plan and implementation of the Four Decisions™ and Rockefeller Habits™, based on the book Scaling Up by Verne Harnish.
Rick focuses primarily on the development of CEOs and their executive teams of $10M to $500M growth companies. He has a proven track record of helping them achieve double digit growth and industry beating net profits.
"Nobody has achieved peak performance in any field without a coach. As you look to Scale Up your business, I highly recommend you engage one of our top certified Scaling Up Coaches—Rick Crossland. He is an expert in the key growth drivers of People, Strategy, Execution and Cash. In fact, as the author of The A Player he is an authority in growing and recruiting top people."
—VERNE HARNISH, CEO OF SCALING UP