Description

Scaling Up Business Growth Workshop
Discover how to Scale Up your business with the Rockefeller Habitstm 2.0.
The world-renowned Scaling Up Business Growth Workshop has empowered more than 20,000 executives and their leadership teams with proven tools and strategies to scale up smarter:
ALIGN
Get faster results with less effort by developing organizational clarity and accountability.
ACCELERATE
Develop a strategic advantage over your competitors and position your brand as a market leader.
ADVANCE
See your company's reputation and revenues soar as employees fulfill their promises.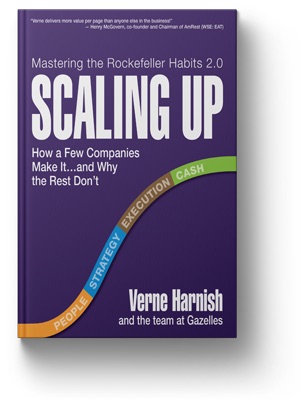 All workshop participants will receive a FREE copy of Scaling Up


Who Should Attend?
This workshop is open to all those interested in amplifying their success and scaling up their businesses via a proven course trajectory. We welcome lifelong learners and those hungry for best practices and cutting-edge thought leadership. We welcome leaders who want to develop their team—and know they can't do it alone – and are willing to invest in an outside resource for help. To maximize results and return on investment, we encourage leaders and senior teams to attend together. Led by Gazelles International Certified Coaches™, this workshop introduces attendees to the power of the Four Decision framework. Please reach out to us if you have any questions regarding our process or are interested in exploring a coaching relationship.
What you'll learn in the workshop:
In just one day, you will learn how to accelerate profitable growth leveraging the Rockefeller Habits 2.0 best practices through engaging lectures, videos, hands-on exercises, group discussions, and coach demonstrations. We will focus on the four critical decisions that all businesses face:
Prepare to make the most of the four critical decisions facing every business leader:



Attract and keep the right PEOPLE
Become a magnet for A Players who are dedicated to your goals

Increase accountability and results

Create a truly differentiated STRATEGY
Clarify your core values

Discover your SWOTs and trends

Determine your 3-5 year key strategies to catapult your growth

Drive flawless EXECUTION
Learn and apply the Rockefeller Habits 2.0

Create a culture of accountability

Fine-tune processes to run without drama

Have plenty of CASH to weather the storms
Accelerate cash flow to fuel your evolution

Improve your sales cycle and make sure you are never short on cash
What Other People Are Saying:
"It was a leap of faith to call Gazelles Coach Tom Meyer. I read the book "Scaling Up" & attended the Workshop. Tom was brilliant in how he confidently educated my team & has transformed the way we think & communicate. My team looks forward to his monthly visits & making change fun. I am incredibly happy with the impact of the Gazelles program & firmly believe Dalworth will reach & surpass our sales and profit goals!"
SHANE HOBBS
CEO, Dalworth Restoration
"Embedding the Rockefeller Habits into our management culture was a win for our company! It gave us common frameworks and language to determine strategy, develop operational plans, set goals and hold each other accountable – ultimately driving improved performance and team cohesion. Whether I buy or start my next company, I can guarantee you that the Rockefeller Habits & Scaling Up will be integral to the way we operate."
JIM SCHWAB, USNA '88
Founding Partner, Crimstone Partners