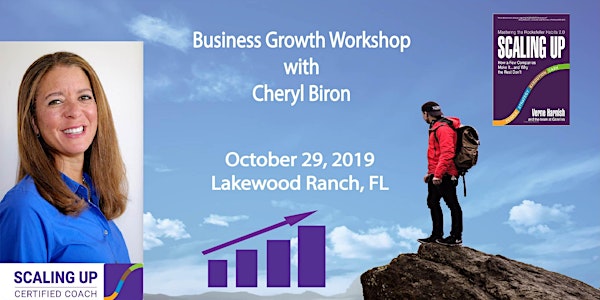 Scaling Up Business Growth Workshop - Sarasota Area, Florida
Location
Lakewood Ranch Golf & Country Club
7650 Legacy Boulevard
Lakewood Ranch, FL 34202
Refund policy
Contact the organizer to request a refund.
Eventbrite's fee is nonrefundable.
Scale your Business, while Enjoying the Ride!
About this event
Has your revenue been growing substantially over the last year? What about profitability? How is this financial year looking? Do you know what must you do differently to deliver stronger performance?
Join us for a half-day business growth workshop where you'll learn about how to build a rock-solid foundation for sustainable business growth
The world-renowned Scaling Up Business Growth Workshop empowers you to accelerate profitable growth using a time-tested and results-driven methodology. Through this exclusive learning experience, Scaling Up Coaches have empowered more than 40,000 executives and their leadership teams with proven tools and strategies to scale up smarter.
Scale Your Business, while Enjoying the Ride: We'll help you learn why the Four Decisions (People, Strategy, Execution and Cash) are so important to grow your company and teach you about the tools to strengthen collaboration, accountability and effectiveness within your organization. When you get them right, you'll find your freedom!
Bring your LEADERSHIP TEAM and discover together how the Scaling Up methodology can be your foundation to achieve scalable business growth this year and beyond.
ALIGN
Get faster results with less effort by developing organizational clarity and accountability.
ACCELERATE
Develop a strategic advantage over the competition. Position your brand as a market leader.
ADVANCE
See your company's reputation and revenues soar as employees understand and fulfill 100% of your brand promises.
Hot breakfast and mid-morning coffee break will be served.
About Your Coach
Cheryl Biron has successfully scaled her own transportation business and is now sharing her knowledge and experience leveraging the Scaling Up framework as a coach to help other business leaders grow and scale their businesses. She has a passion for entrepreneurship and helping others. Having achieved what she defines as "freedom", she now helps other business leaders accomplish the business results that will enable them to achieve "freedom", however they define it. As a coach, she has found a role where she is excited to go to work, finding it very rewarding to have an impact on others' businesses and lives.
The systems and processes she implemented as President and CEO of One Horn Transportation enable her to spend minimal time working "in" the business on a day-to-day basis, while still maintaining a practical understanding of the challenges faced by entrepreneurs that helps her in her coaching practice. Prior to One Horn, Biron held marketing positions running consumer healthcare and pharmaceutical brands in various corporations. She earned her MBA from the Wharton School and her BS from Cornell University.
Learn more about Cheryl and LexaGen Business Growth Coaching!