Description

Every business leader faces common challenges. Our workshop will teach you to master the 
Scaling Up framework (Rockefeller Habits 2.0)
This world-renowned workshop has empowered over 20,000 executives and their teams with proven tools and strategies to scale up smarter.

Is your entire team happy and engaged? Would you rehire all of them if you were starting over today?
You'll learn to attract, retain and engage the right PEOPLE
Increase accountability and results

Do you have a simple one-phrase strategy that everyone knows and that's driving sustainable growth?

You will see you how to develop a truly differentiated strategy that's also clear and simple
Clarify your core values
Discover your SWOTs and trends
Learn how to create 3-5 year strategies that accelerate growth

Is your execution both drama free and highly profitable?
You'll start implementing the Rockefeller Habits
Learn to master the 3 Disciplines of execution.
Create a culture of accountability
Fine-tune processes to run without drama

Does your business produce enough cash from internal sources to fund growth?
You will see how to improve cash inside the business.
You will find new cash to grow and to weather the storms.
Improve your sales cycle and make sure you are never short on cash


Learn how to accelerate profitable GROWTH using the Rockefeller Habits™.
These are the critical decisions that growth companies must get right to maximize their revenue, profit and time. This workshop will teach you tools for making the right decisions to drive business growth.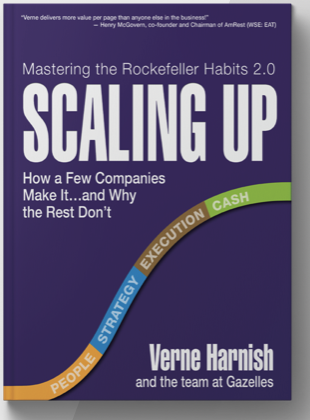 All participants receive a FREE copy of

Book: SCALING UP: How a Few Companies Make It... and Why the Rest Don't
Workbook: Growth Tools
Digital Workbook: Growth Kit
Here're what our CEO alumni have to say:
"Scaling up a significant businessrequires precisely the kind of discipline and focus detailed in Verne's practical and 'how-to' driven book." ~ Scott Farquhar, co-founder and CEO, Atlassian
"Bill coached and facilitated the creation of a plan that enabled my company to grow and to get acquired. I highly recommend him! ~ Amy Yoffie, VP LiveWorld/TalkCity & Pres. Research Connections, Inc.
"I was in a YEO Forum with a guy who took his company from $7 million to $40 million; after hearing his repeated references to Verne Harnish, I finally attended the Rockefeller Habits workshop. Without ever going, I would still be running a mom and pop operation, and hating my job!" ~ Scott Nash, CEO, MOM's Organic Market
"Bill Gallagher got me to discover what really matters, in a way that left me inspired and taking new action. After putting the new ideas and strategies into action with my team, my business has tripled in size." ~ Kevin Balistrieri, CEO Bali Construction
Gazelles is Your Partner in Growth
Gazelles is the leading coaching association serving companies poised for exponential growth. Our certified business coaches empower organizations around the globe to fulfill their unique success trajectories.
Cancellation Policy: Cancellations made 30 days or more prior to event will receive a full refund. Cancellations between 8 and 30 days of the event will receive a refund for the paid amount, less a $100 per person cancellation fee. If your cancellation is made with less than 8 days before the event, we are happy to transfer your registration to another team member in your company. There will be no refund for cancellations less than 8 days before the event.