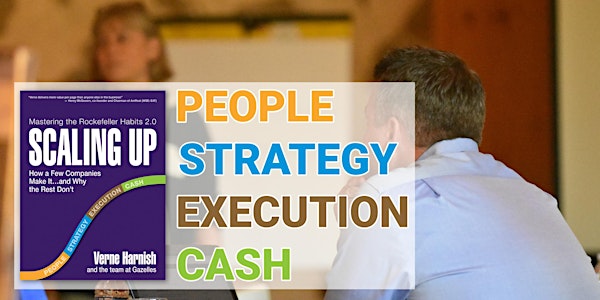 Scaling Up Business Growth Workshop 2019
When and where
Location
Cedarbrook Country Club 180 Penllyn Pike Blue Bell, PA 19422
Description
Are you ready to grow your business?
The world-renowned Scaling Up Business Growth Workshop empowers you to accelerate profitable growth using a time-tested and results-driven methodology.
Through this exclusive learning experience, Gazelles Coaches have empowered more than 20,000 executives and their leadership teams with proven tools and strategies to scale up smarter. It can help you:
ALIGN - get faster results with less effort by developing organizational clarity and accountability.
ACCELERATE - develop a strategic advantage over the competition. Position your brand as a market leader.
ADVANCE - see your company's reputation and revenues soar as employees understand and fulfill 100% of your brand promises.
Discover how to grow your business with Scaling Up: Mastering the Rockefeller Habits 2.0. All workshop participants will receive a FREE copy of Scaling Up.


Create Alignment, Accountability, and Accelerate your Business Results
---
Who Should Attend?
This workshop is open to all those interested in amplifying their success and scaling up their businesses via a proven course trajectory. We welcome lifelong learners and those hungry for best practices and cutting-edge thought leadership. We welcome leaders who want to develop their team and know they can't do it alone - and are willing to invest in outside resource for help. To maximize results and return on investment, we encourage leaders and senior teams to attend together.
---
What you'll learn in the workshop:
In just one day, you will learn how to accelerate profitable growth leveraging the Rockefeller Habits 2.0 best practices through engaging lectures, videos, hands-on exercises, group discussions, and coach demonstrations. We will focus on the four critical decisions that all businesses face:


Attract and keep the right PEOPLE
Become a magnet for A Players
Align your team around core values
Increase accountability and results


Create a truly differentiated STRATEGY

Clarify your brand promise
Discover your SWOTs and trends
Determine your 3-5 year key strategies


Drive flawless EXECUTION

Learn and apply the Rockefeller Habits 2.0
Create a culture of accountability
Fine-tune processes to run without drama


Have plenty of CASH

Accelerate cash flow to fuel your evolution
Improve your sales cycle
Ensure you are never short on cash


Course Materials
Detailed workbook with information and examples of the concepts presented
Book: Scaling Up, written by Verne Harnish
One Page Strategic Plan™ and other actionable tools to help grow your business


---



What other executives say about the workshop:
"You've significantly improved our focus and discipline. We have a written plan that's driving growth and accountability, individual plans for each manager that give them clarity in their jobs and reward performance, AND I have the time to look for our next growth opportunity. We're on track to have our best year ever!
"We're on track to double our revenue in 2017 with a qualified sales pipeline of several hundred million dollars and profitable operations. And the entire Hawke Aerospace enterprise has become a Team that is excited and committed to results."
"Eileen, yesterday really was like a massage for my business and my head. I popped out of bed early, swam like crazy, and have been thinking and thinking. Let's keep going, and thank you!"
---







About the presenters:


Cheryl Beth Kuchler
Cheryl Beth Kuchler is the Founder and President of CEO Think Tank®. She has over 25 years of experience providing business advisory services, leading strategic change initiatives, coaching executives and growing leaders. She works with the CEO's and Presidents of small and mid-size businesses and their teams to develop and execute business strategies, growing their top-lines and maximizing profits. Her early career was in the Fortune 100 including P&G, DuPont, GE, Amazon and J&J and she has worked in


Eileen Wainwright
Eileen Wainwright is the Founder and President of Wright Impact Group. She brings her clients over 25 years' experience within the Enterprise and Start-Up space leading strategic initiatives, developing people and processes, coaching executives and advising them in technology, operations and sales. She has served on leadership teams as COO, VP of Sales, and Senior Director across industries including, media, broadcasting, technology, and staffing; successfully leading them through accelerated growth and organizational change. Eileen works with leaders and entrepreneurs to maximize their potential and transform strategy into action.
---




Sponsored by G-Squared Partners LLC

G-Squared Partners provides outsourced CFO and accounting services; acting as the entire finance and accounting function to companies looking for a cost-effective, on-demand and scalable solution. G-Squared Partners help companies run better by providing the financial guidance necessary to make key business decisions.