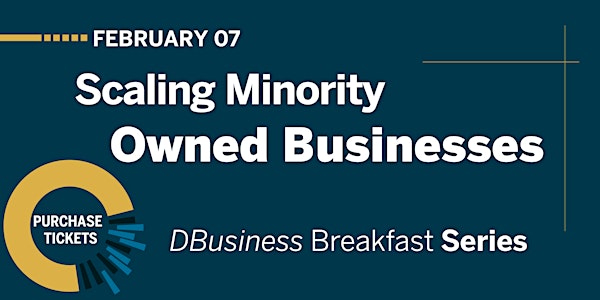 Scaling Minority Owned Businesses - DBusiness Breakfast Series
Join Ken Harris, Ph.D. - President/CEO of the National Business League for a panel discussion about scaling minority owned businesses.
When and where
Location
The Gem Theatre 333 Madison St Detroit, MI 48226
About this event
Join us as a panel of leading experts in Michigan's business and startup sectors discuss expanding opportunities to launch and grow minority-owned businesses. This event is designed for those who are curious about how to start, operate, and expand a minority-led business, along with providing a discussion on available financial loan and incentive opportunities. Following the panel discussion, the floor will be opened for questions from attendees. The event begins at 8:30 a.m. with networking, coffee, and a buffet breakfast, and the panel discussion begins at 9:30 a.m. One-of-a-kind networking opportunities and compelling business content across a wide range of industries and topics await you at every DBusiness Breakfast Series.
Schedule
8:30 AM - Networking and Breakfast
9:30 AM - Panel Discussion led by Ken L. Harris, Ph.D.- President/CEO of (THE) National Business League
Meet the Moderator:
Ken Harris, Ph.D.- President/CEO of (THE) National Business League - Born and raised in Detroit, Michigan, residing in Washington, D.C., Dr. Kenneth L. Harris, Ph.D., is known for addressing social-economic challenges within the global Black community. Dr. Harris serves as the 16th President/CEO of (THE) National Business League, founded by Dr. Booker T. Washington in 1900, the first and oldest, 123-year-old trade association for Black businesses in American, with access to more than 3.2 million Black-owned businesses throughout the U.S and internationally.
Meet the Panelists:
Racheal Allen - Racheal Allen is a Lean Six Sigma certified strategy, systems, and operations consultant with nearly 20 years of experience leading and serving Detroit based startups and nonprofits. After scaling her first startup into a six-figure insurance agency, she piloted initiatives in the legal, retail, and service industries.
Currently founder and CEO for Operations School | OPSIDIA, a woman-led, integrated operations agency that helps their clients operationalize their visions, Racheal's successful background includes co-founder of Centric Place, and coaching for TechTown Detroit, Detroit Demo Day, and Michigan Women Forward's Woman Up and Pitch contests.
She previously served as the founding COO for Marygrove Conservancy, a transformational cradle to career initiative that represents the Kresge Foundation's largest investment into a single project with a commitment of more than $75 million.
Larry Brinker, Jr. -Larry Brinker Jr. is an award-winning entrepreneur, impact investor, and mentor. He serves as president and CEO of Brinker, a group of family-owned and operated commercial construction service companies responsible for more than $4 billion in construction projects. The developments play a critical role in the transformation and revitalization of Detroit. He also serves as CEO of the Brinker Family Asset Management Co. In 2021, he co-founded Capsa Money, Inc., a banking model providing the underbanked with better access to essential financial services.
In addition to his leadership in the construction services industry, Brinker Jr. is a mission-driven investor aspiring to impact the community through entrepreneurial development programs, philanthropy, and technology.
Lawrence Garcia - Lawrence Garcia is a seasoned attorney and counselor who is proud of his years of service to the City of Detroit as its Corporation Counsel.
Now with Michigan's oldest law firm, Miller Canfield, he is leveraging his experience in local government and his many years of experience as a trial attorney, in the firm's Labor and Employment practice group. His areas of deepest expertise include trial advocacy, government relations, and crisis management.
Having worked to give greater voice to the Latino community in Southeast Michigan for many years, Lawrence also continues to volunteer his time in support of the Michigan Hispanic Collaborative, Cesar Chavez Academy, and the Detroit Institute of Arts.
Ron Hall - Bridgewater is an automotive interiors manufacturing firm specializing in just-in-time assembly, sequencing, and delivery of seating systems. It employs more than 2,400 people at four facilities in the U.S. Ron has been with the company in various roles of increasing responsibility since 2007, succeeding his father, company founder Ron Hall Sr., in 2015.
A lawyer by training, Ron spent the first several years as a Detroit-based associate attorney at Dykema.
Ron holds a bachelor of science degree in International Political Economy from the United States Military Academy at West Point, N.Y., and served several years on active duty as a field artillery officer in the U.S. Army. He attained the rank of captain and, among other awards, was decorated for meritorious service in the Persian Gulf War.
Parking
Guests are encouraged to park at the Gem Garage located behind the venue.
For more information, please visit our website HERE.
Thank you to our sponsors!
Major Sponsors
Gold Sponsor
Silver Sponsor
Are you interested in sponsoring our events? Contact Jason Hosko for more information jhosko@hour-media.com.