In this experiential two-day intensive training, you will learn how to design experiences that maximize impact for attendees.
About this Event
SCALING INTIMACY: An Experience Design Training to Create Connection at Live + Virtual Events
Prioritizing connection creates strong communities, raving fans, loyal employees, and impact at scale.
Not only that, connection actually catalyzes content.
In this highly experiential two-day intensive training, you will learn how to design experiences that maximize the impact for attendees, so that participants walk away feeling transformed, inspired, and part of a community.
YOU WILL LEARN HOW TO:​
Scale intimacy, making a group of 300 feel like a gathering of 30
Turn abstract concepts into direct experiences that engage participants
Design a debrief process that makes the learning actionable and immediately relevant
Design curriculum that takes participants on a transformative journey
Balance having a plan with being spontaneous and improvising in the moment
Use playful exercises to get a group to gel and drop in quickly
Create programs based on the experiential learning model that are engaging, interactive and fun
YOU WILL LEAVE WITH:
A comprehensive workbook with experience design frameworks, principles and tools.
At least 10 exercises, activities and games that you can use to create connection and collaborative learning at your events.
An interdisciplinary community of experience designers to collaborate with for years to come.
An outline of your event with the major elements already designed.
The Dramatic Arc Event Template, which you can use to streamline the planning process for every event you ever create.
THIS VIRTUAL COURSE INCLUDES:
Live training from 10am-4pm PST each day (with plenty of breaks), including partner shares, peer coaching, brainstorming and feedback, Q+A sessions and all kinds of interactive goodies to keep you engaged.
Virtual games and icebreakers you can use immediately in your own video calls to create connection and community.
A live interactive 1.5 hour connection call one week before the main course (January 29), that will cover all the major frameworks and principles of this approach to experience design. These frameworks are universal and apply to both in-person and virtual programs. If you cannot attend the call live, it will be recorded for you to watch at your convenience.
Pre-work between the connection call and the main course that will help you get the most out of our time together.
Pre-reading to help you get familiar with the material, including worksheets for you to fill out during the weekend.
A pre-training survey to help me understand what kinds of projects you are working on and problems you are facing, so that I can customize the training to this specific group.
A 1.5 hour reunion and integration call 1 month after the training (March 9) to re-connect as a group, support each other as we apply these frameworks, and get your most pressing questions answered by Jenny.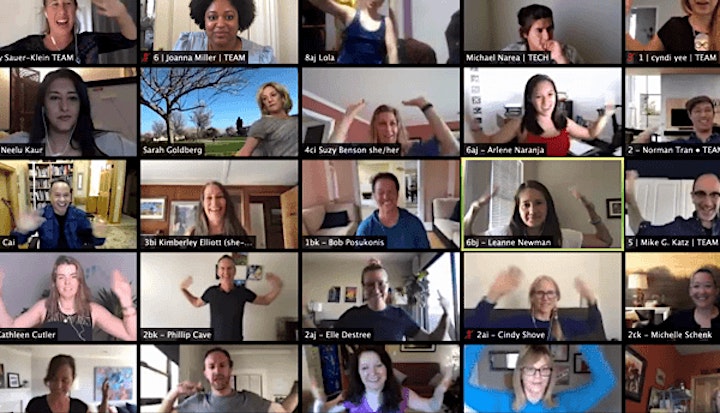 IMPORTANT DATES
Connection Call (1.5 Hours): January 29
Main Intensive (6 Hours each day): February 9+10
Reunion Call (1.5 Hours): March 9
NOTE: 2-3 hours of pre-work time should be reserved between the Connection Call & Main Intensive in order to be best prepared for the workshop.
Investment:
$695 Early bird, by December 18, 2020
$795 General Admission by January 22, 2020
$25 from your registration will get donated to an organization working to advance racial justice in our community and will be chosen by you during the training
Group Discounts:
Come with friends or colleagues and share the learning experience. Groups of 5 or more get 20% off. Email Alex directly for discount code with the names + emails of the people in your group: alex@jennysauerklein.com
Who is this training for?
​Whether you create programs for internal employees, your client's team, or your own audience, knowing how to facilitate virtual events that are interactive and engaging is an essential leadership skill that is only growing in demand.
This training is for all levels of experience, from beginners to seasoned practitioners. It is ideal for you if:
You work in HR, People Ops, L+D, Talent, Culture, DEI or a similar role in an organization and are in charge of creating events like teambuilding workshops, annual off-sites, executive retreats or training programs.
You are a coach, consultant, trainer, facilitator or event producer wanting to bring more expertise to the events you design and deliver for your clients.
You are an entrepreneur, author, or speaker wanting to turn your thought leadership into an experiential event, like a workshop, training course, certification or conference.
You don't want to miss this if:
You are working to translate an in-person program to an online experience.
You are creating a new event from scratch or you are re-designing an existing event.
You find the event planning process daunting, frustrating, confusing or overwhelming.
You want to develop your confidence leading groups in live events, programs and trainings.
You want a safe space to practice honing your craft with a group of high caliber peers who will help you grow.
You want to move away from lectures and slideshows where participants are passive receivers, and move towards experiential learning models where participants are actively engaged.
You believe learning experiences can be fun, and can create lasting transformation for attendees.
This training is an introduction to a large body of work, and is a pre-requisite for anyone wanting to consider the more in-depth Experience Design Mastermind program.
Please come with a specific event in mind, so that the training will be most valuable and applicable for you.
Space is limited!
CANCELLATION/TRANSFER POLICY
Registration for the course is non-refundable, but is transferable. If you are unable to attend, you can transfer your registration to one of the next two offerings of Scaling Intimacy. You may transfer your registration only one time, if you cancel a second time, your registration will be forfeited. If cancellation takes place less than 10 days before the main training, a $100 transfer fee will apply.