Description
SCALEit INSPIRE in COPENHAGEN
The SCALEit team is bringing Silicon Valley to your doorstep to demonstrate how Danish Cleantech and IT companies can take advantage of the many growth opportunities in the region through the SCALEit program.
At this free event, participants will hear about the latest trends and opportunities in The Valley, learn from leading Danish companies who have been through the SCALEit programs and network with other ambitious Danish tech entrepreneurs.
We are also very exited to hear from Martin Frid-Nielsen, founder and CEO of Soonr who willl be delivering an inspirational keynote talk and fireside chat. Martin will be sharing his experiences as a successful serial entrepreneur who travelled to Silicon Valley from Denmark and has repeatedly grown companies by leveraging a presence in DK and the USA to scale globally.
Program details
15.00-15.30: Arrival, registration and networking
15.30-15.35: Welcome by Søren Therkelsen & Lene Sjorslev Schulze
15.35-16.15: Why Silicon Valley works for entrepreneurs (Funding, partnership, ecosystem, market opportunity) by Henrik Bennetsen and Alex Portilla, ICDK Silicon Valley
16:15-16.30: SCALEit presentation by Søren Therkelsen
16:30-16.50: SCALEit Alumni presentations
- Conferize, represented by serial entrepreneur, Martin Ferro-Thomsen
- Leadmill, represented by Henrik Fabrin and Jonas Kristensen
16.50-17.30: Keynote speaker Martin Frid-Nielsen, (Presentation, Fireside chat and questions from Audience & Twitter) Moderator: Henrik Bennetsen
17.30-18.00: Networking
18:00-20:00: after the event, we will encourage student entrepreneurs to participate in VentureCups event, Business Plan Bootcamp. A guide from VentureCup will help you get from the event to the right place.
Speakers:
Martin Frid-Nielsen
Founder, Chief Executive Officer and Chairman of the Board at SOONR
Martin is a business software and internet services veteran, with a proven track record of creating category defining products and offerings over the last couple of decades.
Before founding Soonr, he spent 3 years in various executive positions at enterprise software provider Merant including VP of Development, and was actively involved in selling the company to Serena for about $400 million in 2004. Prior to joining Merant through an acquisition, Martin was at NetObjects for over six years, where he was the VP of R&D since founding and through its IPO in 1999, he was instrumental in defining and creating the company's leading web-authoring product NetObjects Fusion. He was also a principal of Hilltop Software Technologies, a provider of pre-internet communication applications and consulting services. Prior to that, Martin spent ten years at Borland International in senior engineering and program management positions.
Products included Sidekick 1.0 & 2.0, the company's hit personal information organizer that created a new market category, Personal Information Management. Martin is a named inventor on four (4) U.S. Patents related to data synchronization and web authoring technologies.
Lene Sjorslev Schulze: Co-founder of SCALEit & Deputy Director at Innovation Center Denmark
Lene Sjorslev Schulze joined Innovation Center Denmark, Silicon Valley as part of the founding team back in 2006. Today Lene is responsible for the work with Danish IT companies and also serves as the center's deputy director. Lene has during her time at ICDK worked with clients ranging from large multinationals to early stage startups.
Alex Portilla: SCALEit Cleantech & Senior Cleantech Advisor at Innovation Center Denmark
Alex Portilla joined Innovation Center Denmark Silicon Valley in 2008 as the Cleantech Advisor and Project Manager where his main focus is helping Danish technology companies take advantage of the unique innovation ecosystem in Silicon Valley. Alex serves as a strategic consultant to clients ranging from large multinational companies searching for cutting edge technology, to established companies entering the US market for the first time, to early stage startups seeking capital and strategic partnerships.
Søren Therkelsen: Co-founder of SCALEit & founder of Yggdrasil.me,
Søren Therkelsen is the director of Yggdrasil, and in 2011 he co-founded SCALEit. Søren is a former startup Weekend organizer, Startupbootcamp builder and has been working as a mentor in organizations such as Intel Challenge and the Global Social Entrepreneurship competition. He is further an ambassador for the Silicon Valley accelerator Blackbox.

Henrik Bennetsen: SCALEit & Director of Health-IT at Innovation Center Denmark
Henrik Bennetsen joined Innovation Centre Denmark, Silicon Valley, in March 2013. Henrik will be responsible for bringing talented Health IT start-up's to SCALEit. Henrik has an entrepreneurial background, and comes with expertise in early stage development, and a unique skill in managing products and teams, customer/business development and event production. Prior to joining ICDK, Silicon Valley, Henrik was associate director at Stanford University.
Our Partners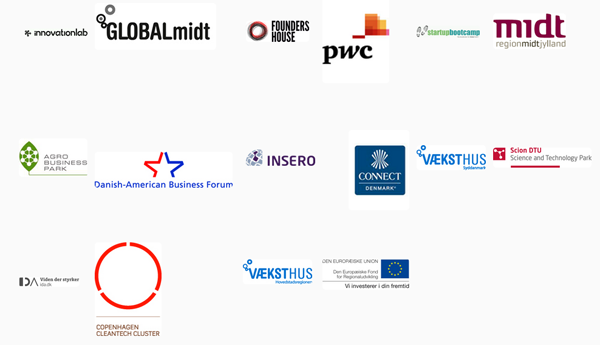 Organizer of SCALEit Inspire Tour (Copenhagen)