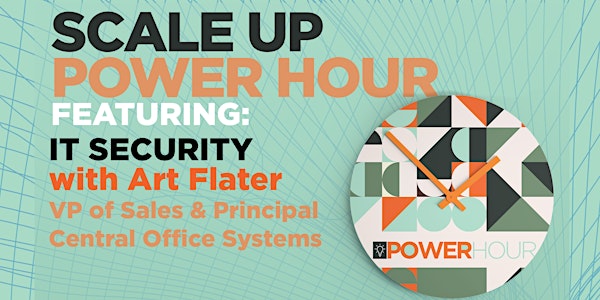 Scale Up Milwaukee Power Hour: IT Security
Power Hour featuring Central Office Systems focused on questions you have about IT Security.
About this event
Did you know 1 in 5 small businessess will suffer a cyber breach this year?
Does the idea of cyber security and all things IT overwhelm you?
Join us on September 28th from 12-1 pm for our next Power Hour Discussion when Art Flater of Central Office Systems will be on hand to present simple items that you can do to keep you and your business safe.
Get your questions answered during this open virtual forum and demystify all things IT and Cyber Security. 
*Security Assessment, Spam Email, Advance Endpoint Detection & Response, Dark Web Research, Multi-Factor Authentication, Web Gateway Security, Firewall, SIEM/Log Management....and more
*if these words are a foreign idea or you need a brush up, this is the Power Hour for you!
FREE FOR SCALE UP MEMBERS
$20 for NON-SCALE UP MEMBERS
*Not sure if you are current on your membership?
Contact DeShaun E Robinson - deshaun@sumke.com for more information