Description
About the Speakers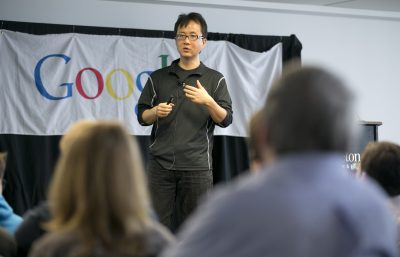 Wenbo Zhu, Tech Leader/Mgr (Infrastructure Networking), Google

Graduated from Carleton University, Wenbo became a California Googler in 2007, as a tech leader/manager for infrastructure networking. At Google, Wenbo is working on distributed systems,networking infrastructure Front-End server and messaging stacks and data marshaling. Wenbo's main focus is in Algorithms and Theory, Parallel Computing & Information Retrieval and the Web.
---
What you will learn?
Scalable bidirectional communication over the Web" This talk attempts to unveil the myth of the so-called bidirectional communication over Web (Internet), while existing solutions are constrained by the traditional process-to-process model of transport protocols such as TCP, HTTP. The end-to-end solution described in the talk offers a refreshing view of how to build scalable, reliable & low-latency communication between Internet clients and the now ubiquitous clouds.
This is a workshop for?
Developers, software architects, and DevOps engineers
Prerequisite knowledge
A basic understanding of web technologies and concepts such as HTTP protocols, REST principles, WebSockets, distributed and cloud services, and software scalability
Bring your laptop
---
Agenda
---
Get Your Annual Tickets &
Join Our Vibrant A.I. Startup Community At The Heart Of Silicon Valley
Member Benefits:
Complimentary access to our full event schedule. We meet once every two weeks to network & discuss innovations .(Totally 50 times per year)
Happy Hour, Foods & Drink

Featuring robotics, artificial intelligence, 3D printing, wearables, IoT, smart devices, and more.


Unite geeks, startups, investors, and executives to explore cross-border opportunities.
Local Industry's leading companies for keynotes, collaborations and business services
Upcoming Event Schedule:
04.27 Topic: Scalable Bidirectional Communication Over the Web, Wenbo Zhu, Tech Leader/Mgr (Infrastructure Networking), Google
05.02 Topic: Intelligent Driving of FF, David Wang, Sr.R&D Manager of System Architecture at Faraday Future
05.16 Topic: Build Your Cognitive Business with IBM Watson, Michael Ludden, Program Director & Senior Product Manager, IBM Watson
06.13 Topic: Tensorflow: Machine Learning for Everyone, Xiaobing Liu, Senior Software Engineer at Google Brain
07.11 Topic: Cloudsight's Visual Cognition:High Quality Understanding of Images Within Seconds, Brad Folkens, CTO & Co-Founder, Cloudsight
07.25 Topic: Netflix, on the airChad Kapadia, Chief Technology Officer at Swissclear Global, Former Engineering manager at Netflix
08.08 Topic: The secret code of da Vinci Robotic Surgery, Wanxi, Systems Analyst at Intuitive Surgical
08.29 Topic: NewGen, Cross-border VC Fund between U.S and AsiaLu Zhang, Forbes 30 Under 30, Founding Partner, NewGen Capital
09.05 Topic: ABB Ventures + RoboticsGrant, Allen, Partner at ABB Venture
09.19 Topic: Qihoo360 Lab,the best smart hardware ecosystem, Shu Cao, Chief engineer at Qihoo 360
Keep Updating and More...
Our 2017 Meetup Timeline: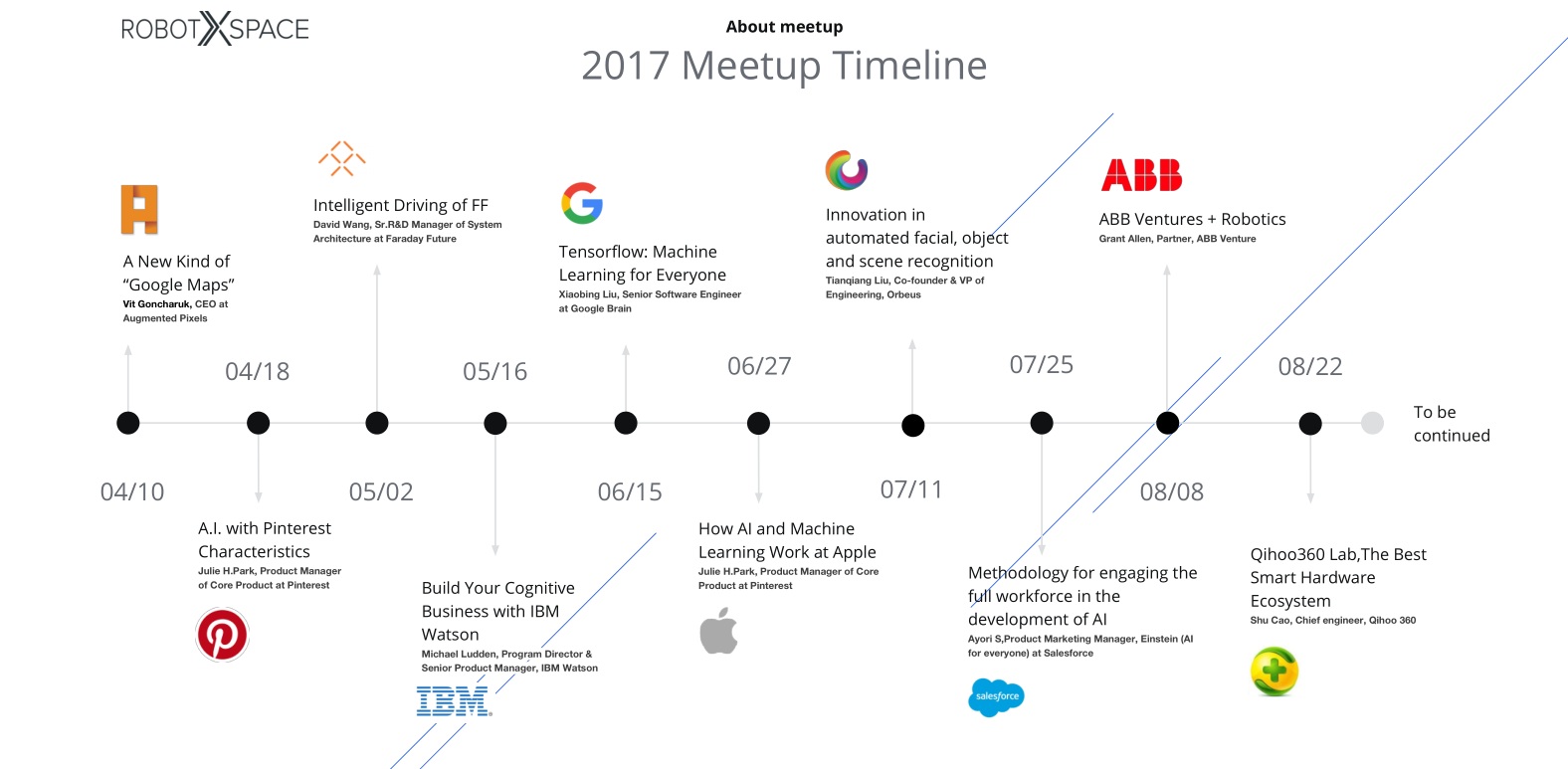 Our Clients: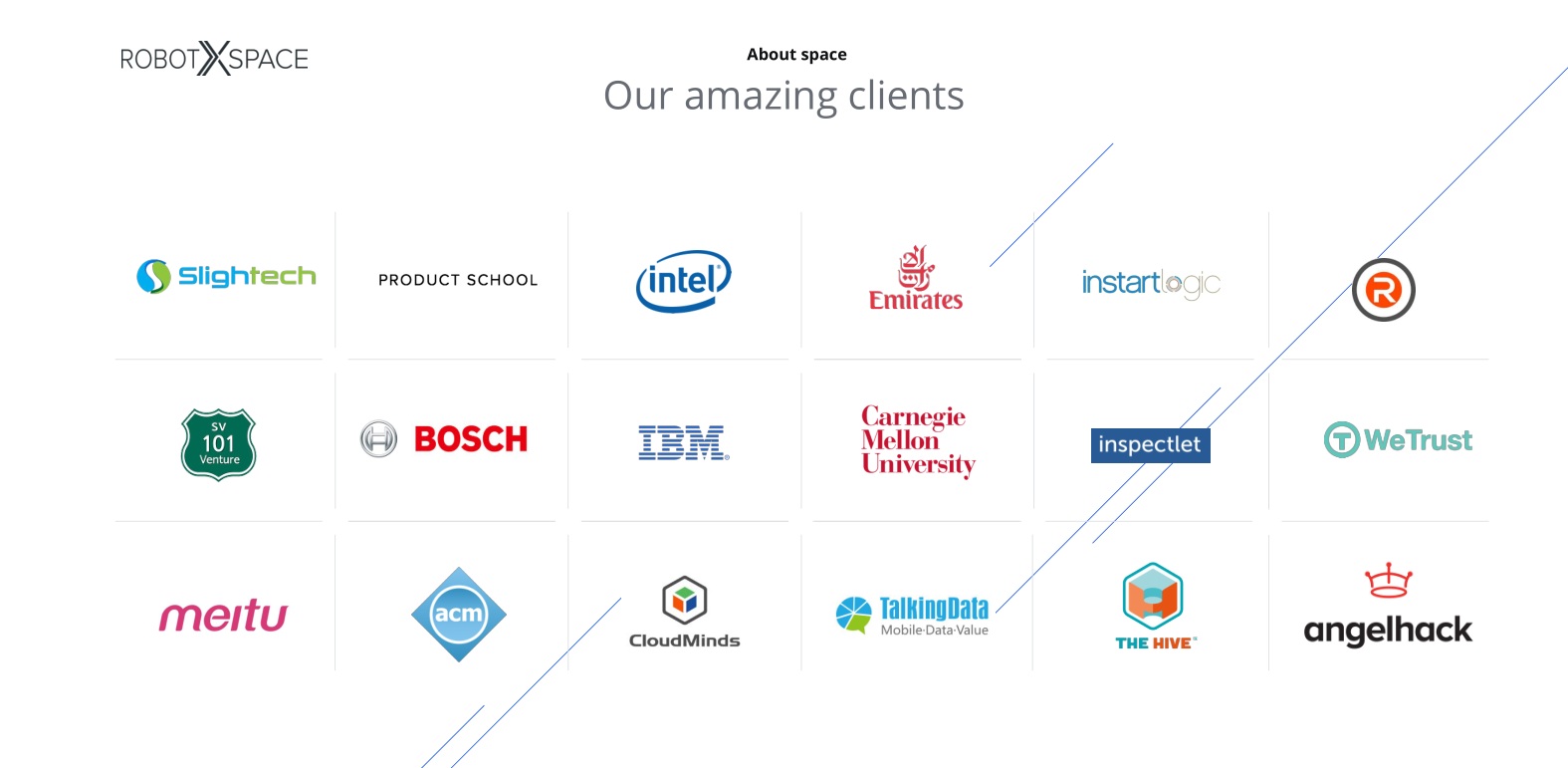 ---
More information: www.robotxspace.com or questions may be directed to email at info@robotxspace.com