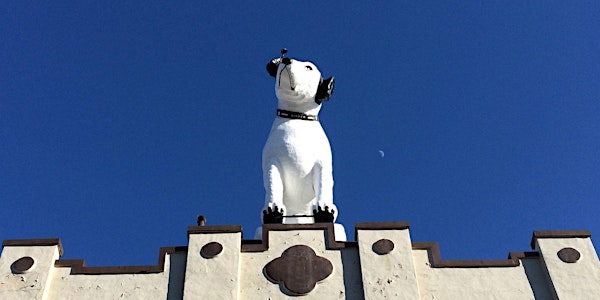 SCA Pop-Up Tour: Albany
When and where
Location
Albany 11 North Pearl Street Albany, NY
Description
Join the Society for Commercial Archeology for a free members-only pop-up event in Albany, New York on May 18, 2019, as we retrace (more or less) our 1989 tour. Using the original program as our guide, we will hop in our cars, connect via cell phone, and see what is still there, what has changed and what has disappeared.
See Nipper, Albany's famous mascot, the monster Art Deco Montgomery Ward first opened in 1929, remants of an origianal Carvel Ice Cream stand, a Mount Vernon-inspired motel, the Googie-Brutalist Empire State Plaza, the world's longest corinthian colonnade on the NYS Education Building, a couple of great old diners, lots of car and truck dealer-related buildings, and a great big bunch of ghost signs, neon signs and other historic roadside survivors.
We'll meet at the base of the former Home Savings Bank at 11 North Pearl Street at 10:00AM. From there we'll get our bearings, travel north on Pearl to Broadway, take Broadway up to Cohoes, take I-90 to East Greenbush, travel back to downtown Albany via histoic Route 20, then up Central Ave., on to Schenectady (if time allows) and back down State Street, which will again become Central Ave, and back to our starting point.
If all goes well, lunch will be at Jack's Diner, with desert at Kurver Kream.
Please note, this is a free-form event. There is no travel support, no accommodations, and no bus. We'll meet, get our phones set up to conference, agree on photo stops and stroll points, have a nice retro lunch (probably at Jack's), finish the tour and split up when time runs out.
Feel free to sign up without commitment and make suggestions.