Description
Join us on July 27th for a tour and picnic lunch at Blue House Farm!
We will be meeting at the Santa Cruz Community Farmers Market westside location at 9am to enjoy coffee & pastries along with an oral history of the market by their staff. People will be able to shop the market for a half hour before boarding our van for the trip along beautiful Hwy 1 to Blue House Farm's U-Pick Ranch in San Gregorio where we will be learning about their farming operation and the methods they use to grow sustainably. Afterwards we can pick strawberries and shop at their farm stand.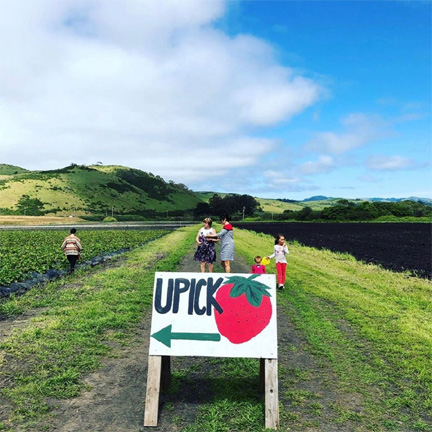 Blue House Farm grows an incredible diversity of certified organic vegetables, fruits and cut flowers year-round, on 60 acres nestled at the end of a small agricultural valley in Pescadero, California. Now in their fourteenth growing year, they have expanded their fields to include property in San Gregorio, the site of their popular U-Picks as well as a farmstand and vegetable production. They supply farmers' markets, the farmstand & their wholesale accounts with the highest-quality produce available. They proudly send a small, dedicated resident staff to their markets and deliveries, ensuring a personal experience with real farmers. Blue House Farm specializes in strawberries, tomatoes, leafy greens and peppers, growing diverse varieties of impeccable quality that have gained them a loyal following throughout the Bay Area.
Our tour includes a vegetarian picnic lunch at the farm with beverages.
Coffee & pastries at the market are extra & the option for a strawberry U-Pick for $4 per lb. at the farm is not included in the price.
For more information on their farm please go to:
https://bluehousefarm.com/
This outing is a collaborative effort between The Santa Cruz Community Farmers Market and Open Farm Tours for the "Know Your Farmer... Know Your Food", Farm to Market series. Proceeds help to keep Open Farm Tours free and open to the public. www.openfarmtours.com