Location
Chappelle Auditorium, Allen University
1530 Harden Street
Columbia, SC 29204
Refund policy
Contact the organizer to request a refund.
Eventbrite's fee is nonrefundable.
Bringing together scholars, journalists, and activists for a day of networking and learning focused on the past, present and future of media
About this event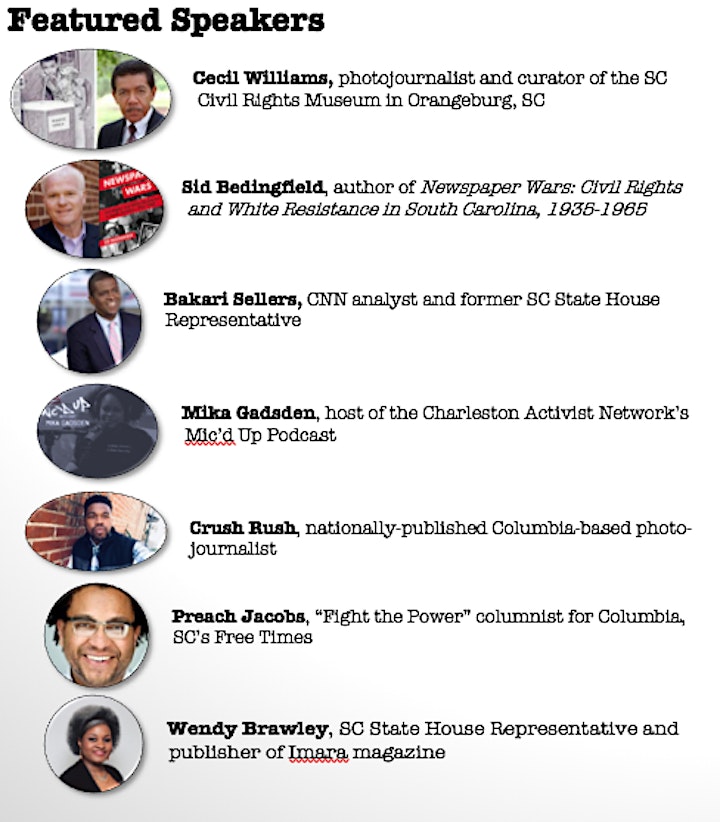 SC Black Press Institute Symposium
Thursday, March 31, 2022
Allen University Chappelle Auditorium
The SC Black Press Institute Symposium will bring together students, scholars, media professionals and activists for a day of networking and learning about the past, present and future of African-American media.
Featured speakers include CNN analyst Bakari Sellers, SC State House Representative and publisher Wendy Brawley, pioneering civil rights activist and photojournalist Cecil Williams, author Sid Bedingfield, Free Times columnist Preach Jacobs, Charleston Activist Network podcast host Mika Gadsden, and Columbia-based photojournalist Crush Rush.
The SC Black Press Institute Symposium was developed through a National Park Service African American Civil Rights History grant Allen University received in 2020 to support the development of educational materials and programming that focus on the relationship between the Black press in South Carolina and the emergence of the Civil Rights movement in the 1940s.
Sid Bedingfield, a professor of journalism at the University of Minnesota who wrote Newspaper Wars: Civil Rights and White Resistance in South Carolina, 1935-1965 and co-edited Journalism and Jim Crow: White Supremacy and the Black Struggle for a New America, will provide the symposium's keynote address. His talk will address the Civil Rights campaigns that John Henry McCray and other African-American publishers advocated through their writing and political organizing.
The symposium will feature a plenary talk by Cecil Williams, who began working as a photographer for Jet magazine in the 1950s. Williams photography, which has since been collected and republished in books like Out-of-the-Box in Dixie, documented some of the most important Civil Rights initiatives in the state. His photographic coverage of the Briggs v. Elliott case helped publicize the lawsuit and the violent backlash the African-American plaintiffs endured for speaking out against segregated schooling.
The symposium will also explore how African-American journalism has evolved in response to radical changes in media over the past few decades. While some of the panelist continue to work in traditional print and broadcast media, others use a variety of new technology such as social media apps and podcasts to build community around their causes.
SC Black Press Institute Symposium Agenda
8:30 am – 9:00 am – Registration
9:00 am – 9:15 am – Welcome
9:15 am – 10:00 am – John Henry McCray Research Project
Kevin Trumpeter, Dean of Arts and Humanities, Allen University
Jayme Bradford-Kinard, Assistant Professor of English, Allen University
Shadell Frasier, Joshua Poinsett, and Danae Simmons, Undergraduate Researchers on the John Henry McCray Project, Allen University
10:00 am – 10:45 am – Cecil Williams, pioneering civil rights activist, photojournalist, and curator of the SC Civil Rights History Museum in Orangeburg, SC
10:45 am – 11:00 am – Morning Break
11:00 am – 12:00 pm – Sid Bedingfield, Associate Professor of Journalism at the University of Minnesota Hubbard School of Journalism and Mass Communication, author of Newspaper Wars: Civil Rights and White Resistance in South Carolina, 1935-1965, and co-editor of Journalism and Jim Crow: White Supremacy and the Demand for a New America
12:00 pm – 1:00 pm – Luncheon
South Carolina Press Association's Journalism Hall of Fame Induction Ceremony for John Henry McCray, presented by Jen Madden, SCPA's Co-Executive Director and Chief Program Officer, to Kimberly McCray Abbot, granddaughter of John Henry McCray
1:00 pm – 2:30 pm – Black Journalism and Activism in the Age of New Media
Mika Gadsden – host of Charleston Activist Network's Mic'd Up podcast
Preach Jacobs – "Fight the Power" columnist for The Free Times
Crush Rush – Columbia based photojournalist featured in national and international publications such as The Guardian, New York Daily News, The Weather Channel, and The State
2:30 pm – 2:45 pm – Afternoon Break
2:45 pm – 4:15 pm – Representing Black Communities in Politics and Media
Wendy Brawley – SC State House Representative and publisher Imara magazine
Bakari Sellers – former SC State House Representative, CNN analyst, author, and host of The Bakari Sellers Podcast
4:15 pm – Closing remarks and acknowledgements